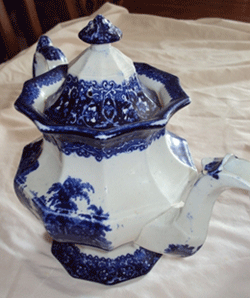 Item: Dinnerware from the late 1700s made for a whaling captain; an incomplete dinner service, including pitcher, coffeepot, serving pot with lid, two dinner plates, 11 salad plates, 9 coffee cups, 7 coffee saucers, and small creamer pitcher (handle is broken off). Most of the dishes are in good condition, except for the small creamer pitcher.
The items were handed down in the family from the whaling captain and then from mother to oldest daughter. They were originally made in a small shop in Italy. The word "Tivoli" is on the back of the plates.
Appraiser Leslie Haltbakk: It's so interesting to hear how family histories of items grow and change over time, becoming intertwined with histories of members of a family. There's always some truth in the stories, but here's the scoop on your beautiful Staffordshire English transferware set. The mark on the bottom, "T F & Co," tells us this was the Tivoli pattern by T Furnival & Co of Hanley in Staffordshire, England, and was made ca.1844-6. Therefore, it was not made for your family, but this type of ware was widely exported and could have been purchased anywhere, including the U.S.
Transferware is china (ironstone or pottery, usually) that has been decorated with paper decals that are laid over the blank and fired, leaving just the color behind. This was very popular during the 1800s. Some collectors look for specific makers, others collect by color or theme.
The Staffordshire potting district included a total of 133 factories, about two-thirds of England's potting industry. Familiar names are Burslem, Etruria, Stoke-on-Trent and Tunstall. Staffordshire encompasses a broad range of pottery, from figures to ironstone to Romantic transferware to modern-day pottery and china.
Tivoli Gardens (just called Tivoli) is a famous amusement park and gardens in Copenhagen, Denmark. The park opened on August 15, 1843 and still operates today.
I have listed the fair market value for one piece in each category of the set, then after that, the replacement value. There is not much difference; these have withstood the recession quite well.
Pitcher, $300-$350
Coffee pot, $400-$550
Serving pot with lid (sugar bowl), $150-$175
2 dinner plates, $60-$120
11 salad plates, $45-$75
7 cups and saucers, $125-$145
2 coffee saucers, $20-$30
Small creamer pitcher, $35-$45 (handle is broken off)

What's it worth?
Total current fair market value: $2,425
Replacement value: $3,260