News You Can Use
Antique & Collectibles News
Updated October 2016
Current Antique News listings: (Click to see full news release.)
Firearms Auctions in Fairfield, Maine, gross over $18 million.
Annie Oakley and Col. LeMat Perform Well at Julia's
Every year in October, two separate firearms auction companies conduct a firearms auction back to back in Fairfield, Maine. Each time these combined auctions occur, the results generate the largest offering and largest sale gross for a firearms auction event anywhere in the world. October 1, 2 & 3 began this spectacular event with a large offering of collectable and shooting firearms presented by the Poulin Auction Company. Their sale generated approximately $3.4 million. Immediately after, from October 4 to October 7, the James D. Julia Auction generated approximately $15 million in sales; 372 lots brought $10,000 or more, 173 lots brought $20,000 or more, 33 lots brought in an excess of $50,000 and 8 lots topped out at over $100,000.
| | |
| --- | --- |
| | Annie Oakley's personal 12 gauge William Cashmore Boxlock: $207,000. |
The top lot for sporting arms was Annie Oakley's personal 12 gauge William Cashmore Boxlock game gun. There are numerous photographs of Annie holding this exact gun, and it came to the auction with a presale estimate of $125,000-$175,000, but after a fierce bidding battle, it topped out at $207,000.
| | |
| --- | --- |
| | Krider LeMat Pattern revolver SN 2 believed to be the personal revolver of Col. Alexander LeMat himself: $120,750. |
The most exciting Confederate lot of the day was a Krider LeMat Revolver SN 2, believed to be the personal firearms of Col. LeMat himself. It came to the auction with a presale estimate of $60,000-$80,000 and soared to $120,750.

Magnificent Royal Wheelock Sporting rifle by Samuel Kluge in Landshut made for either King Charles XI of Sweden or King Christian V of Denmark, formerly the property of the Rothschild family: $115,000—believed to be one of the highest priced high art Wheelocks to sell in a number of years at auction.
The Julia auction was divided into four sessions. The first two days, October 4 & 5, comprised Julia's Sporting & Collector sessions which featured moderately priced collectable and shooting firearms. October 6 & 7 made up their Extraordinary sessions featuring rare and high end firearms.
Once again, Julia's auction included numerous outstanding collections. Day One included a rare cased Browning Pointer grade Superposed two bbl. set from the renowned Estate Collection of William Larkin Moore estimated at $7,000-12,500 which went out at $13,800. A rare fine AH Fox, Philadelphia J Grade single barrel Trap Gun estimated at $3,000-5,000 realized $7,200. A classic Griffin & Howe Pre-War Sporting rifle, cal. 30/06 estimated at $3,500-5,500 generated $13,800. Also included in Tuesday's sale was Session One of the Friedrich-Wilhelm Dauphin Collection from Germany. An extraordinary Mauser C96 Transitional 1930 Commercial with matching stock estimated at $4,500-6,500 went out at $10,350. A Wolf & Klar engraved two gun lot Smith & Wesson, once the property of FBI agent, George H. Franklin, was estimated at $5,000-9,000 and finally generated $16,100.
Wednesday, October 5, the second day of the Sporting & Collector auction started off with the Allen Hallock Collection of extraordinary Schuetzen rifles. Without question, this was the finest of its type to ever come to auction. The very first lot up was the ultimate Schuetzen rifle, a magnificent ivory inlaid and gold highlighted masterpiece given as a shooting prize in the late 1800s. It carried a presale estimate of $30,000-40,000 and generated $37,375. Another Schuetzen rifle from another collection by Buchel Stecherspanner with carved and inlaid ivory stock carried a presale estimate of $3,000-6,000 but generated a furious bidding battle that topped out at $22,425. This sale included the second and final session of the Carmen Gianforte Collection of Reid Knuckledusters, the largest collection of its type to ever be brought to auction. Included was an important 41 cal. Knuckleduster estimated at $7,500-12,500. This topped out at $13,225. An elegant and diminutive 18th century Flintlock 44 cal. pistol was estimated at $1,500-3,000 but realized $7,500. This sale concluded with the second and final session of the Estate of G. W. "Bill" Stewart of Texas. His late Colt 3rd Model Dragoon with period holster was estimated at $7,500-8,500 and sold for $9,200. This sale also included the final session of Estate of Dr. Robert G. Cox. This collection focused on small frame Colt pistols. One lot of three Colt 3rd Model Derringers estimated at $2,500-4,000 generated $8,625. A fine Colt SA Civilian issue black powder Peacemaker was estimated at $20,000-30,000 and went for $20,700.
Thursday, October 6 and Friday, October 7 comprised the Extraordinary section of the Julia Firearms Auction. This portion of the auction includes the high end, rare and valuable guns and the first lot of Thursday's sale was a special offering from the Remington Arms Company which consisted of a 3 gun set commemorating Remington's 200 years in business. The Remington Firearms Company is the oldest firearms manufacturing company in the United States still under the same ownership. The 3 gun set generated $23,000. All the proceeds from this particular lot will be used on various conservation funds, which Remington Arms supports. After the sale, the buyer met with Julia and indicated that he would like to reoffer the exact same grouping in Julia's spring auction and this time the proceeds of which he would like to have donated to St. Jude Children's Hospital. This is a unique situation wherein the proceeds of both sales will benefit a number of many worthwhile organizations.
Fantastic Vietnam War trophy Chinese type 56 machine gun: $132,250.
The sale then proceeded to Julia's Class-3 offering. Since 2008, the Julia Auction Company has consistently offered and sold more Class-3 weapons than all their auction competitors in North America combined. This sale was extremely strong with a number of healthy prices being generated. An early "Square Slot" Colt 1921A Thompson Machine Gun estimated at $30,000-50,000 finally sold for $57,500. An ultra-scarce Vet Bringback Korean Manufactured Type 58 AK-47 machine gun was estimated at $25,000-45,000 and after a long bidding battle, it generated $54,625. But the real surprise of the day in Class-3 was the fantastic Vietnam War trophy Chinese type 56 machine gun estimated at $20,000-40,000. Bidding on this gun seemed to go on forever and finally topped out at $132,250.
A number of fine Model 1911 pistols including a Singer Manufacturing Co. 1911A1 was estimated at $40,000-60,000. It sold for $57,500. More items from the Dauphin Collection were offered in this session. One of the more valuable pieces included a superb Mauser Conehammer Carbine SN 12 with period scope. It was estimated at $40,000-75,000 and generated $51,750. This auction also featured the final session of the extraordinary Geoffrey Sturgess Collection of Zurich, Switzerland. Julia's started selling this collection a few years ago and it comprised the largest offering of semi-auto military arms in the world. This sale included a magnificent Large Ring Mauser C96 carbine presentation quality with extraordinary engraving and gold highlights. It came to the auction with a presale estimate of $20,000-40,000 and went out at $40,250.
Another area in which the Julia Firearms Auction Company has established a leadership role is that of Sporting Arms. No other auction house in the world sells more high end, rare and valuable sporting arms than Julia's and the results of this sale consistently bore that out. A massive 4-bore Holland & Holland double rifle estimated at $45,000-75,000, realized $103,500. A very fine H&H 8-bore hammer gun estimated at $15,000-25,000 also saw a tremendous bidding battle and topped out at $75,000. A superb 20 bore Purdey O/U with many special features carried a presale estimate of $60,000-90,000 and brought above high estimate at $94,875.
Attending the sale was David Trevallion, formerly of London. Mr. Trevallion is probably one of the greatest living stock makers today. David apprenticed at Purdey's at 15 years old and later began his own business which was known throughout the world. This sale included the 5th earliest known Purdey shotgun converted from flint to percussion. Mr. Trevallion consigned this gun to the auction with the stipulation that the entire proceeds shall be donated to the Gun Makers Company Charitable Trust in London. The gun was estimated at $10,000-15,000 and produced a generous $25,875 to the Charitable Trust fund.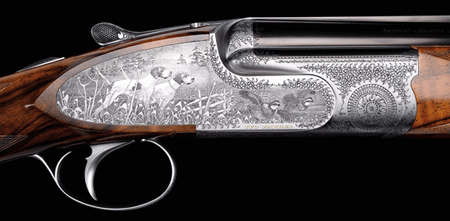 Small bore Fabbri pinless Sidelock O/U in 20 gauge: $109,250.
An exceptionally rare 410 Ivo Fabbri Sidelock Ejector single trigger O/U game gun with phenomenal engraving by Tomasoni was presale estimated at $75,000-125,000 and sold for $74,750. A superb small bore Fabbri pinless Sidelock O/U with extraordinary engraved quail scene was estimated at $40,000-60,000. The bidding however was ferocious and drove the final price to $109,250. A superb Piotti "Boss" 20 ga. O/U from the famous William Larkin Moore Estate Collection was estimated at $35,000-55,000 and topped out well over high estimate at $69,000. Also from the William Larkin Moore Collection was the stellar award winning Parker AAHE 12 ga. in high original condition, estimated at $35,000-55,000. It generated a final selling price of $48,300. A large fine selection of Lefevers was also offered in this sale. Included was a truly spectacular documented Lefever 12 ga. Optimus grade shotgun estimated at $45,000-75,000. It went out at $46,000. Also from the same collection was an exceedingly rare Lefever AA Grade estimated at $30,000-50,000 which brought a strong $51,750.
A collection of L.C. Smiths was also part of this sale and an exceptionally rare A3 Pigeon gun was one of only 18 made. It carried a presale estimate of $35,000-55,000 and sold for $46,000. Another beautiful gun from the William Larkin Moore Estate Collection was a 28 ga. Browning Superposed Custom shop exhibition gun with gold inlays estimated at $20,000-30,000, it produced a strong $36,800.
The final day of the Extraordinary sale on Friday, October 7 started out with fine Winchesters and Volcanics. Extraordinary factory engraved Winchester Deluxe 2nd Model 1876 signed by John Ulrich estimated at $50,000-90,000, generated $40,250. A rare and beautiful special order Model 1886 Deluxe with fabulous case coloring estimated at $50,000-80,000 went out at $40,250. A rare special order Conrad Ulrich engraved Model 94 in spectacular condition, estimated at $50,000-100,000 but failed to sell.
Winchester cartridge boards definitely did better than the rifles. A rare and desirable Inverted V 1888 Cartridge Board estimated at $15,000-25,000 was hotly competed for until it finally realized $37,375. An extraordinarily rare Deluxe Conrad Ulrich engraved exhibition quality Marlin Model 1893 with gold and platinum inlays was estimated that $50,000-100,000, this magnificent treasure went out just a little over low estimate at $57,500.
A number of quality antique percussion Colts were offered. The high price realized was for a rare cased Ehlers Baby Paterson which came on to the auction block with a presale estimate of $110,000-160,000 and went out at $115,000. A rare Colt 1883 U.S. Navy Gatling gun on its original bronze tripod was estimated at $175,000-250,000. It generated $175,000. A number of quality Colt SA included a minty engraved SAA by Cuno Helfricht was estimated at $30,000-50,000 and sold at $57,500. One truly spectacular work of art was the magnificent Royal Wheelock sporting rifle by Samuel Kluge in Landshut. The gun was made for either King Charles XI of Sweden or King Christian V of Denmark. The gun was at one time the property of the Rothschild family and sold for $115,000. It is believed to be one of the highest priced Wheelocks sold in many years.
Other areas that Julia's has performed exceedingly well with for many years is with rare Civil War and Confederate items. Julia's consultant and firearms expert, John Sexton is one of the leading authorities on Confederate arms in the world today, helping to account for Julia's great success. A rare and historic pair of fluted Armies of Lt. John Low, CSN, used on the CSS Alabama came to the block with a $25,000-50,000 estimate and flew to $51,750 because of the Confederate association. Also a spectacular Leech & Rigdon Confederate revolver captured at the Battle of Mobile Bay taken from the ironclad CSS Tennessee sold for $57,500.
A number of rare Bowie knives were offered. Included was an American Gravely & Wreaks Guardless Coffin Handle Bowie knife, estimated at $40,000-60,000, it generated $40,250. A spectacular and unique Breech loading presentation firearm engraved by Gustav Young and formerly the personal property of William Marston himself was estimated at $30,000-50,000 and sold for $40,250. An extraordinary engraved early brass framed Warner revolving percussion rifle believed to be the finest example extent was estimated at $20,000-30,000 and flew to $46,000. One notable lot was a personal grouping of items formerly owned by General George Armstrong Custer including his map of the Indian Territories, a camp chair, various images and an actual lock of his golden hair. The grouping had been consigned directly from Custer family members and had previously always been in the family. Here it brought $45,000.
"We were overall very pleased with the auction outcome. Prior to the sale, we had received reports from dealers and show participants alike who had been reporting lackluster sales. Our concerns were allayed once our auction started. The Sporting & Collectable sale overall performed well both days in all niches and on the third day, we started off with Class-3 which did exceedingly well. Lugers were soft, but have been for a while because of the overabundance on the marketplace. We then progressed to sporting arms which is an area where we normally generate superior results. Once again, very positive. Sporting rifles, quality high grade shotguns did very well overall. It was not until the final day when we sold the Winchesters and Colts that softness appeared. Up until recently, Winchesters have been consistently strong however with this sale Winchesters and Volcanics showed a softness. Unfortunately, there is an overabundance of quality Winchesters on the market coming onto the marketplace which unquestionable impacted upon the price. A few weeks prior to our auction, another auction took place that featured a large assortment of quality Winchesters. Our sale followed with a great offering and now in a few weeks another auction is coming up with a great number of quality Winchesters. In addition to all of this, there are two major collections expected to come to market in the future so this increased supply is not only generating some softness but also an excellent buying opportunity for serious collectors. However, as I said, the auction was strong and continues to reflect the tremendous prowess of the auction process. Interaction from players throughout North America and all over the world continue to reflect the strong demand for quality firearms. We are pleased with the outcome and are also looking forward to our Spring 2017 auction which already includes a spectacular array of quality goods," commented President, James D. Julia.
Julia's next Firearms Auction is scheduled for Spring of 2017 and will again include a fabulous collection of spectacular arms. James D. Julia, Inc. is one of the top 10 antique auction houses in North America as measured by annual sales. It is headquartered in Fairfield, Maine. The company also has an office just outside Boston, Massachusetts, in Woburn and has been in business for nearly 50 years. The company conducts high-end, antique collectables and fine art auctions throughout the year. Julia's has routinely established new world auction records through its sales events. The company consists of three key divisions: the rare Firearms Division, in which they are the leader today for high-end, rare and valuable guns; the Fine Art, Asian & Antiques Division, whose next auction will take place in February 2017; and the Rare Lamp, Glass & Fine Jewelry Division, which is again a leader in this genre and will hold their next auction on November 18, 2016. Each division is regarded for its excellence and is staffed with world-class specialists to ensure fair and professional authentication, identification and evaluation services. For more information on James D. Julia, Inc., visit www.jamesdjulia.com.
James D. Julia's August 3-Day Fine Art, Antiques, and Asian Auction Sizzles With $5+ Million In Sales!
James D. Julia's annual August sale truly was unquestionably the "Maine" auction event of the summer. Bidders were presented with almost 1,900 lots of world-class fine and decorative arts, antiques, folk art, Asian articles and historical buying opportunities. After the hammer fell for the last time, 68 lots realized $10,000 or above. In addition, 25 lots realized $25,000 or more, and three lots broke the six-figure mark.
Top lots included: Edward Willis Redfield's River Decorations which realized $148,125; a pair of porcelain plaques by Wang Dafan which realized $118,500 (more than six times their low estimate); and Fitz Henry Lane's painting of New Bedford Harbor, which realized $296,250. This unsigned oil on canvas, housed in a fabulous Eli Wilner & Co. frame, will be included in the Fitz Henry Lane catalog raisonne published by the Cape Ann Museum.
Fitz Henry Lane's New Bedford Harbor
was the top seller at $296,250
Day one of this sales event hit the ground running with 600+ lots of outstanding paintings and fine art selections, many featuring Maine artists and themes. Two works by Andrew Wyeth really caught the attention of buyers in this sale. His River Greys realized $66,953, and By The Lower Dam went for $79,988, nearly four times its low estimate. Abbott Fuller Graves' A Hot Shoe was another standout, standing tall at $41,475.
Julia's is well known for its leadership with Rockport School paintings, and this sale was no different. Three Emile Albert Gruppe works were the stars in this category. They included: Gloucester Sunlit Cove-Rocky Neck which sold for $22,515; Mending the Nets which realized $20,145; and Morning Gloucester which made $20,738.
This sale featured a spirited selection of paintings from the Pennsylvania New Hope as well as the Hudson River Valley schools. These included Kenneth Nunamaker's Plum Blossoms which gaveled at $23,700 and William Trost Richards' Crashing Waves realized $24,885. Other works celebrating the great outdoors included Howard A. Terpning's Spring Came Early at $94,800 and Frederic Remington's Trail Riders rode off for $23,108.
Bronze selections in this sale were also heavy favorites. Abastenia St. Legar Eberle's joyful Girl With Roller Skate yielded $20,145, more than twice its low estimate.
Works with an international twist rounded out sale highlights from the first day of this event. These included: Swedish/American John F. Carlson's Morning In The Barnyard, $24,885; American/Canadian Jack Lorimer Gray's Chockle Cap, Lunenburg Co, Nova Scotia, $29,033; and Frenchman Edouard Leon Cortes' Paris En Hiver, $26,663.
The second day of this fine auction featured 600 lots of outstanding American and European antiques, furniture, historical items and nautical paintings. Works featuring seafaring vessels of all types were a splashing success. Aptly named, Robert Salmon's Outward Bound, Long Island Head, Boston Harbor was a headliner here, realizing $82,950, over four times its low estimate.
Three of James Buttersworth's works really made waves with bidders. These included, A Three Decker Off Dover Castle With Shakespeare Cliff In The Distance, Dover Passage, and Yachting In New York Harbor. They realized $37,920, $47,400, and $41,475, respectively. Five paintings by Thomas M. Hoyne also hit the high-water mark. Each was originally estimated at $15,000-$25,000 but significantly surpassed this range. His Parting The Crest Helen G. Wells At Gloucester, Taking A Bath On Georges, and The Loner-The Governor Russell, 1983, each realized $41,475. His Five To Port-1983 and Dropping The Tow-1979 each brought $53,325.
Wooden decorative and functional items hammered their way to the top of this event as well. A fine Federal inlaid mahogany tall case clock by Aaron Willard realized $29,625. An exceptional, fine, and important tobacconist figure of an Indian maiden attributed to Samuel Robb more than doubled its low estimate to reach $94,800, while 16 silhouette, carved wood and painted shorebird decoys splintered their $1,000-$1,500 auction estimate to realize $90,060.
Folk art and weathervanes were other important categories represented on the second day of this sale. It was off to the races with a large and rare cast iron Rochester horse weathervane gaveled at $20,145. A folk art portrait of a young boy attributed to the mid-19th c. Prior/Hamblin School went to the head of the class at $21,330, over four times its low estimate.
The final day of Julia's annual summer auction presented a stellar selection of contemporary decorative arts and unusual offerings, including more than 250 lots of breathtaking art from Japan and China. Julia's is known for its expertise in Asian arts, and the furniture, sculptures, paintings, jewelry, cloisonné, jades and porcelain on offer were once again world-class.
Aesthetically lovely Asian treasures were one of the focal points of day three of this sales event, with bids coming in from across the globe. Particularly eye-catching highlights included: two bronzes, a sculpture by Li Chen, $38,513, and a statue of a seated figure, $15,998, and a pair of watercolor landscapes, $115,405 on their $800-$1,200 estimate. A Ming Dynasty Era cloisonné basin, estimated at $6,000-$8,000, realized $26,663, while an exquisite Qing Dynasty Era green jade bowl, estimated at $4,000-$6,000, realized $31,995.
Another mouthwatering highlight in this sale was an impressive, 19th c. Chinese export Rose Mandarin dinner service in the "bird in the lantern" pattern. This lot included traditional tableware plus matching platters, serving dishes, nesting bowls, tureens and other service items. It realized $17,775.
Collectors felt right at home with this sale's great offering of Asian furniture. A rare Chinese Zitan carved canopy bed yielded $33,180, and a Zitan recessed trestle-leg altar table sold for $10,665. Finally, a set of nine rosewood mother-of-pearl inset chairs and tables proved itself a real jewel in in this sale, realizing $16,590.
James D. Julia, Inc., one of the top ten antique auction antique houses in North America as measured by annual sales, is headquartered in Fairfield, Maine. The company also has an office in Boston, Massachusetts. In business for over 45 years, the company conducts high-end antique, collectible and fine art auctions throughout the year. Julia's has routinely established new world records through its sales events. The company consists of three key divisions, including: Rare Firearms; Fine Art, Asian, and Antiques; and Rare Lamps, Glass, and Fine Jewelry. Each division is regarded for its excellence and is staffed with world-class specialists to guarantee fair and professional authentication, identification and valuation services. For more information on James D. Julia, Inc., visit www.jamesdjulia.com.
The 42nd Annual Bagwell Antiques Show & Sale in Jackson, Miss., Oct. 21-23
The 42nd Annual Bagwell Antiques Show & Sale returns to the Mississippi Trade Mart in Jackson, Miss., in grand style, Oct. 21-22-23, with its finest display of antiques ever. The fall show once again brings to Mississippi's capital city an antiques show not to be missed. Exhibitors from more than 20 states will be on hand with some of the finest antiques ever collected under one roof in Mississippi. Many of the nation's leading antiques dealers will make a stop in Jackson displaying a wide array of quality antiques from around the world.
Located on the Mississippi State Fairgrounds, the Bagwell Antiques Show & Sale is an upscale show that attracts a large number of regional collectors, dealers, home decorators and casual antiques enthusiasts hoping to discover that perfect item to add to their collection or to fill that perfect spot in their home. It is also the perfect one-stop shopping place for home decorators. Quality furniture and accessories in just about any style from Europe, Asia and America can be found at the weekend event, for just about any room of the home.
Featured at the three-day antiques extravaganza will be a large display of 18th and 19th century furniture and unique architecturals from around the world. On the softer side, several exhibitors will feature a wonderful display of vintage clothing, vanity items and vintage lace and linens. Other items to be found are Oriental rugs, antique cut crystal and cut glass, hard-to-find sterling silver patterns and 18th and 19th century engravings and prints. Many of the South's foremost antique and estate jewelry dealers dealing in both fine and costume will be exhibiting.
The event offers show-goers a rare opportunity to see and learn about many fascinating pieces that will be on display, such as: museum-quality silver, bronzes, porcelain, sterling and silver plate; Oriental porcelains, including Imari and Rose Medallion; paintings, leather books, china, statues, glassware, and art pottery; children's books, autographs, postcards, stamps and sports memorabilia. Primitive items such as tools, pottery, fish decoys, postage stamps, quilts and Americana will also be available.
Come see for yourself the incredible array of antique furniture, estate jewelry and collectibles. No matter what your fancy, it can be found at the 42nd Annual Bagwell Antiques Show & Sale. Public show hours are 10-5 on Friday, 10-5 on Saturday and 12-5 on Sunday. Parking is free. Admission is $5 for adults and $3 for children. Admission is good for the entire weekend. For more info on this or any Bagwell Antiques Show, contact Britt at P.O. Box 2847, Tupelo, MS 38803, phone 662-231-9654 or email bagwellantiques@afo.net. Limited exhibit space is available in certain merchandise categories. Dealers, inquire as to availability. Visit www.bagwellantiquesshow.com for more information.
It Just Keeps Getting Better: The 59th Fishersville/Shenandoah Antiques Expo
To paraphrase the unofficial motto of the U.S. Postal Service: neither rain, wind nor thunderstorms keep shoppers away from the Shenandoah Antiques Expo! In spite of some rather threatening stormy weather, the spring show was another great success for vendors and shoppers alike. The weather did nothing to dampen the spirits of the thousands of antiques aficionados and treasurer hunters who attended. The exhibitors provided everything from 18th and 19th century English and American antiques, country Americana pieces, and many other quality antiques as well as an expansive range of intriguing, interesting and often hard-to-find collectibles. Dealers and shoppers alike went away with smiles that reflected success in their efforts, whether selling or treasure seeking.
Now, as the summer heat diminishes and the fall approaches, Heritage Promotions is preparing for the 59th Shenandoah Antiques Expo to be held Friday, Saturday and Sunday, Oct. 14-16 at the Augusta Expo (I-64, Exit 91) in Fishersville. This semi-annual event attracts more than 300 dealers and thousands of shoppers who often spend the weekend searching the exhibition halls, four barns, tents and open exhibits for that special treasure. Locals and seasoned vendors and collectors recognize the show as one of the premier fall (and spring) events in the Shenandoah Valley. Many dealers consider the Expo a "don't miss event" and return twice each year, traveling from Maine, Florida and all points in between.
The Shenandoah Antiques Expo has a long history and well established reputation for quality vendors who offer a vast array of merchandise; fine 18th- and 19th-century American and English period antiques, eclectic collectibles, architectural and restoration pieces, as well as estate jewelry, glassware and other fun memorabilia, all at fair prices. The extravaganza attracts antiques aficionados from all along the eastern seaboard and mid-Atlantic regions.
First-time attendees often ask themselves, "How did I not find this show sooner?" One first-time attendee from New York even said, "I have shopped antiques shows up and down the Atlantic Coast for years. You [Heritage Promotions] are too modest in describing your show as the best shopping in the Mid-Atlantic. It should be described as the best shopping on the Atlantic Coast."
Heritage Promotions continually strives to keep the show fresh and spends the down time between shows recruiting, always on the lookout for not just new vendors of traditional quality merchandise but those that will bring new ideas, interesting niche products and/or catering to new interests. Ray Stokes, one of the show promoters, says he looks for dealers who can excite buyers and will take time to share their curatorial expertise with anybody who has a question.
For a three-day $10 pass with free parking, you can search for an investment piece, one that jumps out at you and seems to call your name or something that just matches your décor.
Heritage Promotions has organized and staged the Shenandoah Antiques Expo in Fishersville, Va., every May and October since 1986. They built the show's reputation by working with top national dealers to offer quality pieces at reasonable prices. Show hours are: Oct. 14 and 15, 9-5 and Oct. 16, 11-4. The show is located at the Augusta Expo, 277 Expo Road, Fishersville, VA 22939 (for directions during event: 540-337-2552). Admission: Oct. 14, $10; Oct. 15-16, $5.