News You Can Use
Antique & Collectibles News
Updated April 2016
Current Antique News listings: (Click to see full news release.)
March Firearms Auctions in Fairfield, Maine Total $19 Million
Fairfield, Maine is unquestionably the worldwide epicenter for firearms auctions. The largest number of high-end, rare and expensive units offered, the largest total gross for firearms at auction; all take place in Fairfield, Maine. This year on March 11-15, the total take approached an amazing $19 million. Starting off the semi-annual event was the Poulin Auction Company which conducted a 3-day sale from March 11-13. Poulin's specializes in moderately priced, affordable firearms and they regularly present not only an expansive offering but a tremendously diverse offering. Total take for their 3-days was $4 million. Less than 100 yards, a "stone's throw" away, at the James D. Julia Auction facilities on March 14 & 15, things were far different. Julia's presents a more intimate selection of firearms for auction but the average sale value is the highest you will find anywhere in the world. This Julia Auction grossed approximately $15 million. The average sale price of lots sold was $12,600. Over 300 lots realized $10,000 or more, 20 lots realized $100,000 or more.
Monday, March 14 featured the Sporting & Collector Firearms Session, a new addition to the Julia Firearms Auction. This session generally presents more moderately priced firearms in the average range of $2,000-8,000. This portion of the sale featured the Estate Collection of well-known Texas collector, G.W. "Bill" Stewart. Bill had a passion for Colts and Winchesters and judging from the prices, many of the collectors shared his views. The first lot up was a rare Smith & Wesson #1 Volcanic pistol which carried a presale estimate of $7,500-12,500 but went out at just under $15,000. The sleeper of the sale was Bill's rare Nimschke engraved Winchester Model 66 carbine. This silver plated, engraved masterpiece had been ordered by Mexican President, Porfirio Diaz, who had 10 created and presented them to prominent businessmen. This example had been estimated at $6,500-12,500 and went out at a strong $31,000.
Also included in this sale was the Estate Collection of another Texan, Dr. Robert G. Cox. Cox and his collection have been much renowned for many years. Dr. Cox was a scholar and authority on Colt New Line revolvers and his collection reflected that. A factory engraved plated pistol in a beautiful black leatherette case was estimated at $3,000-5,000 but with a number of serious buyers chasing it, the price flew to $13,800.
Another collection was of Carmen Gianforte from Tennessee. Mr. Gianforte was a well-known scholar on a special group of Pocket pistols made by James Reid, known as Reid Knuckledusters. His very rare 41 cal. Knuckleduster, estimated at $8,000-12,000, shot to $16,100. But it was not just his guns that fellow collectors wanted, he had an archive of his personal notes and scholarly books. Those carried a presale estimate of $500-1,000 but shot up to $5,175.
A nice selection of moderately priced sporting arms included a massive William Evans 8 bore Fowler estimated at $2,500-4,000; collectors drove the final price to $12,650. A pair of Colt Python 357 "Snake Eyes" cased set were estimated at $3,000-5,000 but soared past the high estimate to $17,250. Perhaps one of the most stunning items in Monday's sale was an extremely rare factory engraved gold plated Smith & Wesson .38 1st Model Hand Ejector that had been created specifically for the 1901 Pan-American Expo in Buffalo, New York. It went into the auction with a presale estimate of $4,000-7,000 but went out at a healthy $23,000.
Tuesday's sale was where the greatest excitement was. First lot up was a spectacular and pristine Volcanic #2 pistol. At one time, it had been in the Colt Firearms Museum and carried a hefty but well warranted presale estimate of $75,000-85,000. The final selling price was just under $100,000 at $92,000. One of the more distinguished collections was that of Paul Tudor Jones II. Jones, one of the country's top hedge fund managers, many years ago had collected choice firearms to decorate an Eastern Shore Maryland hunting compound. He recently donated the facilities and land while electing to sell his small but very discerning collection. Included was an engraved, plated Model 66 Winchester with carved ivory stocks made for Mexican President, Porfirio Diaz. The gun was estimated at $150,000-250,000 and sold for $230,000. Mr. Jones' rare Winchester 1876 1 of 100 also fared well. It carried an estimate of $175,000-275,000 and it went out at $230,000 also. Mr. Jones' extraordinary rare cased consecutive numbered exhibition quality Colt Model 1860 Armys had been presented to General Joseph Hawley for his service as President of the U.S. International Exhibition in Philadelphia, PA. For the most part, the guns were almost brand new and much coveted. They finally sold at $212,750. Another exciting piece from the Jones Collection was a spectacular Lefever "Optimus" quality shotgun in outstanding condition. The gun was presented by Friends of Industry to President Benjamin Harrison, who was an avid duck hunter. This gun carried a presale of $75,000-125,000 and went out at $120,750. This makes the second Presidential shotgun that Julia's has offered at an auction. In fact, Julia's holds the record for the 8 highest prices realized for American shotguns at auction. The highest being a Fox shotgun they sold that originally belonged to Theodore Roosevelt. That particular gun established the world record for the most expensive shotgun ever sold at auction when it realized $862,500.
There were plenty of desirable Winchesters, but one of the most beautiful examples was an extremely rare factory engraved John Ulrich signed special order Deluxe 1894 Takedown. The gun was engraved on one side with a beautiful grizzly bear on a ledge and a leaping stag on the reverse. It was inlaid with gold and in outstanding condition with an estimate of $55,000-85,000. It went out at $103,500.
| | |
| --- | --- |
| | Colt Model 1883 U.S. Navy Gatling Gun on Tripod and Two Drums (combined est. $158,000-265,000), Sold for Combined $346,150 |
A super rare and desirable Colt Model 1883 U.S. Navy Gatling Gun on tripod together with two extra drums generated a total of $346,150, confirming the demand for these iconic early "machine guns".
A great number of beautiful Colts were available. One of the best Single Actions was a black powder, factory engraved, plated gun featuring pearl grips and shipped to Charles Hummel, San Antonio, Texas in 1885. This beauty went out at $92,000. Speaking of Colts, this sale included the esteemed Collection of Steve Ardia. Mr. Ardia's love has been Colts and he specifically attempted to collect only outstanding examples, such as the rare rosewood cased Gustav Young engraved 1851 Navy. It came on the block with a $60,000-80,000 estimate but went out with a final selling price of $69,000. Another beauty from the Ardia Collection was an extremely fine 1860 fluted cased Colt Army estimated at $65,000-95,000. When the smoke cleared, the final price was $74,750.
Extremely Rare Cased Colt No. 5 Holster Model Texas Paterson Percussion Revolver
(est. $300,000-600,000), Sold for $345,000
One of the most coveted Colts is the Paterson model, which represents the earliest Colt creation. This sale included an extremely rare cased Colt #5 holster model Texas Paterson cased together with all its accessories in outstanding condition and came to the sale with a $300,000-600,000 presale estimate and went out with a price of $345,000.
Julia's sales regularly include outstanding Civil War and Confederate items. For the serious collectors, this sale was certainly one for the ages. Included was the Don and Kathlee Bryan Collection of Confederate Revolvers. The collection was billed as the finest, most comprehensive collection of Confederate Revolvers ever assembled. Don is not only a passionate collector but also an authority and scholar on Confederate Arms and had spent much of his lifetime amassing some of the finest examples known. He continually upgraded when the opportunity presented itself. His rare Cofer Portsmouth revolver was estimated at $100,000-150,000 but after the battle was over, it went out at $149,500. His LeMat revolver SN 8, which had belonged to Confederate General Beauregard, is considered by many to be one of the finest condition Confederate revolvers ever known. Early on, Beauregard not only championed LeMat's lethal handguns but invested money in the company, which provided many Cavalry officers with a 7-9 shot pistol featuring a second barrel that housed a 16 ga. shotgun filled with buckshot. Beauregard's historic pistol was estimated at $200,000-300,000 and finally sold at $224,250. His extremely fine Dance Revolver inscribed to cavalryman, Charles Hill, Company H, 35th Texas Cavalry is the finest Dance Navy revolver extant. Bidders on this gun paid accordingly. It came to the auction with $100,000-150,000 estimate but went out at just under $150,000. Bryan's collection of Texas Confederate revolvers was both complete and extraordinary. His rare L.E. Tucker Lancaster Confederate Navy revolver is one of only two examples known; this one being absolutely in superb condition and subsequently the finest example known. It had a presale estimate of $150,000-250,000; if finally topped out at $172,500.
| | |
| --- | --- |
| | |
| LeMat SN 8, General P.G.T. Beauregard's Personal Revolver and Finest Known (Bryan Collection) (est. $200,000-300,000), Sold for $224,250 | Extraordinarily Rare and Unique "Sisterdale Texas" Dragoon Army Revolver (Bryan Collection) (est. $150,000-250,000), Sold for $253,000 |
The highlight of the day for Confederate items and specifically the Bryan Collection was his much coveted and unique "Sisterdale" Texas Dragoon revolver. It is the only example in existence, it retains its original cow horn grips and came to the auction with a presale estimate of $150,000-250,000. Its great importance was reflected in its great price and finally sold at $253,000. Other rare Civil War items included a fine Model 1861 Parrott rifled cannon made for the State of New York and believed to have been used at the Battle of Gettysburg. It came to the auction with a reasonable estimate of $40,000-60,000 and went out with a blast at $80,500. A very extraordinary and historical captured Civil War battle flag of the 45th Pennsylvania featuring numerous battle honors went on the block. It was captured at Petersburg in 1864 when General W.H.F. Rooney rounded the loop of the Union Army to attack them from the rear. The results were devastating and the 45th was annihilated by Lee's Virginians. The flag captured by the rebels was estimated at $40,000-60,000 and went out at $57,500.
In the fall 2015 auction, Julia's offered a portion of the famous John Ashworth Collection of Confederate Bowies. The remainder of Bowie knives from Ashworth's estate was offered in this sale and his exceptional and unique massive "Memphis Novelty Works" Bowie with "Floating CS" was estimated at $30,000-40,000. It slashed its way to $34,500.
This sale featured an extraordinary array of sporting arms. A truly exceptional pair of 410 ga. Purdey golden age extra finish side by sides, possibly the finest small bore pre-war guns in existence, came to the auction with a presale estimate of $150,000-250,000. They went out at $189,750. This sale included 16 rare and desirable English Purdey shotguns.
If you were impressed by the number of Purdeys in this sale, you would be astounded by the approximately 40 rare and desirable Holland & Holland shotguns and double rifles that were offered. Most of these came from a single owner, private collector who collected what is known as Stopping rifles. This type of gun was used for hunting large and very dangerous game, such as elephants, rhinoceros, tigers, etc. in the late 19th and early 20th century. The highlight of the collection was an incredible 4-bore made for the Nizam of Hyderabad. It came in with an $80,000-120,000 presale but went out with a roar at $258,750. Another gun from the Nizam was an exceptional gold inlaid 10-bore Holland & Holland double rifle which was estimated at $65,000-95,000. This too drew much competition and finally sold at $149,500.
Double rifles are expensive but so is the ammunition. An exceptionally rare, full box of 10 Holland 4-bore nitro rifle cartridges by Kynoch came up on the block with what seemed like a high $3,000-5,000 estimate but left with an astounding sale price of $20,700. At over $2,000 a round, one could not afford much target practice.
A great number of other quality English sporting arms were offered in this sale and included a coveted pair of magnificent and rare Boss side lever hammer ejector game guns estimated at $70,000-90,000; they generated a $92,000 sale price.
The big money for an American shotgun was, of course, the Harrison "Optimus" for over $120,000 but there were other notable American side-by-sides such as an exceptionally rare "All Options" L.C. Smith premium grade 12 ga. which came in at $50,000-70,000 but went out at $69,000.
A number of fine Parkers were offered, the biggest money being for an exceptional high original condition .410 ga. VHE Parker with case and hang tags. Presale estimate was $20,000-30,000 and the price shot through to almost double the high estimate at $57,500.
Winchester was also represented with a scarce 16 ga. Model 21 Deluxe Grade #6 engraved two-barrel set carrying a presale estimate of $25,000-40,000 and went out at $37,375.
Another area that Julia Auction House excels in is Class III weapons (machine guns). From 2008 up to October 2015, James D. Julia's has sold more than 50% of all Class III weapons offered at auction in North America during that time period. Four other major auction houses dealing with firearms divided up the remaining 50%. Up until this sale, Julia's had sold nearly $12 million of Class III items; the remainder equating to approximately $9 million was divided up between the other auction houses. So it is no surprise that once again, some more fine examples were offered at Julia's. A Colt Model 1921 Thompson machine gun, a favorite weapon of Machine Gun Kelly and/or Al Capone, carried a presale estimate of $25,000-35,000; it flew to $43,700. A 50 cal. Browning Water-cooled M2 "Tora Tora" on pedestal mount was estimated at $25,000-35,000 but finally sold for just under $50,000. A Colt SP1 Machine gun set up with 3 custom uppers was estimated at $15,000-25,000 and established a new auction record at just under $42,000.
For more details on this spectacular auction check out www.jamesdjulia.com/firearms. Julia's next firearms auction is scheduled for October 2016 and already includes fabulous collections and spectacular arms and is sure to be another record breaker.
DC Big Flea & Antiques Market's Record Crowds
The DC Big Flea and Antiques Market enlarged to over 700 booths in two buildings in January 2016. This translated into record crowds for the first two shows of this year. Returning again on April 30-May 1 to the Dulles Expo Center in Chantilly, Va., this show will also feature the nation's oldest modernism show, the Art Deco Society of Washington in the North Hall. This is the 33rdAnnual Exposition of 20thcentury decorative arts.
The DC Big Flea Market has been delighting Washingtonians six times a year at the Dulles Expo Center for the past 19 years with its eclectic mix of country an period furniture, silver, paintings and art, glassware from 18thcentury to modern, advertising, toys, Mid-Century Modern furniture and accessories, estate and costume jewelry, vintage clothing and accessories, and collectibles of all eras. Everything from vintage Pyrex to Tiffany silver and Europeanart can be found. This show is constantly changing and offers an amazing variety in both quality of wares and price.
With booths of Mid-Century Modern furniture next to booths of exquisite American Art pottery, and down the aisle from beautiful country primitives, the show is astounding in its diversity and is an amazing treasure hunt for the decorator and collector.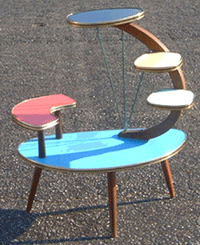 With the addition of the 20th C. Decorative Arts Expo, the show will offer additional dealers new to the DC Big Flea Market. This show features Art Nouveau, Arts & Crafts, Art Deco, Art Moderne, Mid-Century Modern, Scandinavian, and Atomic. Indeed, all of the 20th C design movements will be represented in the North Hall.
The Art Deco Society of Washington is a non-profit organization devoted to the preservation of the architectural, industrial, decorative, and cultural arts of the Art Deco era. The Expo is the primary source of funding to support ADSW's preservation and education efforts.
This combination of shows will offer something for everyone. Whether you are trying to recreate 1960's sets from "Mad Men," Art Deco sets from "Boardwalk Empire," 1950's sets from "The Goldberg's", or just want to decorate your home or garden with something unique, you can find it at this show.
A special feature of the Modernism show will be a book signing by Danielle Shapiro, author of "John Vassos: Industrial Design for American Life," on Sunday from noon to 2pm. Copies of the book will be available for sale throughout the show at the Art Deco Society's table.
This fabulous pairing of two amazing shows will be on April 30-May 1 at the Dulles Expo Center in Chantilly, Va. Hours are Saturday, 9am-6pm and Sunday, 11am-5pm. Admission is only $10 and valid for both shows and the entire weekend Parking is free. You don't want to miss this amazing combination of shows.
For more information: 757-430-4735 (D'Amore Promotions), www.thebigfleamarket.com or 703-568-3745 (Art Deco Society) www.adsw.org
Scott Antique Markets Add Summer Antique Extravaganzas in Ohio
By Janet Kessler
The Scott Antique Market management is adding summer Extravaganzas to their schedule of shows in Ohio. They have leased the Fayette County Fairgrounds in Washington Court House, Ohio. The four show dates are the fifth weekend of April, the fourth weekends of June and August, plus the first weekend in October. Show promoter Don Scott terms it as an "Antique Extravaganza at the Awesome Fayette County Fairgrounds."
Betty Scott comments, "The grand old fairgrounds have filled up nicely with exhibitors wanting booths, and there should be enough room for most of the antique dealers wanting to exhibit. Thousands of shoppers will take away treasures the exhibitors are bringing in. They will bring truckloads from all over the world; many of the antiques will end up in museums. It will be an exhibitor's and treasure hunter's paradise."
Don Scott added, "Over 30 years ago after starting our shows at the State Fairgrounds in Columbus, Ohio, and Atlanta, along with the start of the Springfield show, the grand old Washington Court House show emptied out. Spending the first part of my life as a professional pilot gave me the opportunity to shop antique shows from the Rose Bowl in California to the markets in Europe. During my three years flying in Saudi Arabia, I also shipped all over the Middle East. My favorite markets were Brimfield, Massachusetts, Washington Court House Ohio, and the small markets in Afghanistan and Kuwait City. Washington Court House, however, stood out as my favorite! With the fairgrounds restored, new buildings added, the US highway 35 interchange at the show, I-71 connecting a few miles away, and the new nearby hotels will make this show wonderful for antique dealers and buyers."
The Scott show offices are buzzing with excitement. The large staff is answering the many phone lines, responding to e-mails, assigning antique dealers to spaces on charts and doing mass mailings. Obviously, the show will be larger than the great ones of many decades ago. The fairgrounds have paved the roadways and built new buildings. The food feast will require you to come with empty tummies; many food vendors will have great healthy food with all being "required to have reasonable prices." Their plan is to keep the shoppers walking on the newly paved walkways with the antiques in the buildings, while the outside antique dealer's displays will be on the concrete, gravel and grass areas.
Many members of the Scott family are involved with the business. Nephew Kenny Scott manages the advertising and the day-to-day operations of the Scott Antique Markets. Kenny says, "At least four Washington Court House summer antique extravaganzas are planned into perpetuity with more dates being added with demand. The show's location is in a small county town in the rolling foothills of southwestern Ohio. It is encircled with a massive population base such as found on the West and East Coasts, including historical Cincinnati, Dayton, Springfield, Columbus, Lancaster, Xenia and many more. We will have a fleet of golf carts running shoppers to and from parking and flatbed golf carts and small trucks hauling the shopper's antiques to their vehicles. Free VIP admission passes and hotel information is available on our website; please go to www.scottantiquemarket.com. As always, thank you for attending the Scott Antique Markets."
Morphy Auctions Adds Road Warrior John Mihovetz To Its Automobilia and Petroliana and Antique Advertising Team Of Experts.
Morphy Auctions announced that John Mihovetz has joined the companyas an Expert and Director, Acquisitions. John will focus on antique advertising and automobilia, petroliana, and motorcycle memorabilia. This is a new position, created to further augment the company's nationally recognized leadership position in these important auction categories. Morphy's presents several dedicated advertising as well as automobilia and petroliana premier sales events annually, and offersfine examples from these categories throughout the year at its monthly auctions. John will be responsible for:attending industry and collector's events on behalf of the company; sourcing, identifying and valuing fine consignments; cataloging; and developing referral and partnership networks nationwide.
John has been professionally involved in the antique and vintage world since 2011, although he has been an enthusiast and collector of pre-World War II American ephemera, Wild West, and country store-themed finds since early childhood. Known for his good eye, he has sourced antique props and materials and completed visual display projects for clients including Anthropologie, Ralph Lauren (RRL), Club Monaco, and Levi Strauss. Prior to his work with Morphy's, Mihovetz ran his own business, specializing in vintage advertising, folk art and primitives, reclaimed lumber, and salvaged materials. He has been profiled in several antique industry publications and is a frequent go-to source for media inquiries and special projects.
According to Dan Morphy, President of Morphy Auctions, "We are thrilled to welcome John to our growing team of experts. His subject matter expertise and passion for all things vintage is second to none. John understands the auction industry and Morphy's priorities of outstanding selections, top-tier customer service, and professionalism - making him a perfect fit for our company today." John adds, "I was delighted when Morphy's approached me about this opportunity. I've been a customer for a long time and have always admired the company's business as well as its world-class product selections. Iespecially look forward to working with Dan Matthews, Division Head of Petroliana/Automobilia, on upcoming Kyle Moore gas and oil events. The next one is scheduled for April 23rd and 24th. I hope to see you there!"
Morphy Auctions is located at 2000 North Reading Road, Denver, PA 17517. We can be reached by phone at 717-335-3435, by fax at 717-336-7115, and by email at info@morphyauctions.com. Morphy Auctions is open seven days a week from 9am to 4pm. For more information on Morphy's, please visit www.MorphyAuctions.com.
12th Annual Clinch River Spring Antique Fair May 7th in Clinton, Tenn.
The 12th Annual Clinch River Spring Antique Fair will be held on Saturday, May 7th, from 9 a.m. to 5 p.m., in Historic Downtown Clinton, Tenn. The Fair will kick-off with a party on Friday evening, May 6th, from 6 to 9 pm, in Hoskins/Lane Park on Market Street with live musical entertainment. Back by popular demand are The Real McCoys, a trio of brothers Blake and Aaron McCoy on banjo and guitar, and bass player Nick Patterson. Their passion for bluegrass music drives them to make their music appeal to everyone. Through the years they've won numerous awards.
While enjoying the music, attendees will enjoy food from local food vendors offering BBQ, baked goods, hotdogs, burgers, gyros and Asian cuisine. There will also be plenty of late-night shopping in the antique district, with shops remaining open till 9 p.m. All events are held rain or shine, and there is plenty of free parking. Saturday, May 7th is the main event, with Market and Cullom Streets closed to traffic as antique dealers line the streets for the Fair. Over 100 antique dealers, from Tennessee and the surrounding states, will line Market and adjoining side streets.
They will present a fantastic antique show, offering a wide range of antiques and collectibles to suit every taste. Plus, the 20+ antique and specialty shops in town will be having their annual spring sales. The antique shops will also be open on Sunday from 1-5 pm. Main Street will have a display of antique automobiles by the Clinton Region of the Antique Automobile Club of America. Local food vendors will again be set up in Hoskins/Lane Park.
The Clinch River Spring Antique Fair has grown in popularity every year for both antiques dealers and shoppers alike. These antique shows consistently bring thousands of visitors to Clinton's Historic Downtown District. Clinton is just a short 20-minute drive northwest of downtown Knoxville, six miles off Interstate 75 at exit 122 or a quick 10-minute drive northeast of Oak Ridge along Hwy 61. The antique fair is sponsored by the Antique Merchants Guild of Clinton in conjunction with the City of Clinton and Methodist Medical Center of Oak Ridge.
For additional information, call 865-457-5250 or 865-463-8699 or visit HistoricClintonsAntiques.com/fair.
The 58th Shenandoah Antiques Expo
One of the premier spring kick-off events in the Shenandoah Valley is the 58th Shenandoah Antiques Expo at the Augusta Expo (I-64, Exit 91) in Fishersville, Va. Heritage Promotions, based in Lynchburg, has staged this show for nearly 30 years!
The Augusta Expo Center offers a fabulous venue for both exhibitors and collectors. Hundreds of exhibitors bring an eclectic mixture of antiques and collectibles, including 18th- and 19th-century American and English period antiques plus a trove of vintage Americana, jewelry, silver, glassware, primitives, rugs and mid-century modern pieces. Many collectors show up at sunrise on Friday to wait for the gates to open at 9 a.m. to comb the many exhibition halls, barns, tents and stalls looking for that special treasure. There is something for everybody; intriguing collectibles include doorstops, stoneware, toys, Civil War memorabilia, vintage, hard-to-find hardware and restoration pieces and much, much more.
The three-day show opens Friday, May 20 (9 a.m. to 5 p.m.) and runs through the weekend, Saturday, May 21 (9 a.m. to 5 p.m.) and Sunday, May 22 (11 a.m. to 4 p.m.). The Friday $10 three-day pass gives you first choice at the many treasures to be found. Saturday two-day and Sunday passes are $5, and all passes include free parking.
Location: Augusta Expo, 277 Expo Road, Fishersville, VA 22939 (I-64/Exit 91). For directions during event: 540-337-2552.
James D. Julia's February Fine Art, Antiques, and Asian Auction
Warms The Winter With Sales Topping $3.1 Million!
The 2016 auction season has been officially launched, thanks to James D. Julia's amazing three-day mid-winter sales event February 3-5. Cold temperatures were no deterrent to bidders who could not get enough of the almost 1,400 lots of world-class fine and decorative arts, antiques, folk art, Asian articles, historical items, and archives on offer. After the hammer fell for the last time, 36 lots realized $10K or above. In addition, 8 lots realized $25K or more, and 3 lots broke the six-figure mark.
Day one hit the ground running with over 260 lots of outstanding paintings and fine art selections. Museum-quality sales highlights included: Martin Johnson Heade's deeply symbolic Roman Newsboys II which made headlines at $189,600; Howard Terpning's Searching the Mountains which found $127,575, and German American artist Hans Hofmann's Abstract in Colors '42, which realized $94,800.
Martin Johnson Heade's Roman Newsboys II 1849,
sold for $189,600.
Julia's is internationally recognized as the leading authority on Rockport school paintings as well as works featuring Maine artists and themes. Enthusiasts found the outstanding selections of both on offer oceans apart from any other auction house. The sale presented several Aldro Hibbard paintings, with his impressive Canadian Rockies reaching the summit at $17,925. And lot 1030, Emile Gruppe's Gloucester Morning was an early hit, realizing $11,850. Top Maine picks included a tranquil interior scene of two women arranging flowers by Abbott Fuller Graves which realized $13,628 and Walter Schofield's Coast of Maine, which realized $27,338.
Day One also included a highly curated selection of other fine works. Lot 1160, Paul Cezanne's The Large Bathers cleaned up nicely at $10,665. But it is safe to say the heavy hitter here was a bronze attributed to Edvard Munch and signed "E Munch." Titled Sostrene, this never-before-seen sculpture depicts two women's heads—possibly the Meissner sisters, Olga and Rosa. After much back and forth among bidders, this Munch mystery realized $18,225.
Day Two was "standing room only" with the auction hall filled with over 100 bidders, and the parking lot overflowing onto the nearby highway. Auction Day Two featured 650+ lots of outstanding American and European antiques, furniture, and accessories. There was no time out for bidders pursuing this sale's comprehensive selection of extraordinary tall case clocks. Lot 2121, an Important Simon Willard Federal Mahogany Tall Case Clock; lot 2106, a Chippendale Cherry Tall Case Clock By Peregrine White; and lot 2078, a Mahogany Chippendale Tall Case Clock by Thomas Harland were up to the minute highlights, realizing $26,730, $16,590, and $13,035 respectively. Knock on wood, Queen Anne furniture was another key category in this sale. Bidders gave the royal treatment to lot 2068, a very fine cherry Queen Anne Tray Top Tea Table, which realized $14,580, and lot 2069, a set of six Queen Anne Compass Seat Side Chairs, which realized $9,480.
It was all hands on deck with this sale's fantastic selections of nautical art. There was a boatload of interest in three paintings in particular. These included lot 2061, an early 19th century portrait of the ship Amity which realized $25,477.50; lot 2062, Solon Francis Montecello Badger's portrait of the schooner Bessie C. Beach which realized $9,480; and lot 2064, Antonio Jacobsen's Gloucester Fishermen on The Banks, which realized $8,295.
This sale presented collectors who insist their acquisitions have a distinctly historical context some truly breathtaking and once in a lifetime opportunities. Several incredible rarities had their origins in the founding of our great country. These included lot 2026, an extraordinarily rare and historic Revolutionary War powder horn used by Minuteman Oliver Buttrick at the Battle of Concord which realized $88,875; lot 2002, a Samuel Drowne-signed silver American Revolutionary War eagle-pommel officer's sword of Captain Samuel Storer, which realized $24,292.50; lot 2006, a fine French and Indian War powder horn and commissions of Abner Curtis, along with his Revolutionary War commissions, which realized $18,960; lot 2071, a fine pair of coin silver tablespoons by Paul Revere, Jr. that realized $10,665; and lot 2010, a Revolutionary War-era tricorne hat which realized $12,442.50. These fine investment quality items will certainly stand the test of time.
| | |
| --- | --- |
| | This Revolutionary War powder horn used by Minuteman Oliver Buttrick sold for $88,875. |
Collectors were clearly blown away with this event's fine offering of early weathervanes. Lot 2091, an early, rare, and untouched steeplechase Horse Jumping Over the Gate weathervane, won the race at $112,575. Also in the spotlight was lot 2107, a rare and important monumental full-bodied Fireman weathervane retaining its natural verdigris surface. When the smoke cleared, this barnburner realized $94,800. Other highlights included lot 2090, an over-sized Cow weathervane, possibly by Harris & Sons, which realized $13,627.50 and lot 2180, an over-sized Leaping Stag weathervane, attributed to Washburne, which realized $9,480.
An auction would not be an auction without a surprise or two, and this mid-winter sale really delivered in that respect. Bidders gave their stamp of approval to lot 2348, a rare 2013 Jenny Right-Side-Up 6-Stamp Block of the Jenny inverted stamp, which realized $59,250. This modern rarity, created to celebrate the historical misprint of this original stamp in 1918, is only one of possibly 77 out of 2.2 million sheets produced, and was purchased down the road in Waterville, Me., in 2015.
Other fine categories and items featured during the second day of this comprehensive sale included rugs, stoneware, accessories, antique silver, and object d'art, among many others.
Julia's third auction day was dedicated to Asian Art, and realized over three quarters of a million dollars in sales—again confirming Julia's position as the emerging leader in this these most important categories.
This sale offered several very unique Asian treasures which really resonated with buyers. Leading the charge was lot 3268, a finely carved Large Rhinoceros Horn Scholar Landscape Cup which realized $56,287.50. And lot 3092, a monumental pair of Cast Iron Buddhist Lions, roared to $47,400.
Buyers really lit up over this sale's expansive offerings of censers. Three highlights included Lot 3203, a rare Guanyao Tripod Censer which realized $23,700; lot 3170, a Jiaotan Guanyao Censer which realized $15,405; and lot 3169, a Ge-Type Tripod Censer which realized $12,442.50. Jades also sold well at this auction event. Various forms were on offer, with many exhibiting exceptional carving details and coloration. Lot 3091, a Mottled Yellowish Jade Carving of a Carp realized $24,885, while lot 3136, Jade Plaques For A Belt, wasted no time in realizing $4,977. Lot 3279, a Spinach Green Jade Brush Pot, realized a healthy $7,110.
Julia's selections of porcelain items on offer were second to none, and buyers could not get enough of these precious Asian rarities. Lot 3196, a Ge-Type Pear Shaped Vase realized $23,700, while lot 3211, a Famille Rose Porcelain Panel, blossomed at $23,700. Other highlights included lot 3200, a Ge-Type Bottle Vase which realized $20,145; lot 3198, a Guan Quatrefoil Planter which realized $18,960; and lot 3164; a Ge Ware Foliate Brush Washer, which came clean at $16,590.
According to Bill Gage, Department Head of James D. Julia's Fine Art, Asian, and Antique Division, "I was happy to see such enthusiastic bidding across all categories over the course of this three-day sales event. There was great interest in our selections of fine paintings and weathervanes, and both categories did quite well. Our next will be held in August 2016, and our team is already accepting consignments for what many people consider the highlight antique auction of the summer."
IPBA 28th Annual Convention in Portland, Oregon
The International Perfume Bottle Association (IPBA) will hold its 28th annual convention with a theme of "Scents, Wine & Roses." This year's event will be held on the West Coast in Portland, Ore., from April 27th to May 1st, at the Marriott Portland Downtown Waterfront. It is the biggest event of the year for the IPBA, attracting members from countries as far away as Australia, Switzerland, England, France and Portugal.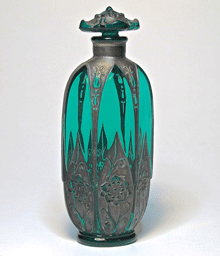 Dr. Tom Reichert will serve as the convention's keynote speaker. He is the author of The Erotic History of Advertising and will be speaking about how the fragrance industry's advertising taps into the human psyche and why so many perfume advertisements are erotic in nature. He will highlight how advertisers and marketers have used sex from the early days of advertising to the present.
On April 30, the event is open to the public all day, and it's free. A variety of enjoyable and interesting events are planned, to include the Perfume Bottle & Vanity Show and Sale. The show boasts a large showroom of exquisite, vintage perfume bottles and vanity items. Also on tap is an educational program titled, Collecting Perfume Bottles 101, as well as a Flea Market of Vanity Items, loaded with bargains and deals.
A special appraisal session called Vanity Valuations will also be held, where all are invited to bring in a vanity item to be appraised. If unsure as to what qualifies as a vanity item, ask yourself, does it makes you look or smell good? Then it's a vanity item. If your grandmother left you something like this or if you have a vanity item, appraisers will be on hand to help.
New to this year's convention will be a Perfume Bottle Design Contest, which is open to all artisans, not just IPBA members. The official rules can be found on the IPBA website. Twenty-five of the top design entries will be displayed in the showroom, and the winner will be announced on April 30 at the convention. IPBA officials are looking forward to all kinds of exciting new perfume bottle designs to be showcased.
On Friday evening, April 29, the longest-running Perfume Bottle Auction in the country—featuring beautiful and unusual perfume bottles and vanity items—will be held. Items will reach hammer prices ranging from $100 to thousands or even tens of thousands of dollars. Nicholas Dawes, an Antiques Roadshow celebrity, will return again as auctioneer. Items in the auction can be viewed at www.perfumebottlesauction.com.
The IPBA isn't about just perfume bottles. The association is growing and changing with the times as it embraces all kinds of vanity items and ephemera, including vintage purses, compacts, dresser sets, advertising and more. Many of these items go hand in hand as some compacts include perfume bottles as do purses. The IPBA has designed enjoyable, interesting and educational events for its members and the public alike. For a list of events open to the public or for more information, contact Teri Wirth at 407-973-0783 or vicepresident@perfumebottles.org. Visit the IPBA website at www.perfumebottles.org.
CollectorCorkscrews.com's Next Internet Auction is April 15-May 1
CollectorCorkscrews.com operates twice yearly auction sales for better corkscrews and continually has lower-priced items available in the "buy now" section of the website. Operated by collectors on a voluntary basis, CollectorCorkscrews.com maintains a public database of more than 11,000 corkscrews sold on the site since 2008. It is an invaluable research tool for buyers and sellers. The next auction sale is scheduled for April 15-May 1, with more than 900 antique and collectible corkscrews selling for between $100 and $5,000 or more.
What makes collectors compete for a corkscrew that ends up selling for thousands of dollars? There's no one answer. In a recent www.CollectorCorkscrews.com auction, very different styles of corkscrews excited collectors and attracted high bids. One was the classical 19th century English mechanical corkscrews. These are the cornerstone of most good collections internationally. They are smart-looking and typically made of brass or polished steel with finely turned wood or bone handles.
Other highly collectible corkscrews have little visual appeal. Instead, the attraction comes from its rarity and ingenuity, particularly with a patent. For example, a little multi-tool corkscrew in the November auction that also served as a keyring was frankly underwhelming, but its inventor, Justus Browning, received a U.S. patent in 1911 for the nail clipper feature. Though the corkscrew itself is basic, and only a few examples are known. So for that reason, the final price was a robust $1,860.
Many simple but ingenious multi-tools and other devices with corkscrews are marked with U.S. patent details, particularly from that great period of invention between the U.S. Civil War and World War I. Most are worth only a few dollars, but if a quick Google search only reveals the patent details and no eBay sales, it is worth further research. A search of the CollectorCorkscrews.com database will reveal hundreds of U.S. patent sales ranging from $100 to $25,000.