The Celebrity Collector

Bob Weatherwax, Son of Rudd Weatherwax,
Legendary Trainer of Lassie, Collects Dog Trainer Memorabilia
By Ken Hall
There isn't a grown-up or child alive who hasn't heard of Lassie, the collie that's been tugging at America's heartstrings for generations. It started with a short story "Lassie Come Home," published in the Saturday Evening Post in December 1938 and written by British author Eric Knight. The story became a book in 1940 and three years later a movie, starring a very young Elizabeth Taylor.
Mr. Knight visited the set during the filming of "Lassie Come Home," but he was tragically killed not long after that, fighting in World War II. He never saw Lassie make her remarkable journey from major motion picture star to television icon on a series that ran for twenty years. Other films and TV shows followed, even a re-make of "Lassie Come Home." Lassie is a time-tested franchise.
The man behind the original Lassie (actually a male collie named Pal) was Rudd Weatherwax, a trainer and breeder whose involvement with Hollywood animals can be traced to the 1930s, with Petey, the pit bull mix with the circle around one eye in the "Our Gang" comedies; Asta, the wire-haired terrier in the "Thin Man" series; and Daisy, the lovable mutt in the "Blondie" movies.
After breeding and training six-plus generations of Lassies (all of them males, for the record), as well as many other dogs that appeared in film and television, Rudd Weatherwax passed away in 1985. Upon his death, Lassie VII, other lassie dogs and other working dogs went to his son, Bob, who had apprenticed under his dad and then established his own career as a Hollywood dog trainer.
"My father kept a lot of items, most of them pertaining to Lassie," said Weatherwax, who continues to carry on his father's legacy and line of collies with Laddie, his ninth generation of the Weatherwax Lassies. "Unfortunately, quite a bit got destroyed about 35 years ago, in a canyon house fire. That was tragic. But none of the animals were hurt, and that's all that matters. Since then, I've added to the collection, to build it back up."
Two items comprise the centerpiece of what survived the fire. One is a magnificent portrait of the original Lassie ­ Pal ­ done around 1950 by Don DeVanny, the former head scenic artist at Warner Brothers Studios. DeVanny painted the portrait on velvet ­ his specialty. According to family legend, DeVanny taught his method of painting on velvet to the legendary master, Paul Gauguin.
The other item is a "Georgie" award, named for the American songwriter George M. Cohan ("Yankee Doodle Dandy") and given for excellence in a stage performance. Lassie got the award, in the early '60s, back when Rudd was bringing her around to fairs, carnivals and other venues when she (he) wasn't booked for a movie or TV show. It was the only time a dog ever won the award.
"That statue is every bit as handsome as an Oscar," Bob said with pride. "And Lassie earned it. The show my father staged was very elaborate. It didn't last long ­ maybe 20 minutes ­ but it involved Lassie re-enacting scenes from the TV show, often with a child from the audience, Lassie growling away a bad guy who tried to "poison" her, Lassie doing tricks, giving her paw ­ it was fun."
The rest of the collection is a treasure trove of photos (very few signed, unfortunately, as Rudd wasn't star struck and it wouldn't have been particularly professional of him to go around soliciting autographs on the set of a movie); books and novels that featured Lassie; numerous Golden Books for children; comic books featuring Lassie; awards; plaques; and certificates.
One of the more unusual photos shows Lassie with then-First Lady, Lady Bird Johnson. It was Lassie's only foray into politics: she was enlisted into the "clean up the environment" campaign during Lyndon Johnson's presidency. As part of the effort, Lassie and Rudd made the trip to the White House to have their picture taken with Lady Bird, whose cause was beautifying the landscape.
When Rudd was alive, the Lassies had their own bedrooms. Today, under Bob, things are done a little more casual-cozy. Laddie thinks of Bob's bed as his own. But Laddie also has his own room, too, and its filled with many of the memorabilia items that were just described here. Laddie's favorite thing is to lie down on the big overstuffed chair that his father (Lassie VIII) loved.
The Weatherwax story actually goes back to Rudd's father and Bob's grandfather, Walter, a rancher by trade in the New Mexico territories before they were even considered for statehood. He owned a white collie that tended his 400 head of sheep. Bob said his grandfather also worked part time for Buffalo Bill's Wild West Show, as a horse trainer for trick riders. He also rode in the show.
Rudd wasn't the only Weatherwax to train and breed dogs for Hollywood. His brother Frank was his partner in the later years, and the two delighted audiences with some of the screen's most famous dogs, including "Old Yeller" from the Disney classic of the same title. Another brother, Jack, handled the cairn terrier Toto in "The Wizard of Oz." Frank used Toto's son, Rommy, in films and TV.
Rudd Weatherwax left behind a vast legacy, influencing legions of trainers who came after him. Chief among these are Karl Lewis Miller, whose animal credits include "Beethoven," "Cujo" and "Babe," and Frank Inn, who apprenticed with Rudd and credited for training Cleo on TV's "The People's Choice"; Arnold the pig on "Green Acres," and Benji, from the beloved "Benji" movies.
Bob subscribes to a system of dog training, developed by Rudd and applicable to all breeds, called "The Weatherwax Way." It's different from other methods in that the goal is to create a fluid flow of movement that creates the suggestion of acting and emoting. It incorporates voice inflection, hand signals, eye contact, and what Bob called "a unique choreography between trainer and dog."
For a variety of reasons ­ some of them legal, some personal ­ Bob Weatherwax no longer owns the rights to the character and name Lassie. That belongs to Classic Media, a subsidiary of Entertainment Rights. But Bob continues to train and breed collies, in the true Lassie tradition and in keeping with the high standards set by his father/mentor, Rudd. That will probably never change.
Today, Bob tends to Laddie and his friend, a Skye terrier named Throttle. He is also busy writing a book about his years of breeding and training Lassies and his personal memories throughout his family history, of both the humans and the Lassie dogs he grew up with.
Bob also attends celebrity and nostalgia shows, pet expos and pet industry trade shows, and demonstration seminars for kids and active seniors. For more information, click on www.weatherwaxtraineddogs.com. A new feature called "Telephone Time With Bob," allows visitors to converse in real time with Bob.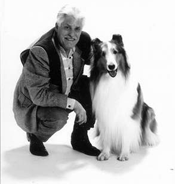 This photo of Bob and Laddie (the 9th generation Lassie) is in black and white, like the TV show "Lassie" that ran for 20 years.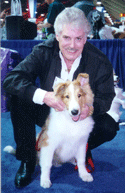 Today, Bob tends to Laddie (a direct descendant of the original Lassie, a male collie named Pal) and Laddie's friend, a Skye terrier named Throttle.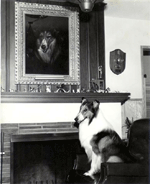 This is the original Lassie (real name Pal), beneath a portrait on velvet done in 1950 by Warner Brothers scenic artist Don DeVanny.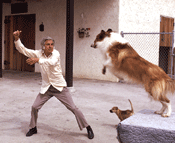 The legendary animal trainer Rudd Weatherwax ­ Bob's father ­ puts Lassie through her paces.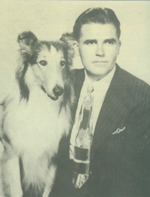 Early photo of Lassie and Rudd Weatherwax, who trained seven
generations of Lassies up until his death in 1985.