Name This Famous Person: Victor Hugo

by Mike McLeod
Posted January 2013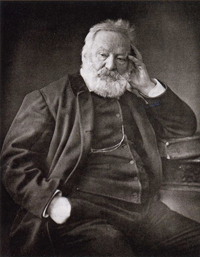 Most recognize Victor Hugo as the author of The Hunchback of Notre Dame and Les Miserables. He initially gained fame in his home country of France by publishing poetry and is recognized as one of that country's greatest poets.
Victor-Marie Hugo was born on February 26, 1802 in Besançon, France, to Joseph Leopold Sigisbert Hugo, an officer of high rank in Napoleon's army, and Sophie Trebuchet. Joseph Hugo served as a governor of a province in Italy and over three provinces in Spain later in his career under Napoleon. Sophie tired of the travel required of her husband by his job so she and the children moved back to Paris. Sophie and Joseph eventually separated.
Victor Hugo grew up under the reign of Napoleon and saw the French Revolution in 1848. He was at first a monarchist and a supporter of Louis Napoleon (Napoleon III), but later his views changed, and he became critical of his authoritarian rule. Hugo fled into exile to avoid arrest by Napoleon III.
Hugo lived first in Brussels and then on the islands of Jersey and Guernsey, both British possessions off the coast of Normandy. Even though Napoleon III granted a general amnesty to all exiles in 1859, Hugo did not return home at that time because he was still critical of the government. It was not until Napoleon III was defeated during the Franco-Prussia War in 1870 and deposed as ruler that he returned to his homeland.
Unfortunately, Napoleon III's capture did not end the war because another government was formed in Paris, the Third Republic. The Prussian and German armies continued to wage war and campaigned all the way to Paris, laying siege to the city. Hugo and his family were trapped within its confines, and he later reported that with starvation at hand, he and his family ate animals given to them by the Paris Zoo. He went on to say that they later ate the "unknown" to survive.
In his literary life, at the age of 20, Victor Hugo achieved immediate success with the publishing of his first collection of poetry. Louis XVIII was so enamored with his work that he gave him a royal pension. He went on to publish many books of poetry, and he was acclaimed as a master poet and lyricist.
His first book, The Last Day of a Condemned Man, was published in 1829 and was a protest against the death penalty. Hugo was a lifelong resistor of this practice, while France during the Reign of Terror made frequent use of the guillotine.
The Hunchback of Notre Dame followed in 1831 and was received with great acclaim. It also inspired tourism in Paris as many of its readers went to see the church Notre Dame. In turn, this inspired (or shamed) the city fathers into restoring the old cathedral, which had fallen into disrepair.
The more-than-200-page Les Miserables would not reach the public until 1862, and it was said to be a favorite of the Confederates during the Civil War. Hugo was such an acclaimed writer by this time that he had several publishing houses bid on the right to publish this novel. It first appeared in print in serial form because it was so long.

Les Miserables was received with great acclaim by the public; however, many critics found fault with it and said it—one of the greatest novels of all time—was of little literary value. Fortunately, the public and history proved the critics of the day wrong.
Hugo married Adèle Foucher in 1822, but for about 50 years of their marriage, he had a mistress, Juliette Drouet, an actress. He is also reported to have had affairs with many other women during his life.
He and his wife had three children. His oldest daughter, Leopoldine, died tragically at the age of 19 by drowning. A boat she was in overturned, and her skirts and clothing weighed her down. She had recently married, and her new husband also drowned trying to save her.
Hugo believed in God, but he was also involved in séances and spiritualism. Raised Catholic, but having left the church, Hugo wrote many poems against it. He believed that, "Religions pass away, but God remains."
Hugo was also a collector. While living on the Island of Guernsey, he was, "An enthusiastic collector of secondhand furniture and bric-a-brac, he brought back a profusion of chests, sideboards, carpets, mirrors, crockery, figurines and other objects from his excursions around the island. He put his boundless imagination to work on [his] house, spending months overseeing a major conversion on a medieval pattern, which gave this unique building an inner force and mystery." This is quoted from the Victor Hugo website (www.victorhugo.gg), which details his time on Guernsey, and it has a wonderful gallery of photos of his home, the Hauteville House, as he left it.
Victor Hugo was also a great artist. During his life, he drew more than 4,000 pictures, usually with pen and ink. Hugo did not broadcast this talent because he thought it would receive more acclaim than his writing.
At his death on May 22, 1885 from pneumonia, his funeral procession in Paris is reported to have had two million people in it.
Learn about more Famous People
---