Antique Objets d'Tennis
By Mike McLeod
If you aren't a tennis fanatic, you may think that Jimmy Connor's smelly sweatband and the Williams sisters' autographs are the extent of tennis collectibles. Actually, this 500-year-old sport has left us with many antique objets d'tennis. Books (historical, rule books, etc.), magazines, programs from tournaments, calendars, posters and even valentines from the Victorian era and later are just a few examples of ephemera for the tennis enthusiast to pursue. Tennis motif porcelain, pottery, china, silver, trophies, cups, and awards can also be found.
Some interesting and unusual tennis collectibles can be found at Greg & Barbara Hall's antique golf and tennis memorabilia website (http://webcom.com/old golf/mu3/halls.htm), such as:
Edwardian-era ball washer- an early 1900s wooden cup with top and bottom for cleaning balls used on lawn courts.
Victorian velvet collar with tennis motif-a burgundy velvet collar edged in lace; gold threads craft a tennis racquet and ball design.
Lawn tennis horse boot- prior to the 1920s, horses were used to pull grass mowers over the court. To prevent the horseshoes from digging up the lawns or fairways, the horses were fitted with leather boots. Listed at $145.
Candy container, tennis racquet and ball-ca. 1910-1920 candy container marked "Germany," 7" long; offered for $300. The ball separates in half and holds the candy.
An excellent collection of tennis antiques is owned by Albert Ritzenburg, owner of the website, www.museumoftennis.com. His collection includes the wonderful stained glass window on the cover of this issue and dozens of other antiques, including sculpture, paintings, books, textiles and tennis equipment. Some of the most interesting antiques in his collection and on his site are those he terms objets d'tennis: ca. 1885 cast iron umbrella stand with tennis motif; 1880 brass tennis racquets barometer; late 19th c. oak coat hanger shaped like crossed racquets; three-panel screen from the French Empire Period depicting a game of shuttlecock; ca. 1900 cameo brooch of a lady with a tennis racquet; and even an 1890s metal lemon squeezer with racquet and ball design.
A great collector of tennis items is Richard North of Florida. Here is his description of some of his collection of ephemera:
Cigarette/Trade Cards. In the 1880s, paper cigarettes were not an item of great importance in the tobacco industry. In an effort to improve sales and popularity, manufacturers began using slide boxes with picture cards inserted in each box. Sales began to boom, and soon every manufacturer was using the cards. These cards have always been popular with collectors. Almost every conceivable subject was depicted and since men were the most common smokers, there was a heavy emphasis on pretty girls, stage stars, and sports figures.
Postcards. My collection consists of about 5,000 picture postcards related to the sport of lawn tennis. Picture postcards originated in Europe in the early 1870s. My cards range in age from the 1890s to the present. The majority of cards are considered antiques, which generally means they were published before 1940. These cards provide important documentation into the spread of tennis as a popular sport, and vivid depiction of the clothing styles, tennis equipment, and court locations of the times. I have obtained most of my cards through mail order approval services and auctions from many dealers throughout the U.S., Great Britain, Europe, and Australia. Postcard shows, and conventions are another source of cards. I have divided my collection into several categories:
Movie stars are a popular subject for postcards. Many famous stars, such as Greta Garbo and Maurice Chevalier, have appeared on cards in tennis scenes with tennis equipment and clothes.
Glamour postcards are colorful hand-tinted real photos of pretty women, models and couples posed with tennis racquets, some with tennis scenes in the background. They are occasionally overprinted with short poems or greetings. Most were published in Europe between 1915 and 1925. They are probably one of the more common type of tennis-related postcards.
Humor postcards consist of illustrations and photos of people, and occasionally animals, in humorous tennis scenes and situations. The comic interpretation of tennis terminology is also a popular subject.
The postcard was used extensively as a form of advertising in the early 20th century. Tennis-related cards include ads for tennis equipment, calendars with tennis scenes, and many other products. Because advertising cards are in demand by a variety of postcard collectors, these cards have become extremely difficult to acquire.
North's collection also includes music boxes, figurines, games, lawn tennis measuring equipment and pocketknives. You can see much of his collection at http://www.geocities.com/team10s.
In the area of tennis equipment collecting, racquets dominate. The Jaeger Tennis Heritage Collection located in Costa Mesa, Calif., recommends on its website that, "Racquets found in bags or covers guarantee collectibility, when you can find them. Intact stringing and the completeness of the decals along with a lightly used patina mark out a prize in the back of an antique shop."
Racquets with smaller heads or lopsided, asymmetrical heads generally date from the 19th century and are very collectible. Some have brought thousands of dollars at auction. Racquets with larger heads replaced these, usually flat on the top. The decade after WWI saw the introduction of metal frames and strings and the split or open throated handle near the head. Racquets from the 1930s and early 1940s can often be identified by leather grips over the wooden handles and photo decals.
The Jaeger Tennis Heritage Collection also features a museum with information on tennis antiques and some outstanding examples of early lopsided racquets, which can be seen at www.tennisheritage.com/custom/museum.html. An exhibit from the museum was displayed at the Australian Open in Melbourne earlier this year.
The popularity of tennis as a sport seems to ebb and flow at times with the popularity of it's big name stars. But the sport of collecting tennis antiques is on the rise.

The History of Tennis
By Albert Ritzenberg,
www.museumoftennis.com
In some form or another, the game of tennis has been played for over 500 years. As far back as the 12th and 13th centuries, French ecclesiastical manuscripts refer to this ancient game originally played by monks in Italy. In France, it was called, Jeu de Paume, or "play of palm." Sometime later it was brought to Great Britain where it was named "Real Tennis."
At first, players used only the "palm of the hand," then a crude bat, and lastly a battoir, or "beater," covered with parchment. This paddle became the inspiration for the racquet, which in mid-16th century models had the net strung obliquely and a double grip handle.
As early as 1555, information about the sport of tennis was being published. While the sizes of the playing fields varied, the rules of this game played by kings and noblemen, were strikingly similar. After centuries of playing "Real Tennis" or "Royal Tennis" indoors on a floor of flagstone, in the late 1850s the game was taken outdoors using a newly created rubber ball that would bounce on grass.

In February 1874, Major Walter Clopton Wingfield applied for a patent on a "New and Improved Court for Playing the Ancient Game of Tennis." He called his new game Sphairistike, after the Greek word, meaning ball game. That name was abbreviated to "Sticky" and was soon replaced by "Lawn Tennis."
Sets of Major Wingfield's patented game of Lawn Tennis sold for five guineas (more than £5), replete with plain rubber balls, four pear-shaped racquets and a triangular net. The original court was hourglass-shaped.
Mary Outerbridge purchased one of Wingfield's sets in the British Colony of Bermuda. In 1874, aboard the steamship Canima, she brought the game back to her native New York and set up a court at the Staten Island Cricket and Baseball Club. This was to be America's first introduction to the new sport of lawn tennis.
As the sport gained in popularity, the playing field soon evolved to its present day shape. The equipment also changed. Wooden racquets became more oval shaped, and rubber balls were covered with flannel and filled with air.
Tournaments were created to find out who was best. Players traveled across oceans to compete. At Wimbledon and the U.S. National Championship, thousands of spectators watched as champions were born.
Over the next century, tennis would grow to become one of the most popular sports in the world, far from that game played using only the "palm of the hand."
2003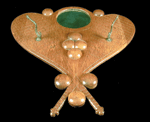 Late 19th century coat hanger.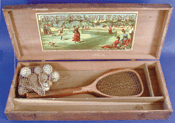 An early lawn tennis set, wooden box manufactured by Horsman's Lawn Tennis. (Unless noted otherwise, photos courtesy of Albert Ritzenberg.)
Post card of 1889 tennis
world champion.
(Courtesy Richard North, www.geocities.com/team10s)
Greta Garbo posed for this tennis postcard. (All postcard photos courtesy Richard North.)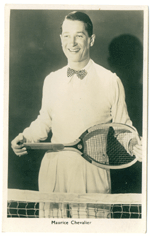 Maurice Chevalier, another star on a tennis-themed postcard.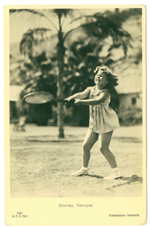 Photo postcard of
Shirley Temple.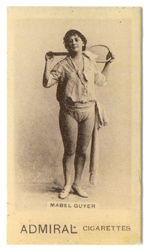 The earliest example of a cigarette card featuring actress Mable Guyer.
1880s Extreme Lob racquet.
All early racquets sported
this lopsided design.
(Courtesy Rolf Jaeger,
www.tennisheritage.com)
Tennis racquet and ball candy container, 1910-1920.
(Photo, Greg Hall.)
Ca. 1890 lemon squeezer,
10" x 6" x 6".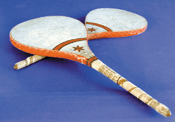 Two of the earliest racquets, or battoir, with parchment heads.
1880 brass clock.