The Tapestry Handbag Weaves A Story
Vintage Tapestry Handbags & Purses
The continuing evolution of handbags started centuries ago when men carried the first purses. However, it wasn't long before women's necessities were crowding their pockets. Their hand fan, snuff bottle, smelling salts, hair accessories, handkerchief and prayer book all caused unsightly bulges to their shapely curves. The solution to this disturbing dilemma has resulted in an unending entourage of every sort of purse imaginable.
By the 1800s, hand woven tapestry handbags became an integral part of fashion. This era saw some of the greatest French tapestries produced and the introduction of many new colors for dyeing wool and silk threads. Master weavers worked on low warp looms over life-size tapestry models (large paintings or drawings), called "cartoons." Weavers placed these paintings or drawings under their looms and copied them as they worked. Master weavers were talented enough to copy them by eye. This time consuming and meticulous, labor-intensive work took months or even years to produce a significant piece.
Occasionally, more than one artist was assigned to a project.
One of the earliest areas for weaving tapestries is the world renowned town of Aubusson, in central France, located on the banks of the River Creuse. The French figural and scenic Aubusson tapestry handbags from the 1800s are acclaimed as the most luxurious created. Their detailed intricacies appear to tell a fascinating story. Various examples boast elaborate figures, dressed in period clothing, engaged in romantic stances and embraces. Many incorporate birds and animals while others depict serenades with musical instruments. Colorful garden extravaganzas and countryside scenes with castles were illustrated, as well as simpler floral arrangements. Each side of these purses presents a different theme, all depicting French ambiance.
These tapestry bags expressed the personality of the aristocratic ladies and made for an outstanding choice in diversifying wardrobe accessories. Typically, social standing and class distinctions accounted for the differences between who carried the more complex sophisticated tapestry bag and its simpler yet elegant counterpart.
The quality of the Aubusson is so superior that these purses reign supreme in a category all their own. In addition to their obvious allure, these handbags are often crowned with the most magnificent of decorated purse frames. Many are stamped "made in France," or they carry an impressed metal maker's company mark.
Frames were lavished with semi-precious stones, pearls, enameling, cameos, glass jewels and faux adornments. Many were cast in heavy embossed sterling silver with deep repousse workmanship, others of quality silver plate or 800 parts silver, often flaunting whimsical cherubs, winged creatures or mythological characters. The much-admired Aubusson tapestry handbags are recognized as true works of art and deservingly so.
As times changed, hand weaving tapestry took a back door to the machine woven examples of the 1930s,' 40s and '50s. Designer tapestry bags were made in France for companies like Walborg. During this era, the French maintained their position in the forefront of tapestry handbags by continuing to produce what is considered the best from that time. The romantic portraits and countryside scenes maintained their popularity with the best styles having different figural poses on each side. Frames were primarily embossed brass, and a few had stones or other embellishments. Some were plated, celluloid, Lucite or of similar composition.
In America, the 1950s furnished tapestry from Theodore of California and JR (Julius Resnick) produced a variety, some with plastic interior dividers. La Marquise used both Italian and French tapestry, some having vinyl linings and zippered interior pockets. Austria, West Germany and the Asian communities all manufactured vintage tapestry bags, but none have even come close to the qualities of the French examples, making them the most desired tapestry bags in the marketplace today.
Dating the tapestry purse can sometimes be a challenge for the novice. Many times, tapestry bags were constructed from earlier tapestry cloth; other pieces of tapestry were designed specifically for handbags. The purse's frame does often indicate the age of the purse, although not always conclusively. However, with a little practical experience and study, one should be able to distinguish the different eras rather easily. There are evident attributes that are apparent when inspecting an authentic Aubusson:
· The appearance of the weave is so much finer than that of machine made;
· The use of ornate and jeweled frames;
· The linings were masterfully gathered about the frame's interior edge and included pockets, matching cinched trimmings, and some had attached mirrors.
Harder to differentiate is the tapestry itself. A common error is the confusion between the tapestry and the petit point purse. Purse dealers that pride themselves with years of expertise have been fooled by not looking closely enough. The older petit point (the late 1800s through the 1940s) is all hand stitched; the older tapestry is hand woven, likely on a loom. For the most part, the newer petit point of more recent decades is machine made, as is the newer tapestry from the 1930s and 1940s. However, if you want to spend many thousands of dollars on a new hand stitched petit point purse, a few Austrian artisans are still today spending months making them by hand, but you will travel to Austria to acquire one.
Whether hand or machine woven, imported French tapestry handbags are considered premium and are cherished by today's collectors. Prices range widely; you will dig deep into your pocketbook to acquire an Aubusson. An awesome example in superior condition will be priced well into the hundreds of dollars and upwards to a thousand. The better French examples from the '30s and '40s can be obtained for far less, although there aren't many great ones around to be found. Of course, condition is everything when considering a purchase. Buying the best you can afford is the better choice. Investment quality purses will always maintain and continue to grow in value. If you can't afford the best that is available, save up, because the bitterness of poor quality remains long after the sweetness of a low price is forgotten.
---
Carol Dubilo is the owner of Antiques Off Broadway (www.antiquepeek.com) and Purse Street (www.pursestreet.com) in Chicopee, Massachusetts. She can be contacted at 413-592-4489 or antiquepeek@charter.net.
Photos provided by: Tri-State Antiques, 47 W. Pike, Canonsburg, PA 15317, 724-745-9116, www.tri-stateantiques.com and Kakki Smith, www.rubylane.com/shops/kisoriginals.

A figural Aubusson purse
showing a romantic couple
enjoying a picnic in the park. A castle is in the background.
(Photo: Tri-State Antique Center.)
A playful cherub observes an
18th c. couple in an embrace on
this ca. 1900 Aubusson purse that
has held its brilliant color. The brass frame has enamel work and bezel set stones. The reverse shows a lake and stream surrounded by woods; $1,000. (Photo: from the collection of Kakki Smith.)
A figural micro-petit point purse with a filigreed and jeweled frame. (Photo: Tri-State Antique Center.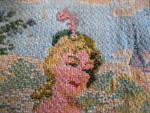 French tapestry purse, woven in the 1930s. (Photo: Carol Dubilo)
Hand stitched petit point purse, ca. 1930. Inset shows petit point
stitching. (Photo: Carol Dubilo)
This circa 1900 Aubusson purse features a courting couple attended by a cherub in the garden. The back shows a castle; $1,200.
(Photo: from the collection
of Kakki Smith.)