The Celebrity Collector:
Tanna Frederick
By Ken Hall
Posted June 2012
The actress Tanna Frederick (Hollywood Dreams, Queen of the Lot, Irene in Time) and her longtime partner, noted film director Henry Jaglom, are hardcore '40s-philes. Their home in Santa Monica, Calif., is appointed in such a way that it could easily be mistaken for a Hollywood movie set. The magazines on the coffee tables (LIFE, LOOK, Pageant, etc.) are from the period, black-and-white portraits of stars from Hollywood's Golden Era by the renowned photographer George Hurrell dot the walls, much of the furniture is 20th century Art Deco and the house itself is a cozy little bungalow from another time and place. Even the dishware is circa 1940s.
Tanna Frederick isn't sure exactly how or why she became so magnetically attracted to 1940s-era America, but it's in her DNA and even in her work. In her breakout film, Hollywood Dreams, she plays Margie Chisek, an ambitious and charming starlet who can barely contain her fragile emotional state. Critics compared her performance to Bette Davis in All About Eve and Dangerous, and Gloria Swanson's painfully deluded Norma Desmond in Sunset Boulevard. One critic described her as "a young Bette Davis on crack," while others have drawn comparisons to legends like Lucille Ball, Judy Garland and Fanny Brice—all actresses from a bygone era.
Frederick said Bette Davis a constant source of inspiration in her life.
"I don't feel that I can possibly compare to her," she said, "but I admire the way she was always in the moment, and the way that theater and her life and art were always inseparable."
As for the 1940s in general, the actress said she has always been drawn to the innocence, optimism and sense of shared sacrifice the decade gave off.
First, there was a world war, and after that, Americans were able to exhale and enjoy life. The late '40s were a kind of rebirth, and attention was paid to fashion, film, music and art. And people did things like dress up for lunch, which I think is so lovely."
A stroll through Frederick and Jaglom's home is an homage to the period. The furniture—nearly all of it Art Deco—is vintage but eco-friendly, too.
"Trees have been re-purposed for the furniture in our house," she said. "Nothing is new. It's all been refurbished. Even the rattan and lawn furniture is older."
One decorative accessory that immediately catches the eye is a large and beautifully carved horse mounted onto a buffet.
"It's from a carousel that Walt Disney had given to Candice Bergen for her sixth birthday," Tanna said. "When we were aware that it had become available for sale, we moved quickly to buy it. It's gorgeous and has a great story."
The magazines are scattered around on tables, and some are framed and on walls. Tanna is especially fond of LIFE Magazine.
"My collection is huge!" she enthused, but she will snap up any magazine she likes at an antique shop or estate sale, if it appeals to her. "I especially love the ads," she remarked. "To see, for example, these movie stars from the day endorsing their favorite cigarette brand, which is unthinkable today, is funny and fascinating at the same time."
Frederick also has a collection of about 40 paper doll books, which were popular at the time and were all about the Oscar-winning actresses and the dresses they wore.
The George Hurrell portrait photos are ubiquitous throughout the house. They include shots of Marlene Dietrich (with feathers coming back from her hair, looking straight into the camera), Humphrey Bogart (smoking and looking off to the side), Barbara Stanwyck, an early Bette Davis, two each of Greta Garbo and Norma Shearer, Vivien Leigh, John Barrymore, Rita Hayworth and others. Non-Hurrell photos include one of a young Judy Garland "…looking chubby and miserable," a screen test photo of Lauren Bacall from To Have and Have Not, showing her with no make-up, and a publicity still of Marilyn Monroe from the 1950 film All About Eve.
Frederick also owns movie posters and original paintings made for movie posters, some of which are in foreign languages. The one for Singin' in the Rain, for example, is in German; A Star is Born, showing Judy Garland, is in French; Anchors Aweigh, in German. Others, like How to Marry a Millionaire, are in English. She even has a Tom and Jerry cartoon poster from World War II, showing Tom dressed up as Hitler. There is also a separate collection of posters from World War II encouraging people to buy war bonds. These are originals, not reproductions, and the demand for these posters has spiked considerably among collectors in recent years.
A descent into Frederick's basement is like a trip back in time, more specifically, to a circa-1940s Neiman Marcus department store changing room. There, the furnishings, clothing racks and all the clothing on the racks are vintage to the era.
"Some of the clothing we got from Henry's mother, who fortunately held on to much of her couture," Frederick said. "It even includes old mink coats."
The crowning touch is the large collection of mannequins and heads from the '30s and '40s, quite rare, but Tanna has managed to run across them over the years.
The collection of period dishware can also be attributed, in part, to Jaglom's mother (and father) who traveled on the Queen Mary and obtained some pieces with the marks and logo of the ship's line (these included other items, such as cigarette holders). In addition, the couple uses Fiestaware—the riotously colorful dishes and plates that were all the rage in the 1940s and '50s—as their everyday service.
"They're very pretty, so why put them away or display them in a hutch?" Frederick asked. "We like to use what we've got. Our house might be a monument to '40s-style living, but it isn't a museum."
Lastly, Frederick is a huge fan of Coco Chanel and has many Chanel items from the '40s and '50s, to include jewelry (such as bracelets, some of them the clear plastic types from the '40s, necklaces with the flying eagle design, and earrings), belts (patent leather, with chains), purses (mostly from the '60s and '70s), and a Chanel coat from the 1950s.
"I have an endless variety of the Coco Chanel "CC" lettering, in just about every version," she said. The Chanel items, like most of Frederick's other collections, have been assembled over the years by shopping at antique shops and malls, online, and through auctions and estate sales.
Tanna Frederick was born and raised in Iowa, but she knew from a young age that she wanted to perform. She went to college at the University of Iowa, where she double-majored in theater and political science/international relations. She graduated as class valedictorian, then moved to Hollywood to seek her fortune.
When she learned from a friend that the independent film director Henry Jaglom had a history of responding to fan mail, she dashed off a letter, asking him for an audition. He replied, granted her an audition, and promptly cast her in his play at the time, A Safe Place. The two have been co-habitants, partners and collaborators ever since.
Jaglom, who has made a career out of casual but pointed observations about the intricacies of human relationships set against the backdrop of show business, has cast Tanna as his leading lady in numerous movies and plays. These include Hollywood Dreams (which earned her Best Actress awards at WorldFest Houston, the Montana International Film Festival, the Fargo Film Festival and the Wild Rose Film Festival), Irene in Time, Queen of the Lot, The Strange Case of Katie Q, Always, Just 45 Minutes From Broadway and the short film Touch. She just finished filming the Jaglom romantic comedy The M Word, co-starring Corey Feldman.
Off-screen, Frederick is a fitness aficionado who runs daily (she ranked 52nd out of 1,321 women in her division at the L.A. Marathon in 2010); a second-degree Tae Kwon Do black belt, and a passionate surfer (she founded Project Save Our Surf, an annual surfing event that benefits various ocean charities). She is also the founder of the Iowa Film Festival, which debuted successfully four years ago and has since tripled in size. A recent venture is Project Cornlight, which aims to develop Iowa-based films and other projects showcasing talent from her native Iowa. Fans of Tanna Frederick may visit the star online at www.tannafrederick.com.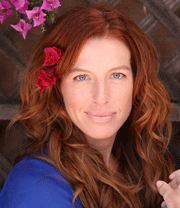 Tanna Frederick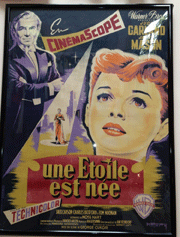 Tanna's poster for A Star Is Born, starring Judy Garland, in French.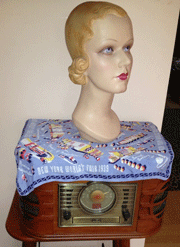 A mannequin head from the '40s rests on a souvenir from the 1939 World's Fair, which is on a '40s-era radio.
A mannequin's head, circa 1940s, sits not far from a movie poster for The Road to Rio, with Bob Hope and Bing Crosby.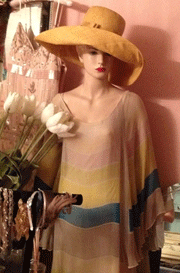 Mannequin wearing a '40s-vintage dress and hat. Tanna's basement looks like a Neiman Marcus changing room from the '40s.