Decorating with Swedish Painted Furniture
By Darlene Peterson Buchanan
In Sweden, where the winter nights are long and dark and the summer nights are long and light, the Swedish people appreciate and love all things beautiful. In the summertime, they bring birch branches in their homes for the beauty of the springtime and the joy of midsummer. However, in the dark nights and days of winter, they create their own beauty by painting their dark wood grained furniture with colorful designs of flowers, scenery, and memories of lighter, brighter days. Before the days of radio and TV, this art form helped preserve their sanity and added beauty to the darkest of nights. Many itinerant painters would paint in exchange for room and board, moving on to another home after creating beauty.
In the 1800s, the province of Hälsingland was among the most affluent in Sweden. Their province had timber, which everyone wanted for building their own little stuga (a small, red house in Sweden). Because of the wealth in this province, many of the most beautifully painted pieces come from there. Quite simply, they had the money to hire the best painters to make the most ornate and most beautiful pieces.
If you live in a moderate four-season climate and love to decorate in the soft beige and tan color scheme, you might find it hard to imagine all of the colors the Swedes needed in their homes to survive the long winters. However, like the Swedes, you will find that by adding one beautifully painted piece to your beige and brown room, it will suddenly come alive. It is like adding a smile to a face or a diamond to the curve of a woman's neck. It becomes a treasure and truly makes your room sparkle. This is the precise reason why so many people are acquiring lovely old painted pieces from Sweden. They add an exclamation point to your home.
Besides painted furniture, you will see many dala horses in Swedish shops. The name comes from Dalarna, a province in the heart of Sweden. In the 1800s, they were originally created and carved from scraps of wood as toys for children. Even then, decorative designs found their way onto them. The Swedish people have a way of making both mundane and useful items a joy and a delight to the user. Since 1939 when a giant dala horse was shown at the World's Fair, the interest in these horses has skyrocketed, and many people around the world collect them. Using dala horses in your room design adds a touch of playfulness to an otherwise stark and boring room.
Books, such as The Magic Horse, now out of print, and Dalahästen are useful books about collecting dala horses. Copies of them can be found in Swedish and English.
In Sweden in the 1800s, Sweden experienced many hardships due to crop failures. Bible stories have always carried hope to those during hardships. Few homes even had a Bible at this time, so Biblical stories were shared through art. Many Bible stories were painted on furniture and on wall linens, and it is especially enchanting to see Bible stories portrayed in art with the people all dressed in Swedish clothing! This type of painting is called dålmalning and features large floral sprays called kurbits on the sides. Swedish artists found reference to these floral sprays in the book of I Kings in the Bible so they used them in the their paintings.
One of the most loved scenes is the wedding feast, where all the participants are wearing Swedish clothes and the bride is wearing a traditional wedding crown. Many of these can be seen in museums in the U. S. and Sweden.
Also of interest when designing with Swedish antiques are the lovely, tall and majestic Mora clocks. Many were painted extremely ornately to represent a new bride-both in the complexity of the design to look like her wedding garment and in the shape of the clock to represent a woman's body shape. Many of the old ones can still be found, but the majority of them are painted, either in the ornate style with initials, dates and floral sprays, or in the Gustavian white and gold style.
Mora clocks make a dynamic statement in any room with their stately and majestic design. In times past, it was considered rude in American interior design to have a clock in the living room, as it implied guests were expected to leave at a certain time. However, it is now considered in very good taste to have a very special clock, such as a Mora clock, in a room where you entertain. They make a lovely statement and are a wonderful conversation piece, especially if you own an antique one from Sweden. These are real treasures.
Another important item in old Swedish culture were tina (or tine) boxes, or as they are called in Sweden, svepask boxes. This is a small box with birch strips are wrapped around a base and a clamp-type lid attached to the top. These were used for lunches, or jewels, or for storing treasures. Many also were made as a special gift from the groom to his bride to be. They are often ornately painted with whatever was in the mind and heart of the Swedish artist.
These boxes can be a beautiful accessory in your decorating scheme. Group them with other Swedish antiques or other antique boxes for a statement in beautifully hand-crafted items from yesterday. They can also be grouped with old dala horses. If you choose, you can remove the lid and have a beautiful, small textile coming out of the box with the lid displayed askew on the top.
If your budget will not allow for the purchase of an old painted antique from Sweden, there are newly painted pieces, painted with the same Swedish flavor and designs as the old ones. The price for newly painted pieces is much less, but they are still very collectable, since there are few Swedish artists now.
Whether you prefer the antique painted pieces from Sweden or newly painted Swedish treasures, there is an overwhelming contentment in owning an original piece of art that has been lovingly created with a human hand and an angelic and colorful spirit. This type of contentment cannot be found with a print or a mass-produced item, no matter how much color or detail in the piece. It is the energy of the original that exudes from the art that brings joy and happiness to the owner. Besides conveying delight to your eyes, it sooths like a balm in your heart, showing you Swedish culture from long ago. To a Swede, it doesn't get any better than that. Explore this art form and enjoy the designs of old Sweden.
---
Darlene Peterson Buchanan is the owner of Swedish Country Interiors (www.swedishcountry.com). She travels to Sweden as often as possible to obtain new treasures. She may be contacted at swedish.art@comcast.net or 425-821-1402. Darlene insists the best part of her website is the recording of her Swedish grandfather singing a Swedish Christmas song.
Small quantities of the Dalahästen book are available on her website.
---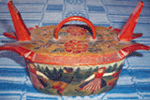 1860s small Swedish tina
box, only 7" long.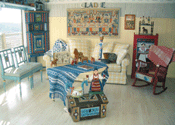 Swedish textiles and colors create "eye candy" in any room.
Hand crafted Mora design
clock made as a gift of love.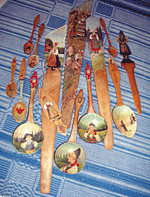 Swedish collections are
always a delight in decorating; such as with this collection of spoons and letter openers, all with old painting.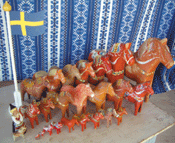 Swedish dala horse collection from the early 1900s. The name "dala" comes from the location where they originated, in Dalarna, the heart of Sweden.
1840 bridal trunk with duck head handle ale bowl and Rättvik girl candle holder.
The beauty of antique hand painted pieces from Sweden, all lovingly hand made and hand painted, many made by a groom for his bride to be. This was to show the bride's family what a clever fellow he was and that he was able to provide for her and make her nice furniture.
Swedish dalmalning cabinet with panels by famous Swedish artist, Birgitta Hedengren of Stockholm.