Decorating With
Swedish Country Antiques
By Darlene Peterson Buchanan
America is a land of many immigrants. As many as 1.4 million Swedes immigrated to America between 1840 and 1930. As the descendants of these immigrants and others seek to decorate their homes, it is not surprising that Swedes and non-Swedes alike are looking to Swedish country décor. It offers a colorful Carl Larsson look or the light and airy Gustavian look.
The Swedish people are lovers of color and light. They use all aspects of nature relating to light and its effect in a room. The color and light play off the walls, furnishings and accessories. This decorating style blends perfectly with the Gustavian look of old Sweden or the peasant look depicted by Carl Larsson. By placing a lovely old Swedish antique in a room bathed with light and having the traditional white and blue colors, you can capture the desired Swedish look.
Carl Larsson was a very famous painter in Sweden. He captured the daily life of old Sweden on canvas, and his home is now a museum. It bursts with color, design, shapes, art, creativity and representations of the simple life in Sweden at the turn of the century. This style is very popular and has created a high demand for Swedish antiques in this country.
Lovely Swedish antiques can be found in this country. Most are the treasures that the Swedish immigrants brought with them in the late 1800s. Decorated trunks were used to ship their earthly goods as they traveled on the treacherous route by water to this new land. These same trunks are available from reputable dealers and descendants of those immigrants today. Other furniture items can also be found in communities where the immigrants settled, such as Illinois and other midwestern states, Texas, the Pacific Northwest, Kansas and Minnesota. However, they settled in many rural areas in the U. S., so antiques might well be found in any location.
Buyers must be careful, though, when purchasing imported Swedish antiques. To be legally imported from Sweden, documentation from the National Museum is often required for painted furniture and accessories. This is because the Swedish government is trying to protect its national heritage, and antiques are considered an important part of that heritage.
Items which are in immaculate condition and very old may not be allowed to leave the country. The Swedish museum authorities have to look at documentation and pictures to ascertain if there are similar pieces in their museums. If there are, perhaps they will allow it to leave. If there has been some repair or if some part is missing, the items will usually be permitted to leave the country.
If you desire to achieve the Swedish Country look when decorating, you must first decide if you prefer the Carl Larsson look or the Gustavian look. These are the most popular styles. For the Gustavian look, use whites and soft blue colors and brightly light the room. Adding an authentic Swedish wallpaper border of bows and swags helps to further capture the feeling.
If you prefer the Carl Larsson look, use color-and lots of it. Reds, yellows and blues all convey the peasant look of Carl Larsson's home. Many times, an apple green color is used with a red-orange color for a delightfully cheery room. Carl Larsson used these colors in his dining room with exquisite results. Add to these colors carefully chosen Swedish antiques to complete your decor.
You might wish to add a beautifully painted antique Swedish trunk, or perhaps a lovely box called a svepask. This was a style of box where thin wood was wrapped around a solid base, and the top was held in place with a wooden clamp in the end. A handle was built into the lid.
Boxes like this are called svepask in Sweden, but many Americans call them "tina" boxes. It might come from the fact that boxes like this are called "tine" boxes in Norway, and somewhere it was changed to "tina" to depict a Swedish orientation. However, this word is not used in Sweden, only here in the U.S., and all collectors here know the word tina refers to boxes like this.
Svepask were used for holding food or for treasures, such as jewelry, gloves and special items that were used with a girl's costume. They are made from svep, a piece of wood that is split with a special tool into two pieces. The svep is then sewn together with root.
Many of these were made as bride's gifts. When a couple was engaged to be married, the groom would make a special gift for the bride to be. The handcraft had two functions: it was intended to show her family what a clever fellow he was, and it was a symbol of the wedding engagement. The items were usually made of wood with painted surfaces.
Since a groom wanted to make a favorable impression on the bride's family, he would use all of his skills in carving and painting to complete the project. Small painted boxes, trunks, flax knives or other skillfully made items were the normal choices. These items are in great demand by collectors here and in Sweden. They are excellent examples of fine Swedish craftsmanship, heritage and culture.
The Swedish style of decoration is a special joy. For those who have a Swedish heritage, one is suddenly in touch with his or her roots. It is a feeling that carries a confirmation of one's heritage. You want to linger and enjoy this specially decorated room, and you look forward each day to relaxing, entertaining or just dreaming in it. The antiques you have acquired just add to the total pleasure. As you run your hands over the surface of the items, you wonder who made it, who owned it, where it lived and when it came over to this country. Your mind will be spinning with wonderful thoughts of your heritage.
Paintings are always a delight to add to a room, but if that is not possible, the American Swedish Institute is the official retailer for Carl Larsson prints. They may be ordered to blend with your Swedish décor. They may be contacted at 1-800-5SWEDEN, or at www.americanswedishinst.org
Antique textiles are very popular with collectors, and hanging tapestries on walls is another option when decorating in the Swedish country style. In Sweden, tapestries are draped over a piece of furniture, used on a table or hung on walls. In old Sweden, textiles were hung on walls to keep out drafts and to keep the home warmer on cold winter nights. Of course, they also added beauty to the home.
The Swedes are lovers of beautiful interiors so even utilitarian items were made with a flair. Personal items often have decorative painting on them with initials or dates. Old Swedish costumes are often hung on the wall in place of a tapestry. Aprons and jackets, for instance, were hung on peg racks as useful decorations and were also available to be taken down and worn. They make awesome accessories, and you need not wear the costume to appreciate the detail and design of the piece. After their use, the items would be rehung to be enjoyed as the eyes feasted on the colors, textures and distinct details of the fabric and stitching.
When decorating, buy what you love and what speaks to you. Your Swedish country antiques will be an investment that will increase in value as you enjoy their beauty.
---
Darlene Peterson Buchanan is the owner of Swedish Country Interiors. You may visit her website at www.swedishcountry.com for product information and for your enjoyment to learn more about Swedish culture.
(All photos, courtesy Darlene Peterson Buchanan.)
To learn more about Swedish artist Carl Larsson, visit http://www.clg.se/ .
---
On the cover: This cabinet from 1800 with original decorative paint measures 84 1/2" x 44 1/2" and has scalloped edges and a painted crown with a traditional Swedish border. This piece was allowed to leave the country only because of poor new paint on the doors. It is offered for $5,500 on www.swedishcountry.com, but prices for these cabinets are accelerating upward. This 6-legged rocker is an old and very popular Swedish design. It is the ultimate in relaxation - once you master the fear of not going over backwards. Offered for $795.


07/2004
5-piece coffee set, made in the late 1800s and completely restored. Sets like this are very common even today for the Swedish ritual of "having coffee." At least three kinds of sweets are always served with the coffee, never only one. This set has wonderful carving and detailing. High on the rear window is a Swedish dalmĺlning, a style of painting common long ago and usually featuring Bible story scenes.
Vintage handmade jacket grouped with a long skirt-like apron and scarf (with flowers) to create a lovely tapestry wall hanging.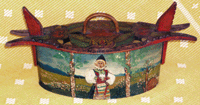 1800s svepask with original painting of a Swedish girl and birch trees, $895.
Carved, painted spoons, about 7", $295.
1800s tray, 13" dia., $245.
1939 hand-carved, corner cabinet, 23 5/8" x 15" x 10 1/4", $395.
Early 1800s wedding drinking vessel. When the bowl is lifted to the mouth, the side pieces go over the head and frame it.
Rättvik Lady chair in full costume; reproduction of a museum piece. In her "lap" is an 1812 svepask with original paint, 23" long.
Old Dala horses are very
collectible, but hard to find. Reproductions, like this one, are more common. Repro's sell for about $100 to $600.
One of a pair of large Jenny Nystrom prints, 34" x 16 1/2", ca. 1860, $895 for the pair.