The Celebrity Collector

Sally Struthers collects just about
everything that crosses her path.
By Ken Hall
Trying to describe the things Sally Struthers collects brings to mind the first line of the "Theme From Love Story:" "Where do I begin...?" The two-time Emmy Award winner who shot to fame playing Gloria Stivic on the enormously popular and groundbreaking television series, "All In The Family" (1971-78), has never met a collectible she didn't like. The question is, what doesn't she collect?"
"The warehouse people love me," Sally said from her home in the Hollywood Hills. "I've got so much stuff, a lot of it is in storage. I guess I'm a packrat."
No kidding. She collects angels, stuffed Scotty dogs, tiny antique dolls, silver frames, wedding cake toppers, antique perfume bottles and decorative pillows. And that's just in the bedroom!
Elsewhere in her 3,500-square-foot home (she downsized a few years ago from the 6,500-square-foot colossus once owned by Rita Hayworth, where even more stuff was crammed), one finds antique masks, drink glasses, tin doll houses, teapots, little books (5" tall or shorter) and tiny shoe replicas. The house also contains numerous pieces picked up at antique shops around the country.
"I think Maryelena, my dear housekeeper, secretly hates me," Struthers laughed. "She's the one who has to dust all this stuff." True, but it was Maryelena's son, Alex -- Sally's godson -- who gave Struthers an angel figurine six years ago, officially launching that collection. The problem is, Sally's got such a sweet, giving nature that people indulge her. Case in point: the rooster wallpaper.
"As soon as that wallpaper went up in my kitchen, roosters were flying at me from every direction," Struthers said. She was given rooster pictures, statues, salt and pepper shakers, a water pitcher, a plate with a rooster and an antique brass vase with a rooster image. Her response to the incoming tide? Start a new collection!
Sally even has collections she doesn't see any more, because they're in crates buried in a sea of other crates in a warehouse somewhere. Her collection of black memorabilia, for example, used to be displayed in a huge, converted linen closet off one of the bathrooms in her former residence. Sally had the closet retrofitted with glass shelves, lighting and fabric on the walls.
When Struthers put the house up for sale, one of the people who came by to have a look was Dionne Warwick, the singer. "She absolutely loved the place, but when she got to that closet and saw the black memorabilia, she was offended and left very quickly. I was so devastated I took it all down and put it in boxes. I'm sorry she felt that way. I didn't realize the collection could offend."
Another collection that got the heave-ho ­ this one on a whim more than anything ­ was a group of cat figurines that she kept in a French armoire in her old house. "I must have had 250 cats in there," Struthers said. "There were statues and crystal figures and every kind of cat imaginable, many of them antique pieces. I decided to sell them all in a yard sale about seven years ago."
Sally also divested herself of some pairs of shoes that way, too, back when she was doing her Imelda Marcos impression. "I simply had too many shoes," she said, "so I sold most of them in a yard sale. I didn't want to be out there myself, so I had other people do the haggling. I kept peeking around the corner of the house, in my pajamas, giving hand signals to indicate how much to accept."
Struthers began collecting silver frames at first as a way to display photographs of friends, family and loved ones. She loves silver, so that became a theme that tied the group together. She figures she has 50 silver framed pictures in her bedroom alone, and 10 more downstairs. All are silver plate, pewter or sterling. Many show Sally and her daughter, Samantha, at various points in life.
The antique dolls are an outgrowth of the doll collection she had as a child. Her mom saved many of the pieces she still has today; some of those were "Vogue dolls" (little girl dolls wearing cute clothing). "My Aunt Aggie made their dresses," Sally said. "Mom used to tell me, 'Never forget the child within you.' She gave me one of my old dolls in a glass case with that inscribed on the card."
Once, when Struthers was booked to appear on Marie Osmond's TV variety talk show, Marie asked her if she had any dolls. (Marie has a fabulous doll collection and has even opened a doll museum). "She got all excited about my miniatures and asked me to bring one to the studio," Sally recounted. "When I showed it to her, she thanked me and took it. She thought it was a gift!"
It wasn't, but Sally was too nice (and embarrassed) to say so.
The angel figurines began with godson Alex's gift from about six years ago. It's a resin piece, about 7" tall, with the angel holding a bouquet of flowers, in a handsome gown and with beautiful wings. Now, when she sees one she likes, she buys it. Her collection, about 12 angels in all, comprises wood, bisque, crystal and resin.
The collection of Scotty dogs began about three years ago when Sally got Bob, her dog of the same breed. "I'm Scottish myself and I'd always wanted a Scotty," she said, "but until recently all the dogs I'd lived with were larger breeds, like Labs and Newfoundlands. I named Bob after my father, who was a general practice doctor. It's fun walking with him and just saying, 'Come on, Bob!'"
Actually, she picked up a few stuffed Scotties, pre-Bob, but now the floodgates have been opened, with Scotty pillows, Scotty figurines scattered throughout the house, an apron with Scotty dogs all over it, and about a half-dozen stuffed Scotties. "One's so real looking it's scary," she said.
Sally added Scotty dogs have been popular as a collectible since the days of FDR's Scotty, Fala.
The wedding cake toppers (yes, those plastic brides and grooms) were born from a trip to her hair stylist's house. "Bonnie Clevering, who's done Julia Roberts' hair in all of her movies, was styling my hair for a film and she had me over one day," Struthers said. "She had all these wedding cake toppers in a cabinet. I thought they were so cute and different, I started collecting them, too."
She's got brides and grooms that are standing, sitting, bride on left, bride on right, one set with a Kewpie doll theme, one groom that looks just like Jimmy Stewart and more -- 10-1/2 sets in all. Wait -- 10-1/2? "I've got a bride with no groom," Sally said. "She's holding a bird in her hand. Either the groom got lost somewhere along the way or the poor thing got stood up at the alter."
Sally's perfume bottles ­ she has about a dozen ­ are mostly from the '20s, '30s and '40s. They are, appropriately enough, displayed in an old pharmaceutical hutch marked "Perfumary Dispensing." It was made in the '20s and has glass doors. The wedding cake toppers are kept in there, too. "I like the old perfume bottles because they're so fancy and Art Deco-ish," she said.
The decorative pillows, totaling about 25 pieces, are from the '20s and '30s. "That was a time when people hand-embroidered pillows with sweet, whimsical designs, and I just love them," Sally said. "They can make any place you toss them a little more cozy." Ten pillows occupy space on her bed. One, a gift from her sister Susan, is yellow and heart-shaped, showing a lady with a bonnet.
The miniature shoe replicas, which are also kept in the perfumary case, total about ten in number and are individual pieces, no pairs. "They're mostly resin replicas, of Louis XIV shoes, fancy bedroom slippers (or 'mules') and others," Struthers said. "Most of them have come to me over the years. Like with all of my collections, some of the stuff I've bought and some of it was given to me."
Let's see, did we forget anything? Well, there are the antique items Sally has that aren't part of a collection but are intriguing nonetheless. Like the hundred-year-old set of piano legs she bought in an antique shop and took to a furniture maker who used them to craft a beautiful dining room table. Or the hundred-year-old piano. Or the antique parson's table made from a leaded glass door.
Then there's the huge king's chair in the den, the one that "makes everybody look like Edith Ann from Laugh-In." And the 75-year-old trunk, once used by a traveling shoe salesman and still inscribed with the words "Peter's Classic Shoe For Woman" (it's used as a TV stand in the den). And don't forget the 100-year-old recliner. Or the Baby Jesus from the diaper truck (long story, don't ask).
Suffice it to say that Sally was probably hard-wired to be a collector from the day she was born, on July 28, 1947, in Portland, Ore. After high school, she moved to California to attend the Pasadena Playhouse College of Theatre Arts. There, she won a scholarship as the most promising first-year student. Her TV debut was as a dancer on a Herb Alpert & the Tijuana Brass special.
She appeared in commercials and was a regular on shows like "The Summer Smothers Brothers Show" and "The Tim Conway Comedy Hour." She was also cast for supporting roles in two major motion pictures: "Five Easy Pieces" (with Jack Nicholson) and "The Getaway" (with Steve McQueen and Ali McGraw). Her career was officially launched, but fame would soon come calling.
It was Struthers' role as Meathead's wife Gloria on the hit sitcom "All In The Family" (with Carroll O'Connor, Jean Stapleton and Rob Reiner) that catapulted her to stardom. The show used humor to explore sensitive topics like race relations and the war in Vietnam, something TV viewers had never seen before. The program is still in syndication (although Sally doesn't get any residuals).
After the series ended, Struthers appeared in made-for-TV movies and some feature-length films (although the plum roles she aspired to were often denied her because she was so closely identified with Gloria). Today, she takes the stage in New York and around the country in musicals and plays. She also has a recurring role on TV's "Gilmore Girls" and the sitcom "Still Standing."
Sally's also an artist of considerable talent, mostly rustic, folk art that carries her own personal imprint. For years, she's been a voice for the disenfranchised, hungry and uneducated children of the world, filming numerous public service announcements on their behalf. Sally was married once, but is now divorced. Her daughter, Samantha, is about to start a career as a clinical psychologist.
Fans of Sally Struthers may write to the star c/o Sharp & Associates, 8721 Sunset Blvd., Ste. 208, Los Angeles, CA 90069.
2004
Sally Struthers was born and raised in Portland, Oregon. Her first TV appearance was on a Herb Alpert special.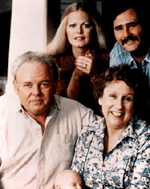 The "All in the Family" cast,
clockwise from left: Carroll O'Connor, Sally Struthers, Rob Reiner and Jean Stapleton.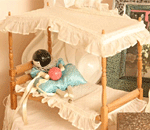 This miniature doll is just one in Sally's collection. Some are "Vogue" dolls.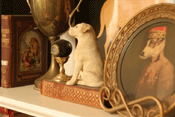 Most of the pieces in Sally's dog collection are dedicated to Scotties, but not these two.
Struthers began collecting silver frames as a way to display photographs of friends and family.
A lamp, a cat, a few plates and even an Emmy Award all compete for space atop a window sill in Sally's home.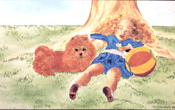 Sally has been painting since she was a kid. She considered a
career in commercial art before
becoming an actress.