WHAT'S HOT IN
Collecting Southern Stoneware
Many types of Southern antique stoneware are highly sought after and prized by knowledgeable collectors. Some collectors are interested only in their state's pottery. Others collect only jugs or bowls, or pitchers or face jugs. Then there are collectors who collect only certain potters like Cheever or Arie Meaders.
What is currently "hot" for collectors of Southern antique stoneware? What immediately comes to mind is Burlon Craig's pottery, in particular, his early face jugs. Burlon Craig was a potter from Catawba Valley, NC. Catawba Valley Alkaline Glazed Pottery has a long history and tradition, almost as old as Edgefield itself. He was the last surviving link to the traditional potters of the past in that area. He passed away a couple years ago, and some of his early work can command over $1,000. Some of his work is definitely hot.
As a dealer who collects some pottery on the side, I am more interested in what maintains and increases its value steadily over time. Apart from the fact that it needs to be appealing to me, there are several rules of thumb I follow. In general, a good rule is the older, the better. It is particularly helpful if the potter is not still stamping the stuff out, flooding the market. It also needs to be somewhat rare.
Collectors want what they don't have, which drives the value up on the rare pieces. Condition should be considered when evaluating rarity. It may be a fairly common piece, but very rarely found in mint condition, and therefore, it is more valuable. An example would be large two-handle jugs, five or more gallons in size. Since these were almost always used extensively and almost always worn and damaged in the process, early large jugs without damage are rare and more valuable, although two handled jugs in themselves are not uncommon.
Also, a good rule of thumb is the ability to attribute the piece to a particular area or maker. Although most potters today sign their ware, this has not always been the case. Finally, I think region plays an important part in this value equation. Not to say that one region is better than the other, because that would be insulting. I have, however, found that as a dealer, Edgefield collectors can be found almost everywhere. I have trouble finding Catawba Valley collectors here in Georgia and Crawford County collectors in North Carolina. But there are serious Edgefield collectors in both places. Edgefield is where the alkaline-glazed Southern pottery tradition began, and because of that, it has a broader base of collectors.
Dave the Slave Pottery
With all of the previous said, here comes the tidbit of information that will hopefully help the reader become a more knowledgeable collector for having read all this. Most everyone who collects Southern stoneware knows who Dave was. Dave was a slave who is famous for turning wares with short poems sometimes written on the vessels. That means he was a slave who could read and write in a time and place where this was not acceptable. This undoubtedly began Dave's notoriety.
Dave was also known for his ability to turn very large pieces of stoneware. He worked for various potteries and/or owners in Edgefield for many years. Apart from his pottery, there is surprisingly little known about him today. There is a lot of folklore surrounding Dave, and debating what is truth or fiction is not the point of this article. As a collector, helping you identify his work within certain real limitations is the purpose here.
To me, there are four basic categories of Dave pieces. The first most common category is pieces that are attributed to Dave. Some collectors and dealers who handle a lot of his work can identify his pottery much like recognizing someone's handwriting. Styles may change drastically over time, but a small detail, such as attaching a handle a certain way, may be exactly the same. This is not only true with Dave's work, but it applies to almost any potter and his ware. It is not easy to identify details like this, and you must have a very sharp eye, but it is possible and don't let anyone convince you otherwise.
The second general category of Dave's work is pieces with marks that are strongly attributed to Dave. Working backward from pieces actually signed by Dave and doing digs at sites where he was known to have made lots of pottery, scholars and collectors have identified certain marks as being more likely Dave's marks. This includes the horseshoe symbol, slashes used in a certain way, punctuates (for capacity), and "X's". X's and slashes are somewhat common on Edgefield pieces. Dave was not the only slave who made pottery in Edgefield. It makes sense that Dave used marks because he was expected to. Other slaves used the same types of marks because they had to. Figuring out whose marks they are on a piece of pottery is uncertain at best.
The more common marks can very well be from slaves other than Dave and used to indicate capacity or production. If you have a five-gallon piece that has five slashes on it, it is certainly different than having a five-gallon piece with two slashes on it. But again in order for the pottery to be attributable to Dave, it would still have to resemble what is thought to have come from his hand, as pointed out in the first category. Please note that certain types of mark configurations represent potteries and not actual potters. All this may seem confusing, and it is, but it is what makes collecting old stoneware very interesting.
The third category of Dave's pieces is those marked with "LM" in script (not stamped). LM stands for "Lewis Miles". Lewis Miles is believed to have owned the pottery operation where Dave worked during the later period of his life. (Note: I did not say Lewis Miles owned Dave because that is not known with any certainty.)
There is almost no doubt Dave turned these pieces marked with LM because of the handwriting. Dave's handwriting is about the only hard piece of evidence about Dave in existence. Therefore, you are not going to have any stronger indication that Dave made it other than this-his actual handwriting on the side of the piece. This, of course, assumes the script matches known writing samples and the piece itself fits into his collective body of work. Almost always there are marks inscribed along with the LM, like the horseshoe. This is in part why pieces with these same marks but without the LM strongly suggest Dave. Sometimes, along with the LM there is a date. These pieces are highly desirable.
The final category is pottery that is actually signed "Dave" in script on the side of the jar or jug. Apart from the handful of pieces that have poems on the side, these command the highest dollar when offered for sale. There are far fewer of these in existence. Again, there is usually a date, LM, various marks, and the fact that the piece looks like others thought to be his work.
As a final word of advice, you can't overpay for a piece of stoneware if you like it so much you will never sell it at any reasonably offered price. As a collector, let that be your guide.
Quotes of Dave the Slave's poetry
I wonder where is all my relations
Friendship to all ­ and every nation
­ Dave, Aug. 16, 1857
The forth of July is surely come
To blow the fife and beat the drum.
­Jul 4, 1859
If you don't listen at the bible
You will be lost
­March 25, 1859
A very large jar which has four handles pack it full of fresh meat ­
then light candles
­April 12, 1858
A noble jar for pork or beef
Then carry it a round to the indian chief
­Nov. 9, 1860
I saw a leopard & a lion's face
then I felt the need of grace
­Aug. 7, 1860
This noble jar will hold 20
Fill it with silver then you'll have plenty
­April 8, 1858
When you fill this jar with pork or beef
Scot will be there to get a peace (on the other side)
This jar is to Mr. Seglir
who keeps the bar in orangeburg
for Mr Edwards a gentle man
who formerly kept Mr Thos bacons horses
-April 21, 1858
---
Pete Wingard is the owner of Mud Sweat and Tears Southern Antique Stoneware at 216 Heatherdown Rd., Decatur, Ga. He is available by appointment at 404-378-9471 or netlatch@hotmail.com. Visit his website at www.mudsweatandtears.com.
All photos courtesy, Pete Wingard.

Quotes (above) of Dave the Slave's poetry from I Made This Jar, The Life and Works of the Enslaved African-American Potter, Dave, McKissick Museum University of South Carolina, edited by Jill Beute Koverman.
09/2004

Burlon Craig Face Jug, Catawba Valley; his early work is very hot.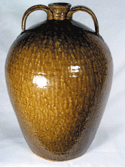 Catawba Valley, NC, 5-gal. jug, unsigned but attributed to Samuel Propst (1882-1935). A signed example sold for several thousand.
Crawford Co., Ga., pottery showing the Edgefield influence.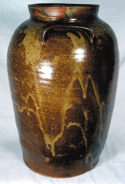 Tall storage jar attributed to Dave, priced at $2,750.
Dave jar marked with "LM" written vertically near rim (see arrow)|
and horseshoe, slash, date,
(bottom photo) and punctuates.
Sold for $14,000.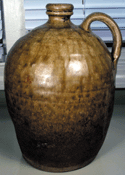 B.F. Landrum jug, Edgefield, ca. 1860. B.F.'s uncle is credited with introducing alkaline-glazing to the South.
Cheever Meaders 5 gal. churn.
Sand Mtn., Alabama, ca. 1880, high-fired, high quality
alkaline-glazed pottery sought
by collectors.