The Celebrity Collector

"Good Times" Bern Nadette Stanis
Collects Black Memorabilia and African Objects
By Ken Hall
Anyone who watched TV in the 1970's is sure to remember the long-running sitcom Good Times, about a black family in a lower-income, urban environment. Set in Chicago, Good Times was a spinoff of a spinoff. The actress Esther Rolle had played housekeeper Florida Evans on the sitcom Maude, which itself was spun off from All in the Family. All three shows were consistently top rated.
Bern Nadette Stanis played the sassy Thelma on Good Times. Her good looks made her a first crush for countless teenage boys who watched the show. It was around the time that Good Times was taking off, in the mid-'70s, that she met and befriended Cleveland Brown, a publicist and writer for the funk band Kool and the Gang. The two shared a common interest in black culture.
It wasn't long before that mutual bond resulted in a collection of black memorabilia and African objects. Today, the accumulation is so massive it takes up just about every inch in Brown's 2,500-square-foot home. Even ceiling space is utilized (many genuine African masks are suspended from them). "We view this as a spiritual collection, not a material one," Brown said. "These items are carrying the weight of an entire people. They enlighten and liberate. It's born of love." He guesses it would take about four hours to visually absorb the collection, from start to finish. Most of the items are kept in commercial cases, each one containing 5-7 glass shelves, with quartz halogen lighting.
The inventory is extensive, taking into account masks; statues; busts; music; art; Lladro pieces; black G.I. Joe dolls; tributes to sports figures, scientists and inventors; publicly posted signs from the days of slavery and segregation; cookie jars; nail fetishes (more on that later); cowry shells (the world's first currency); and more. Lloyd's of London offered to insure it all - for $3,500 a month.
Artifacts - like statues, masks and medicine pots - were used in ritual ceremonies in Africa. "Rites of passage, mostly," Stanis pointed out, adding the value of an item is often determined by whether it has been "danced" (used in ceremony). "Many items in the collection have been danced," she said, "and all come from nations, not tribes. These nations are many times older than we are."
Stanis said she can generally tell the nation and the period of an item just by looking at it. "Most of it comes from west Africa, but the art styles are very diverse as you go around the continent," she said. "Many of these pieces are between 600 and 800 years old. Statues and masks, for example, can undergo cracking from dryness and other factors. The distress drives collectors nuts."
Stanis said she and Brown have every black G.I. Joe doll made since 1964, when Hasbro first introduced the action figure. "That first year, a gross shipment of 144 dolls would contain just one black G.I. Joe, and even that might not sell because it wasn't desirable," she said. "But today, if you have a black G.I. Joe doll still in the box from 1964, you might be able to sell it for $20,000."
The music and mixed-media portion of the collection features over 40,000 CDs, 12" records, first pressings and cassettes. There are videos about the civil rights movement, videos of musical concerts and broadcasts that first aired on PBS and the Discovery Channel. Much has been accumulated in honor of musical greats like John Coltrane and Miles Davis.
Artwork includes works by such talented painters as Ernie Barnes, Charles Good-night and Romare Bearden. Barnes, a former professional football player, once did a portrait of Bern Nadette. His most famous piece, "The Sugar Shack," would appear on screen when the end credits for Good Times rolled. It was also used as cover art for Marvin Gaye's recording, "I Want You," in the '70s.
A good portion of the collection is dedicated to accomplished black sports figures. Muhammad Ali, for example, is depicted in about a dozen statues. Some were signed by him. There are two 36" tall bobble-head dolls of football players Donovan McNabb and Ricky Williams; each is signed and numbered by the men. Only 100 of each doll were made.
Scientists and inventors are honored in their own section, with images and information on people like Harriet Tubman, Frederick Douglass and Dr. Daniel Dale Williams (the inventor of open heart surgery). The cookie jars, which are highly collectible, often portray blacks in a degrading or comical manner. "They're from a bygone time, but it's still important we remember," Stanis said.
The Lladro pieces include the Black Legacy Collection, a series that Lladro first introduced in the '80s. Two different Martin Luther Kings are featured, for example: one of him at age 23, a young and thin man; the other, around the time of his death, at age 38. There is also a 6-piece Lladro Jazz Band.
Recently, Lladro came out with an African collection, pieces depicting tribal Africans, in native, traditional dress. Cleve and Bern Nadette have that entire line, too. The sign collection ("Whites Only," "Colored Rest Rooms," etc.), extends from the time of slavery to as recently as the '60s. "As terrible as these signs are, I wouldn't want them destroyed," Stanis said. "They're a part of history."
An interesting element of the collection is the Ibeshi twins, from the Nigerian range. "Twins are born nearly ten times more frequently in Africa than in other continents," Stanis pointed out. "Often, as a present or wish of good luck, the parents of newborn twins will be presented with these Ibeshi twins, carved figures knotted together by a rope. Sometimes they're shown carrying shells."
The nail fetishes (or "Nkisi," a Swahili word), are... "the most African-looking items and the ones most scary to Westerners," Stanis said. They're carved figures with nails driven into them. "To most people, it looks like voodoo," she said, "but it's actually very positive. Only the chief of a village can drive a nail into the Nkisi. It shows a dispute has been resolved."
Stanis said that she and Cleve, who live in different states, find new items for the collection through a myriad of means. Many pieces were gifted (including ones brought back from Africa by Kool and the Gang, which plays there frequently and for whom Cleve still serves as correspondence manager). The two will swap photos of an item and discuss it before admitting it into the collection.
As to what will become of the collection in generations to come, Stanis and Brown agree that it should be willed for educational purposes. "Our heirs understand that, rather than split it up, it makes the most sense to keep it together and have it displayed in a museum or other facility where it can be enjoyed by everyone," Stanis said.
Bern Nadette Stanis was born and raised in Brooklyn, New York. She got the performing bug at age five, when her grandmother enrolled her in tap dance lessons. She appeared in a high school production of "The Three Faces of Eve" and during that time won the title of Miss Black New York. She enrolled at The Julliard School of Music in New York and earned a BA degree in Dramatic Arts.
Stanis tried out for the part of Thelma on Good Times, a role she would play for seven years. The show's success was founded on crisp writing (Jay Leno and David Letterman were contributors at one time) and a wonderful ensemble cast that included Jimmie "JJ" Walker ("Dy-no-mite!"), Esther Rolle, John Amos, Johnny Brown, Ralph Carter, Ja'net Dubois and even a young Janet Jackson.
Stanis went on to guest-star in numerous TV shows after Good Times, including The Cosby Show, Busting Loose, The Love Boat, What's Happening Now and Girl-friends. She's been written up in magazines like Ebony and Jet and is herself a writer: a collection of poems titled "Secrets From the Soul of a Woman in Love," has been written, while a book about relationships is still underway.
Stanis lives in the Los Angeles area with her husband, Kevin. The two have co-produced plays that ran on Broadway and off-Broadway. They have two daughters, Dior Ravel and Brittany Rose Cole. Fans of Bern Nadette may write to the star at P.O. Box 9065, Whittier, CA 90608.
Bern Nadette Stanis is a former Miss Black New York.
Good Times was one of the consistently top-rated TV shows of the 1970s.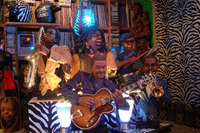 Five resin busts of composite musicians made by the Willitts Co., part of the "All That Jazz" collection.
This Kuba mask, named for the ancient African culture, are adorned with cowry shells for eyes and rafia.
There may be as many as 10,000 nails in a nail fetish. The nails
symbolize the resolution of a dispute.
Statue at left of showcases "captures the classic shape of the African woman," Stanis said.