Add Windows of Color The Antique Stained Glass Way
By Carol Dubilo
There is much ado concerning leaded stained glass windows. Historians, archeologists and authorities all have something to say about when and where the earliest windows were designed and created. Lack of proper documentation has, perhaps, left the precise origins of these stained glass panels lost in the epochs of history, a time before records were well kept.
History does tell us that during the first century the Romans glazed glass into windows. Early Romanesque windows were simple and primitive, but they evolved into stylized scenes, figures and well-known Biblical characters.
The Gothic Age (1150-1500) brought an abundance of stained glass windows, many saturating the walls of the great cathedrals of Europe. Gothic windows had intensely complex glass pieces, leaded together, illustrating stories and lives. The patterns were so intricate that windows could be experienced, interpreted or read like a book, rather than just viewed.
By the tenth century, Byzantine, Moorish or Arabian glass windows arrived into Europe depicting geometric and vegetal ornamentations. Although many themes remained biblical, the Renaissance stained glass (1450-1600) was distinctly unlike previous eras. Windows exhibited subjects dressed in period clothing, figures represented abstract ideas, and faces showed expression. There were historical scenes, those of heraldry and others illustrated the labors of the times. Secular themes were used in church windows, and stained glass made its way into secular buildings.
By 1640, stained glass was scarce and became dangerously unpopular. The churches had been the catalyst in the artistry of stain glass windows, but the new Protestants were harshly opposed to the use of extravagant decorative arts. Even the Roman Catholics were in quest of simpler built places of worship, causing glass craftsmen tremendous despair and in search of work. Political turmoil, religious strife and wars devastated massive amounts of existing windows and destroyed many of the stained glass factories.
However, the 1800s promoted a fury of stained glass revivals in England, France, Germany and Italy. Through restorative efforts, glass artists rapidly learned ancient leaded stained glass techniques, quickly becoming the new era of master glass artisans and creating newly desired Gothic- and medieval-themed windows.
The Victorians of the mid- to late-1800s, whether living in England or America, were a people of knowledge and dominance, aggressively promoting the utmost of architectural beauty for their homes, buildings and churches. Victorian stained glass windows sparked a passion for design and an appreciation for history. They inspired imagination and stimulated a new attitude toward romance.
Quantities of stained glass windows were imported into America. During the later half of the 1800s, several factories were established, the first by the Bolton brothers who were immigrants from England. In the 1870s, Scotsman Daniel Cottier and Englishman Charles Booth set up firms in New York and New Jersey, respectively, attempting to capture the aggressively expanding American market. Louis Comfort Tiffany was one American who experimented with glass, developing techniques that conveyed a wide range of visual effects. The Tiffany Company has since become synonymous with the American art glass movement, making windows for both homes and churches.
Victorian era windows, both extravagant and fundamental, were grandiose focal points in homes and buildings. Their use often indicated social status and degree of wealth, but above all, they added charisma and structural appeal to every space they dressed. Colorful leaded glass windows were found fashioned as fancy headers for picture windows. Oversized, deeply paneled front doors were skillfully embellished with mesmerizing panes of leaded glass patterns. They also adorned grand Victorian staircases, the foyer, closets, bathrooms, the butler's pantry and every other nook and cranny.
Today, the Victorian leaded glass window has become a prized decorative accessory for many American households. Numerous homeowners are purchasing them to fit their décor, eagerly pulling together antique charm with their personal furnishings.
The American antiques marketplace has become a superb arena for obtaining these windows. Throughout recent decades, the re-structuring of older neighborhoods and the need to update homes with more efficient windows has supplied antique businesses and salvage companies with a fascinating, if not extensive, array of leaded glass windows. Occasionally, you will run across one at an estate sale, flea market, garage sale or featured in a classified ad.
Professional decorators obtain these windows for their more discerning clients and some custom home builders are incorporating them into their higher priced homes. Upscale businesses use them to draw attention to their building's front façade, but for the most part, it is the home owner that is desirous of these incredible glass masterpieces. Both men and women are custom decorating with them, often times using the theme of the window to dictate the color scheme of the entire room.
An interesting and unusual example of this is the use of a double hung set of windows in a master bath. The home's finished attic, with its all-white cottage-style bathroom, needed a touch of class, or I should say, a touch of glass. The yellows and blues in the windows helped the owners choose a sunny yellow tiled floor and a variegated blue laminated vanity top. Add a coordinated shower curtain, bath mat and a grouping of towels, and this bathroom, with no exterior window, is as bright and cheerful as can be.
The leaded windows sit atop an antique paneled oak door. In the evening, when lit, these windows glow abundantly above an otherwise dull adjoining staircase, giving new life and radiance to this 450-square-foot attic master bedroom suite.
Round antique leaded windows are rather difficult to come by. Allow me to share this true story. During 1995, a young man visiting New Port, Rhode Island, happened upon an on-site estate sale. A round leaded stained glass window was being salvaged from a dilapidated, 18th century, ocean-front home. The man purchased the window out of sheer attraction and carried it with him through several relocations from Connecticut to Massachusetts.
During 2006, he purchased an older Colonial-style home in East Longmeadow, Mass. On the second floor, above the grand center staircase, is a small closet with a nice old clear round window which highlights the front fascia of the house. He could not believe how precisely his 1700s leaded window hung over the home's existing glass. It was a perfect marriage, and the owner knew where his window was always intended to be.
Now that homes are being built on every available lot, private areas are diminishing. Condominium living and the over 55 community villages suffer from the same problem. Hanging colorful leaded glass in front of a privacy-deprived window can offer an exciting alternative to the more conventional window coverings.
Fashionable sun rooms or three season porches, which traditionally have walls of glass, are great spaces to suspend these windows. Not only do they award an area of privacy, but on a sun drenched day, they splash a rainbow of color around the room.
Victorian leaded glass windows offer considerable insight into our historical trends as well as an abundance of modern decorative ideas. Placing one of these treasured windows in the proper location requires a bit of determination and creative imagination. During your search, knowing the approximate size, your color preferences, and having cash on hand will help you in negotiating a more favorable price. But if that perfect, awesome window should emerge from the past with a price that is more than you want to spend, just buy it and start taking pleasure in looking through those magnificent panes of time.
---
Carol Dubilo is the owner of Antiques Off Broadway (www.antiquepeek.com), 413-592-4489, in Chicopee, Mass. She can be contacted at 413-592-4489 or antiquepeek@charter.net. Unless otherwise noted, all photos are courtesy Carol and Michael Dubilo.

Even the 1800's Victorian pantry was not without it's uniqueness. This adorable window (13" x 17") was salvaged just in the nick of time. The center is decorated with the popular fleur-de-les motif. Many windows were stationary, but this one was hinged to the left with a knob at the right for opening it.

This stunning Victorian example was attached to a large front parlor, single pane picture window. The colors are outstanding, as is the central shield, topped with a small fleur-de-les and a center medallion.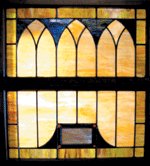 A stained glass window glows with color, brightening a master bath (inset)
This large (32" x 62") window
was removed from the front hall
of an 1890s Chicopee, Mass., home near a Victorian staircase. The pattern is exceptionally charming with a center pink wreath flanked
by large candles.
This rare 1700s round leaded glass window was salvaged from a
dilapidated ocean-front home in New Port, R.I. It was purchased from an on-site estate sale.
(Photo: ADYS Mortgage, Inc., www.adysmortgage.com
This set of windows formerly
graced the front doors of a late 1800's Victorian home. Currently, they hang in a glass-filled room, creating a colorful space.