The Wide World of Sports Collecting
News about Sports Memorabilia
By Mike McLeod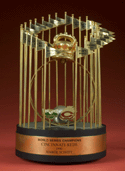 Cincinnati Reds' fans had a shot at owning a piece of Reds' history recently when the Marge and Charles J. Schott Foundation put 442 lots of Marge's collection on the block. The top lots were Schott's personal 1990 World Series trophies, which brought $18,400 and $14,950. Pete Rose's 1988 Reds All Star game uniforms hit $2,875 (white version) and $2,415 (gray). Also from that game, Schott's commemorative Lenox China dinner plates sold for $2,415. Total sales reached $167,911.
Last December, Schott's household effects topped this auction with $200,000 in sales. Schott died in 2004, and since then, her other holdings have been sold, including a Buick dealership. The Foundation has been the beneficiary of her $124 million estate.
These two sales were conducted by Cowan's Auctions, which will have a third and final auction in June of Red's artwork owned by Schott.
Photo Right: Marge Schott's personal 1990 World Series trophy. (Photo, courtesy Cowan Auctions.)
---
The last home run slammed by Babe Ruth was sold in March for $86,250 by www.MemoryLaneInc.com, where at the time of this writing, you could see the old Movietone newsreel of Ruth hitting the home run. Ruth was invited to come bat against Walter Johnson between games in a doubleheader that was a fundraiser for the Army Navy Relief Fund during WWII. Ruth had been in retirement for four years, and after swinging like a gate at a couple of Johnson's pitches, he smacked the ball over the right field fence in a spot the announcer dubbed "Ruthville."
The owner of the ball, Robert J. Balthazar of Georgia, and his father attended the doubleheader between the New York Yankees and the Washington Senators on August 23, 1943. Ruth hit the ball near Balthazar's father, who gave it to his son. The pair succeeded in getting the Babe, Walter Johnson and umpire Billy Evans to sign the ball.
After holding onto the historic ball for 50 years, Balthazar decided to sell it to help a grandson pay off his college debts.
---
Not sold, but in the possession of a collector, a copy of the contract that sold Babe Ruth to the Yankees in 1919 was valued by the appraisers of www.whatsitworthtoyou.com at $25-$40. The copy was made in 1993. The original was reportedly sold to a philanthropist for $99,000, who (as the owner of the copy says) sold copies to "help finance his philanthropic activities."
Makes you wonder: a) how many copies were sold, and b) what charitable activities can you fund for $25?
---
A "Shoeless" Joe Jackson Louisville Slugger professional model bat sold for $22,000 at Hunt Auctions in Exton, Penn. The c.1921-24 bat is stamped with "Jackson" in script on the barrel and has wear and cleat marks on it. Banned from baseball for participating the infamous 1919 "Black Sox" World Series incident in which he agreed to fix the game for a bribe of $5,000. Although a great baseball player, Jackson was illiterate and unwise to the ways of the world.
The bat was originally owned by William H. Kirk, an electrician, who was working at a stadium in Houston. Jackson was playing there at the time (as a non-pro since he had been banned from baseball at this time), and Kirk complimented him on his batting. Jackson presented Kirk with the prize for his kindness.
---
R&R Auctions Enter-prises Autograph Auctions (www.rrauction.com) recently auctioned a matte-finish 17" x 21.5" photo of Babe Ruth at home plate of Comiskey Park from the late 1920s for $29,128. This huge portrait, one of few this size known to exist, was autographed by the Babe for a Chicago speakeasy owner: "To My Pal and a great fellow Ralph Jansen from Babe Ruth."
| | |
| --- | --- |
| | This large photo (17" x 21.5") shows Babe Ruth at the plate in Comiskey Park. (Photo: rrauctions.com) |
The photo included provenance from a relative of the original recipient. The letter reads, "This autographed photo of Babe Ruth was given, by the Babe, to my great uncle Ralph Jansen. Babe Ruth was a very close friend of my uncle and they were always doing things together. My uncle owned the Ivanhoe restaurant in Chicago, Illinois, and Babe was a frequent visitor at my uncle's restaurant. My great aunt has told me many stories about the Babe and some of his personal habits She said, that it was not uncommon to have Babe sitting on her back porch eating lobster tail with one hand and swigging from a beer bottle with the other. He would often eat 3 lobster tails and drink numerous beersWhen Babe signed this photohe truly meant what he wrote."
The Ivanhoe was founded as a speakeasy, and then became a famous and popular fine-dining restaurant, where patrons descended to the basement bar known as "The Catacombs."
---
UPCOMING:
A baseball signed by Joe DiMaggio and Marilyn Monroe will be auctioned on May 6th by Heritage Auction Galleries of Dallas. The ball is estimated to sell for $100,00+. An Associated Press photographer got DiMaggio and Monroe to sign the ball in 1961 during a Yankees spring training game in Florida.