The Celebrity Collector

Shondrella Avery Collects Objects From Africa and Mexico
By Ken Hall
Shondrella Avery has many film and television roles to her credit, but she may best be known as "LaFawnduh Lucas," the sexy Internet girlfriend in the movie "Napoleon Dynamite," the sleeper hit of the 2004 Sundance Film Festival. The film has attained a kind of cult status among young people who can sympathize (or empathize) with the main character, a listless and alienated teenager.
At six feet tall, it's easy for Shondrella to stand out in a crowd. You may have seen her as "Candy" the manicurist in the new UPN series "Cuts" (a spinoff of the popular show, "One on One," in which Avery has had a recurring role for the last three seasons). She also starred for five seasons on the Oxygen channel's "Girls Behaving Badly," a kind of modern-day version of "Candid Camera."
Avery is married, to a Nigerian-born banker named Adenrele, whom she met at a restaurant in Beverly Hills. "I saw him from across the room and I said to my friends, 'That right there is the man I'm going to marry,'" she said with a laugh. "They thought I was crazy. But I walked up to him, introduced myself, asked him out on a date, and before long we were making plans to tie the knot."
Today, the couple live in Los Angeles and enjoy many mutual interests, including skydiving, going to the movies, tending to a koi pond and home decorating. It was Adenrele who introduced Shondrella to art and objects from other countries (especially his native Nigeria, and Mexico). Shondrella, by contrast, grew up in a rough and tumble section of south central Los Angeles.
But that's not to suggest she had a shielded or deficient upbringing. Avery has nine siblings (the youngest is 9) and her mom has been a foster parent to nearly 200 other children, many of them crack babies and the products of abused or neglected families. Shondrella witnessed much of the human condition, if not the world, on her way to adulthood. She is rich in ways money can't buy.
She and Adenrele complement one another nicely, and their many objects from Africa and Mexico illustrate that. The collection actually began 12 years ago, before her marriage. At the urging of a high school friend named Valerie, Avery began collecting pieces of Afro-centric art. These were mostly pin cases, small figurines and statues. "They were nice, but they weren't authentic," she said.
Then, in 1994, "Ade," as Shondrella calls her husband, had a huge wooden tribal mask made for Shondrella while on a business trip to Nigeria. "It's absolutely beautiful," she said, "and it's made from older wood that was taken from shacks built in the 1940s." The mask, Ade explained, represented a positive spirit and serenity, which is the main point behind much of African art.
To that was added a pair of bronze statues from Ghana - one male, one female, both holding spears, each one lifesize. "They're warriors," Avery said, "but their eyes are closed and they have a calming presence despite the tribal marks on their skin." Each tribe can be distinguished by its marks, Avery said. "Seal, the singer married to model Heidi Klum, wears tribal marks on his face."
Two bronze horses, measuring 4-1/2' tall, are frozen in full gallop. "They look like they're coming right at you," Avery said. "They're actually much more frightening than any of the African masks or warrior statues. We bought them while on vacation in Mexico. I love them because they really capture the power and fluid motion of these amazing creatures. They really appear to be in motion."
One of Shondrella's favorite items is from South Africa but she found it on the Internet. It's a 2' tall wooden mask, out of which bronze spears pour water into a bowl. "It's a fountain," Avery said, "with three tiers cascading down into the bowl. We have it on a table in the den. What makes it so interesting, other than the water, is the fact that the face is without expression. His eyes are closed."
Other items in the couple's collection include:
* Two bench chairs, both purchased in Mexico. One is long and skinny, like a park bench, with lots of imperfections and made of dark cherrywood. The other is a curved wood piece, like bamboo, only made from a dark hardwood.
* An enormous mask from a Zulu tribe in Africa that stands 6'3" tall. The piece rests on the floor and leans against a wall in a corner. It's a full-face mask, with white dots on it.
* A small Nigerian doll, wooden, with braided hair. It was a gift from Ade. "The doll symbolizes a true warrior, a Nubian queen of the Yoruba tribe," Shondrella said, adding, "Ade is from the Yoruba tribe."
* A mask about 18" tall from the Igbo tribe in Nigeria. "Ade bought it in Nigeria," Avery said. "He had it carved from one of the trunks of a timber tree."
* A Zulu bow and arrow set, with five arrows. This is displayed in a case, and Shondrella believes it's over 100 years old. "The wood is worn and old-looking, so you know it was used," she said. "We actually purchased it from a museum in Africa.
The Zulu family that consigned it was from an impoverished village. We were told they they were in financial need. So we bid on it and I think we paid something like $100."
"People who visit my home are astounded," Avery said. "Our house is furnished in a very traditional way, but the objects we display - our collection - is bigger than life and very eclectic. We're selective about what we acquire, though. There's love and a positive spirit behind everything in our collection. None of it is intimidating or suggestive of voodoo, although there is a lot of that available."
Shondrella Avery was born in South Central Los Angeles in the mid-1970s. Her unusual upbringing - being the oldest of ten and part of a huge extended foster family - inspired her to write and perform a one-woman show called "Ain't I Enough" that aired on HBO. Avery is a graduate of Los Angeles County High School for the Arts and holds a B.A. in Fine Arts from Cal State L.A.
Shondrella is a member of the famed Groundlings improvisational comedy troupe and has also performed with Second City. Past television credits include "The Jamie Foxx Show," "For Your Love," "Cedric the Entertainer Presents," "Martin," "Living Single" and "Strong Medicine." Her feature films include "Watermelon Heist" (with John Amos), Showtime's "Catfish and Gumbo" and "Trippin'."
For the past five seasons, Avery has been a star on Oxygen's "Girls Behaving Badly," a TV show that she describes as "'Candid Camera' meets 'Sex and the City.'" It's a reality program in which pranks are caught on camera. About three years ago, she also took on the role of "Candy," a manicurist, in the UPN series "One on One." She reprises the role in a new spinoff series, "Cuts."
Avery is probably best known for her work in the indie film "Napoleon Dynamite," which has become something of a cult favorite since its release last year. For her part as "LaFawnduh Lucas," Shondrella accepted a payment of just $82.50. "My agent thought I was nuts, but I wanted that part," she said. "The movie is all about rooting for the underdog and with my background, I could relate."
Avery recently completed a film titled "Domino," in which she plays Macy Gray's twin. The Tony Scott feature is an action thriller (based on a true story) about a woman bounty hunter named Domino. It stars Keira Knightley, Mickey Rourke, Lucy Liu, Mena Suvari and Christopher Walken. The picture was released by New Line Cinema. Shondrella also keeps busy with voice-over work.
Fans of Shondrella Avery may write to the star c/o Sharp & Associates, 8721 Sunset Blvd., Ste. 208, Los Angeles, CA 90069.
2005
Shondrella isn't only beautiful,
she's statuesque at 6' tall.
This is the male half of a
warrior couple, both bronze
and life-size, with spears.
They were made in Ghana.
This is one of Shondrella's
smaller wooden masks - only 3' high. Her husband, Ade, bought it for her in Nigeria.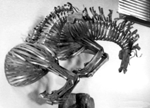 Bronze horse, measuring 4-1/2'
tall, depicted in full gallop.
South African-made 2' tall wooden mask, out of which bronze spears pour water into a fountain bowl.
Shondrella and her husband bought this bow and arrow set (about 100 years old) from a museum in Africa. The
consignor was Zulu.
Avery purchased this beautiful ornate chair at a consignment
shop in Los Angeles.
Shondrella, as "LaFawnduh Lucas," prepares to exchange wedding vows with
"Kip Dynamite" in the hit film "Napoleon Dynamite."