The Celebrity Collector
Oscar-Winning Actress
Shirley Jones Collects Lalique Crystal
By Ken Hall
Academy Award winning actress Shirley Jones has always loved crystal and fine stemware. "Even when I was living in my first apartment and didn't have much, I made sure I had wonderful glasses, even to just drink milk out of," she said. "Then, about fifteen years ago, somebody gave me a piece of Lalique crystal as a gift (an angel), and I just loved it. Today, I have about 75 pieces."
Lalique is the eponymous crystal named after the French artisan Renee Lalique (1860-1945). Early in his career, Lalique gained fame as a jewelry designer. He was notorious for his use of flowing and majestic plant, animal and human forms. He would often pair semi-precious stones with the unexpected -- horn, ivory, pearl, coral, enamel and even plastic or glass, to make his creations.
Then, around age 50, Lalique embarked on a new career as a master glassmaker, opening a shop near the business of the famous perfumier Francois Coty. He began creating classic perfume bottles for Coty, and eventually did same for Worth, Forvil, D'Orsay, Guerlain and others. He also produced stemware, tableware, inkwells, clocks, chandeliers, vases and even car hood ornaments.
Lalique caught some flak from other artists of the day for mass-producing his creations. But Lalique didn't see that as crass commercialism -- he just wanted everyone to enjoy his work, at an affordable price. Indeed, at the height of production, his factories employed up to 600 people to create millions of pieces of glassware. Some, but not a lot, of what's out there today carries high value.
But that seems to matter little to Lalique devotees like Shirley Jones, who has no idea how much her collection is worth and doesn't seem to care. "The fact is, I've never had to go out and buy any of the pieces myself," she admitted. "My husband (Marty Ingels, the kinetic comic and talent agent), sons (Patrick, Shaun and Ryan Cassidy, actors all) and friends are always buying it for me."
Purely by chance, Shirley did discover the value of a vase Ingels had given her as a present years earlier. "I was shopping at Geary's (a fine items shop in Los Angeles) not too long ago, and I saw an example of the very same vase, and it was priced at $3,200." Jones said if she were to take the plunge and begin buying Lalique, "I would go to estate sales. That's where the bargains are."
Of all his glass creations, Lalique was probably best known for his vases. The amber, plum, blue, opalescent, grey, green, black and yellow hues were achieved by meticulously adding measured amounts of pigment to darkened glass. Animal figures, mythical beasts and geometric shapes poured from his fertile mind. Lalique's Art Deco jewelry-making style transferred to his work in glass.
And color counts, with regard to value: colorless vases may range in price from $1,000-$2,000, but a red example may fetch $7,500 and an electric blue piece $25,000. Jones has five vases, and about as many perfume bottles. All are either plain or frosted glass. "I'm just not attracted to colored glass," she said. "I like my crystal and glass to be clear for the most part. I'm a purist."
Actually, she does have two colored pieces, both of them small reindeer. One's gold, one's pink. "I'm an animal nut, so it makes sense that animals would make their way into my collection. For that, a little color is OK." Other pieces she owns include a pair of antelope (or deer, she's not sure which) with paws up, facing one another; a horsehead bust; and a fish, which is rather small.
Jones keeps her Lalique collection in a soft oak, nicely lit curio cabinet. At least she will, when she and Marty have finished the move from a previous home in Beverly Hills to new digs in Encino, not far away. "Everything's in boxes right now," she said. "I can't even look at the collection to talk about it." She said the plan is to anchor the cabinet to the wall to guard against earthquake damage.
It's worth noting that Shirley and Marty are appreciators of fine art, although she cautions she's no collector and no expert. She does, however, have an original Picasso hanging on the wall at home, as well as two Renoir sketches. In fact, she met Ingels at an art exhibit on the lawn of actor Michael Landon's home. "I didn't buy anything that day. Marty and I talked the whole time."
That was 1974; the two were married three years later, following a courtship so outrageous and romantic the story has been told in their 1989 autobiography, Shirley and Marty, An Unlikely Love Story. The book will soon be made into a theatrical release. Previously, Jones was married to actor Jack Cassidy, who perished in a fire. The couple had three boys: Shaun, Patrick and Ryan.
David Cassidy is Shirley's stepson and still an active entertainer today. The two were co-stars on the hit TV series The Partridge Family, which ran from 1970-74. Jones played the matriarch of a family that was also a successful rock 'n' roll band. The story line was loosely based on the singing family The Cowsills, who were popular at the time. David played the heartthrob teen singing star.
Shirley Jones was born on March 31, 1934 in Charleroi, Penn. Her parents, Paul and Marjorie, named their only child after Shirley Temple, probably the most bankable and recognized movie star of that time. Paul ran The Jones Brewery, which he took over from his father in nearby Smithton. Shirley enjoyed a normal, carefree childhood in the quiet, small-town environment.
By age six, the precocious youngster had already begun singing in the church choir. Then, after graduating from Huntingdon High School, Jones was spotted by a scout photographer for the Miss Pittsburgh Beauty Pageant. She went on to win that title and competed in the Miss Pennsylvania pageant. She was first runner-up and got a scholarship to the Pittsburgh Playhouse.
Following her apprenticeship there, Shirley set her sights on the big time. She borrowed $160 from her father to take on The Big Apple, promising to return home if the money ran out before she found acting work. It never happened. After learning of replacement tryouts for the chorus in South Pacific at the St. James Theatre, Jones tried out and got the part. And she still had $50 left over.
Jones' singing had so impressed the legendary songwriting team of Richard Rodgers and Oscar Hammerstein that they personally propped along their young ingenue. After playing one of the nurses in South Pacific, she got a small role in the R&H musical Me and Juliet. During the nationwide tour of the show, she screen tested for the part of Laurey in the movie version of Oklahoma!
She got that part, too. The 1950s would find Shirley co-starring in a string of movies, many of them quite successful: The Courtship of Eddie's Father (with Glenn Ford); Bedtime Story (with David Niven and Marlon Brando); The Happy Ending (with Lloyd Bridges); The Cheyenne Social Club (with Henry Fonda and James Stewart) and Never Steal Anything Small (with James Cagney).
Other films included Two Rode Together (with Richard Widmark and James Stewart); April Love (with Pat Boone); Carousel (with Gordon MacRae) and, of course, Oklahoma! (also with Gordon MacRae). But 1960 would be a watershed year, as Jones copped her industry's highest award -- the Oscar-- for her performance as a temptress in Elmer Gantry, opposite Burt Lancaster.
Not everyone was sure that a girl-next-door type like Shirley was the best choice to play a prostitute who all but topples the empire of an ambitious evangelist. But Lancaster promoted her for the role after seeing her in a dramatic part on TV's Playhouse 90. Candidates for the lusty part were plentiful, and many had talent, but Lancaster convinced director Richard Brooks of Jones' range.
After Elmer Gantry, Jones starred in another Broadway musical-turned-movie, Music Man (with Robert Preston). Meredith Wilson's captivating story stands to this day as one of Columbia's biggest money-makers. In the years that followed, there was The Partridge Family, made-for-TV movies, TV guest appearances, Broadway and the stage, and many international concert dates. Recently, Jones has been busy performing in concert worldwide. She has guest starred on TV shows like The Drew Carey Show; Sabrina, the Teenage Witch and That '70s Show. She's done several movies, too, including Ping (a comedy); I Know What You Screamed Last Summer (a terror spoof); and Manna From Heaven (with Louise Fletcher and Cloris Leachman, both Oscar winners).
Fans of Shirley Jones may visit the star online at http://www.shirleyjones.com/.
2001
Shirley Jones' career has been going full-throttle for 50 years. She still does concerts, TV and films.

Jones appeared in the play and movie versions of Rodger & Hammerstein's classic, Oklahoma.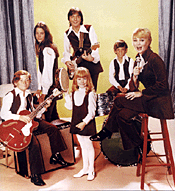 Shirley was the matriarch and stepson David Cassidy the teen heartthrob in TV's Patridge Family.
Below are some representative pieces of Lalique. Lalique was famous for his use of plant, animal and human forms, as in this car mascot archer. Of all his glass creations, Lalique is best know for his vases. Color often dictates the piece's value. Lalique designed ornate car mascots (hood ornaments) like the one shown. He loved automobiles. This Lalique perfume bottle, titled "Deux Figurines," carries an estimated value of $8,000-$10,000.