$3,159 (32 bids): Collection of 11 Antique German Folk Art Noah's Arks & Carved Wood Animals.

We probably should have listed the 11 antique Noah's Arks in this auction separately, but they came from a single collection and in the interest of time, we are listing all 11 Noah's Arks together. They measure from 11 inches long to 20 inches long and have 236 carved animals and 6 Noahs and 5 wives. (Photo: eBay seller wwolst1.)
DBA: Erzgebirge (translation "ore mountain") is a place in Germany, a heavily forested mountainous area close to the Czech Republic, where a cottage industry of building wooden toys, especially Noah's Arks, originated. It is not a company or a brand name. In the mid 1800s, the lathe began to be used, increasing the efficiency of the process of making the toys. While this simplified the process, each piece still needed to be individually sanded, primed, painted and finished by hand. Much of this work was done by whole families and is how they earned a living. Each is handmade. These arks became very popular toys, and because of the Victorian Era's strict observance of the Sabbath where children were restricted to biblical toys, these were only enjoyed on Sundays, and therefore, usually can be found in better condition. Many of these arks have found their way into museums. For eleven arks, this is a wonderful buy at $3,159.
* * * * * * * * * * * * * * * * *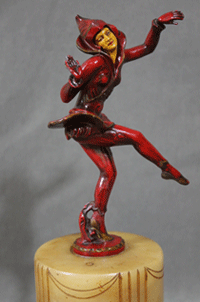 $480 (16 bids): 1930s Antique Art Deco GERDAGO Jester Harlequin Dancer Alabaster Table Lamp. Measuring 12" tall with a 6" by 4 1/2" carved Alabaster base this classic Art Deco Lamp depicts a Harlequin Jester Dancer. This Harlequin is a replica of a well known bronze sculpture by the Austrian sculptor, Gerda Iro Gerdago (1906-?). You can find many different examples of Art Deco Lamps that feature this same spelter metal Harlequin Dancer. Her red outfit retains its original red painted, however in our close up photographs of her face, you can see that it was very nicely re-painted many years ago. There are two tiny heat holes to the left and right of this statue to let out the heat of the light bulb. The alabaster base is in perfect original condition and this lamp still works because the last owner properly rewired it with cloth wiring and the original switch and plug. (Photo: eBay seller wwolst12.)
DBA: This is a popular figure, and it was used by many companies making lamps and figures in different materials. Many examples can be found in the marketplace. This is a fair price for the object. By the way, the bronze statues by Gerdago, by which this figure is influenced, does not come to auction frequently, but when they do, they can easily bring $15,000 to $20,000.


* * * * * * * * * * * * * * * * *
$663 (11 bids): Antique Palais Royal Mother-of-Pearl Scissors w/ Pansies & Scallop Shells, ca. 1810.

These nicely carved mother-of-pearl scissors came from a fitted box of Palais Royal sewing tools. The handles are carved in the form of scallop shells, and one side has two gilded and enameled pansy seals. The gilded silver mounts are stamped with the French fasces hallmark for 800/1000 pure silver. This mark was used from 1809-1819. The condition is excellent with no chips, cracks or loss. The steel blades are tight with sharp points, and they cut pretty well. They measure almost 3 7/8 inches long and 1 5/8 inches across the bows. A variety of Palais Royal scissors are shown on pp. 49-57 of Nerylla Taunton's book, "Antique Needlework Tools and Embroideries," and Gay Ann Rogers shows several pairs on p. 107 of her book, "The Illustrated History of Needlework Tools." (Photo: eBay seller elegant.arts.)
DBA: During the late 18th and the early 19th centuries, the finest needlework tools in the world were made in the Palais Royal District of Paris. The enameled pansy is the signature of the Palais Royal. Needlework was considered one of the appropriate hobbies of fine ladies. The fitted box that these scissors came from is called a "necessaire." I have seen these Necessaires sell for more than $4,000, so this price of $663 for mother-of-pearl scissors is a fantastic buy.
* * * * * * * * * * * * * * * * *
$810 (38 bids): Ancient Authentic Bahamas Island Pre-Columbian Taino Carved Stone Pestle Statue. After quite a bit of searching on the internet, we finally sent some photographs to a friend and expert on indigenous antiquities to find out exactly who carved this stone pestle. They were able to identify it as a stone pestle from the Taino people, who populated the Bahamas in ancient times. My good friend also told me that there are many carved stone pestles that are not antique. The stone pestle in this auction is guaranteed to be an authentic pre-Columbian Taino stone pestle. The slightly convex base measures 4.5 inches in diameter, and the overall height is 8.5 inches. It looks like a very young bird. The large, round, recessed eyes are very typical of other Taino-carved stone pestles. One very old, very worn chip to the bottom edge. (Photo: eBay seller wwolst12.)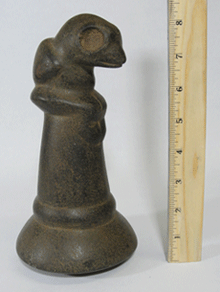 DBA: This decorated utilitarian object probably had a special use. The Taino people believed that their original ancestors were a male "culture hero" and the Turtle Woman. I think the image shown on the pestle is not a young bird, but actually a turtle head.
An important substance that the Taino people used was a hallucinogenic substance called "cohoba." This was made into a ground powder. The shaman took cohoba to cure illnesses for individual patients and to promote the wellness of the community. They believed that they traveled to the supernatural realm during these trances. Preparation for these "travels" was intense and important, with the shaman purging themselves with vomit spatulas in order to be pure for the spirits and then inhaling the ground cohoba. A special pestle like this would not be used for grinding corn for tacos.
I am surprised that there was no statement about the right to sell a "pre-Columbian" object. There are rules and restrictions on such objects. Because of this, I rarely see such an object selling. I would think that $810 would make this a good buy, if only for the story behind such an object.
---
Deborah Abernethy is a certified appraiser with the International Association of Appraisers. She can be contacted at 404-262-2131 or Deborah@expert-appraisers.com . Her website is www.expert-appraisers.com .