$2,125 (29 bids): Superb Antique J&E Stevens Magician Mechanical Cast Iron Bank. This wonderful bank portrays a formally dressed magician on a stage with a table before him. When you press the lever, the magician will lower his top hat over the coin on the table. He will nod his head, and magically, the coin will vanish. The Magician Bank was patented on January 22, 1901. It says "Magician Bank" on the front. The magician is dressed with a boiled white shirt front and black bowtie. His eyes, eyebrows, goatee and sweeping mustache are black. It will work with any coin up to and including a quarter.
This bank is in excellent condition with no damage or missing pieces. This is absolutely guaranteed to be authentic in every way and not a reproduction. I believe the paint to be original. Note some light paint loss from wear but overall great paint retention. Look at that great mustard paint. The bank works well and smoothly. Measurements: 7 inches long, 8 inches high, 4 inches wide.
DBA: This seems like a low price for a mechanical bank. J & E Stevens was a premier maker of mechanical banks, and this bank is a rare one. This identical model was appraised on the Antiques Roadshow in 2006 for $5,000 to $6,000. The main reason for the lower value is the economy. While these banks will probably still be collectible for years to come, toys are most valuable when they are remembered toys from childhood. Obviously, fewer people are going to be remembering these toys. Based on what these have sold for in very recent years, this seems to be a good buy. But this may be like "Made in Occupied Japan" ceramics. Those were highly collectible at one time, but as the people who were "occupying Japan" are increasingly "no longer around," those ceramics are not being collected as much. (Photo, courtesy of eBay seller Audee17.)
* * * * * * * * * * * * * * * * *
$7,995 (47 bids): Hood Milk Cow 1930s Porcelain Railroad Car Sign. If you are a collector or dealer in antique enamel advertising signs, then you already know the rarity of the 28-inch diameter H.P Hood & Sons Enamel Sign. Originally on the side of an early 20th century refrigerated railroad car, it depicts a Hood's Jersey Milk Cow, which eventually became Elsie the Cow. As you look at the photographs, you will see a couple of small chips near the mounting holes, and there are a couple of marks to the porcelain, but the very large majority of this rare sign is perfect without any repairs, and it has a bright glossy surface. If you do some research on the Internet, you will find that similar signs like this Hood Milk Sign have sold for many thousands of dollars. Many of these signs are in poor condition from exposure and dings from rocks.
DBA: While this is not my decorating style, there are many Internet collector sites that specifically mentioned the Hood Milk Cow sign. There are several collectors (mostly men) who want this advertising sign. This price was in line with other sales of this type of sign. (Photo: eBay seller wwolst12.)
* * * * * * * * * * * * * * * * *
$10,900 (4 bids): Antique Harley-Davidson Dealer's Porcelain/Neon Sign. 64 inches x 28 inches x 14 inches.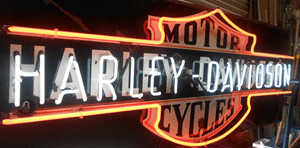 DBA: This is a 1940's Harley Davidson sign. It is not a design that is made today, and that, along with the status of Harley, is the reason for that price. Harley-Davidson has always had its share of collectors. The bike is affectionately called "The HOG," which became a nickname early on. Beginning in 1920, a group of farm boys who consistently won motorcycle races put their live hog mascot on a Harley and took a victory lap. Harley-Davidson in 1983 tried to trademark the name "HOG," but lost as a panel ruled that the term had become generic for large motorcycles. In 2006, the company NYSE ticker symbol was changed from HDI to HOG. Although, I couldn't find similar objects selling for any price, I would say that this was a good buy. (Photo: eBay seller lynsky811-us.)
* * * * * * * * * * * * * * * * *
$1,981 (19 bids) Russian Antique Silver Enamel Salt Cellar, 1900s. 677gr, size: 19 x 14 x 9 cm. Condition is very good for its age.
DBA: This object has lots of photographs, but a very limited description. One of the photographs shows "84" on the bottom. This number refers to the silver content. The numbers are a part of a Russian system, called zolotniks, which does not correspond directly to other accepted silver quality systems. For instance, the zolotnik number 84 on Russian silver converts to 87.5% silver, not 84% silver. The punch "84" should be accompanied by an assay mark and regional authority mark.
In the description, the gram weight given may be the actual weight, but we use the gram weight to calculate silver value. That formula won't work for something that isn't the sterling standard without an additional conversion to silver content.
It is a beautiful object. Compared to other similar enameled Russian silver objects, this was a good buy. In fact, it was "such as good buy" that I investigated further. One specialist indicated that 95% of the Russian enameled silver on eBay is counterfeit and sold by unscrupulous dealers in Riga, Latvia and Bulgaria. Want to guess where this eBay seller is from? Bulgaria. (Photo: eBay seller asya_1988.)
---
Deborah Abernethy is a certified appraiser with the International Association of Appraisers. She can be contacted at 404-262-2131 or Deborah@expert-appraisers.com . Her website is www.expert-appraisers.com .