$2,650 (46 bids): Antique Original Berlin 1936 Olympic Games Torch. (Photo: eBay seller andreas_1914. The sellers own an antique shop in Thessaloniki, Greece with more than 12,000 collectible and antique items. They also own a children's and antique toys museum.)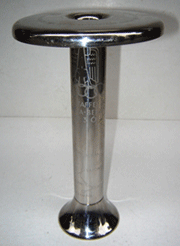 DBA: Wow, in doing the research for this item, at first, I could not believe the price would be so low. However, these were very controversial Olympic Games with Adolf Hitler and the Nazis being in power.
The Olympic Flame was introduced in the modern Games in 1928. These flames were lit onsite at the stadium. The torch relay for the 1936 Summer Olympics was organized by the Nazi Party. Afterwards, the relay was adopted by the International Olympic Committee, and all the Games that followed have had something similar.
Anything with any Nazi connections usually will not sell or will sell for next to nothing. Company policy at Sotheby's in London is that they will not sell anything with a connection to Hitler.
Sculptor Walter Lemcke designed the 27-cm. wood-and-metal torches. German manufacturer Krupp produced 3,840 original 1936 Berlin Olympic Games Torches.

* * * * * * * * * * * * * * * * *
$789 (12 bids): 1927 Terrestrial Lithograph Globe & Metal Jigsaw Map Sections. Whether you collect unusual world globes or unusual jigsaw puzzles, this auction is for you. Measuring 11 inches tall, the 6-inch diameter World Globe is marked in the cartouche, "Terrestrial Globe 6" Dia. Geographic Educator, New York, USA." Made of spelter metal with an applied lithograph map of the world, the sphere splits into six sections. Each section contains a jigsaw puzzle of a different continent with all the countries named in relief. Each painted piece is also cast in spelter metal. The globe rests on a cast iron tripod stand with metal rod down the center and secures at the top with a brass finial. This makes the overall height 11 inches, including the cast iron base. We are missing part of northern Europe and part of Canada and the State of Florida is broken. The majority of the 1927 Terrestrial Globe & Puzzles are in original unrestored condition. (Photo: eBay seller wwolst12.)
| | |
| --- | --- |
| | |
DBA: Globes from the 1920s are not abundant, but I wouldn't call them rare. The lithograph technique gives an "antique" look absent from the plastic material modern globes are made of today. Also of interest are changes in the countries and governments. I did see at least two other similar globes selling on eBay. I did not see this in other sources. All three of these selling for around $800 were lithograph puzzle globes. Not every lithograph puzzle globe offered for sale has sold. Given all of the above information, I would say the seller got the good deal.
* * * * * * * * * * * * * * * * *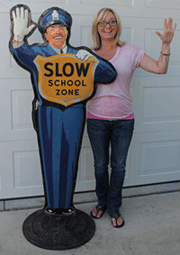 $2,552 (42 bids): 1950s Coca-Cola Policeman School Zone Crossing Guard Tin Metal Sign. This is an original circa 1956 Tin Coca-Cola two side Policeman/Coke Button School Zone Crossing Guard Sign. It is 64 inches tall and has the original stepped cast iron Coca-Cola logo base. The sign is in pretty good condition with some small dings, scrapes and rust spots. As stated, it has a marking near his feet saying "10-56." He has good shine and vibrant color and has the Coca-Cola button and bottle on the back side. The word "School," has some scraping and discoloration, but not bad. Overall, still a nice original. (Photo: eBay seller gypsiegirlz. Gotta love that photo.)
DBA: There were quite a few of these made in the 1950s, and many are showing up for sale. I could find three selling for similar amounts on eBay. The tin signs do not sell for as much as the older porcelain ones, and they were easier to manufacture. The size of this sign and the large number of Coca-Cola collectors make this collectible sell for a higher amount of money. Yet, this is the going rate for similar signs.


* * * * * * * * * * * * * * * * *
$235 (26 bids): Native-Worn Guere Tribe Ivory Coast Carved Wood Mask. It measures approximately 13 inches wide by 12 inches tall by 6 inches from front to back. The natural staining on the inside is caused by years of use. There is a collection label on the inside, which states that this Guere Grotesque Mask was used by warriors and was a symbol of strength. This mask is covered with both fiber and real hair. The teeth are made from thin pieces of metal. (Photo: eBay seller wwolst12.)
DBA: The Guere are considered a sub-group of the Dan tribe. This is a low price for a Guere mask, especially one claiming to be "used." "Used" has the connotation of authentic, rather than the made-for-tourists masks. The fierce features (the bulging eyes, open mouth and prominent teeth) would make one think of war, but this type of mask was used for funerals by the Guere tribe. This is one type of object that the word "used" makes it more valuable than new.
I could find similar masks offered by dealers for $1,200 and more, so given this information, the buyer got a tremendous deal. However, this type of object is usually sold with a lot more provenance.
---