$132 (32 bids): Antique Victorian Ladies Braided Hair Bracelet w/ Engraved Gold Clasp. Measuring 6.75 inches long by 1 inch wide, this antique hair bracelet is made from four coiled strands of hair, which have been braided together. The top of the woven hair is perfect, but there are two holes to the tubes on the underside. (Photo: eBay seller wwolst12.)
DBA: Hair Bracelets or any type of hair jewelry were usually made from a deceased loved oneís hair. It is a type of mourning or remembrance of the loved one. These would range from very simple to elaborate in form. Sometimes a name would be engraved or just ďin memoriam.Ē The clasp could be every elaborate with gold, silver and/or gemstones. Given that there was no information on the metal of the clasp, I would think that this is probably spelter or gold plate. The higher valued jewelry is usually gold or gemstone enhanced. The value of the jewelry object is based on the clasp or added decoration. This is most probably a fair exchange with neither buyer nor seller at advantage.
* * * * * * * * * * * * * * * * *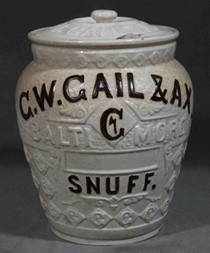 $416 (16 bids): Large Baltimore Tobacco Stoneware Snuff Jar, Store Display Jar. Measuring 10 inches tall to the top of the cover by 7.5 inches in diameter at the shoulder, this antique stoneware snuff jar was made by the Baltimore Maryland company, Avalon Faience. It advertises for "C. W. Gail & Ax Snuff." The brown glaze on the raised lettering of this jar is actually Albany Brown Slip. There is a large chip to the edge of the cover of this jar, and the jar is crazed with some toning. There are no other problems or any restorations. (Photo: eBay seller wwolst12.)
DBA: These store display jars can be found in historical settings. One almost identical to this one was found in an archeological dig in Fort Hayes, Kansas, and is part of their collection. With the mark on this jar, we can date it to 1882 to 1884. The seller made a good sell as these can be found for much less, even at retail. The seller made out well in this situation.


* * * * * * * * * * * * * * * * *
$1,204 (28 bids): Wooden & Metal Salesmanís Sample Buckboard Wagon Railway Express Agency. This is an antique salesmanís sample/office display wood and metal buckboard/covered wagon with the Railway Express Agency No. E. 3309 Livery. The accuracy is very impressive with the metal-springed suspension chassis construction that is exactly as a full-size wagon. The wagon also has the detailed seat area, and many of the bolts and square nuts are tiny hand-forged types. (Some larger nuts have been replaced as they were lost over the years.) It is very nice and measures 26 inches long. It has a canvas cover for the roof, sides and rear flap that still fold up well, though they are a bit stiff from age. There looks to have been a tailgate-type rear door at one time, but it is missing, though the metal hinges are still there. It has some wear and is a little dirty, but overall, it is a terrific example. (Photo: eBay seller gypsiegirlz.)
DBA: There are many collectors of salesman samples, especially working models, and this has been the norm for several years. This seems to be a good buy. A salesmanís sample is a miniature version, made perfectly to scale, that a salesman would use to show the customer how the product would work. Sometimes, this would be a door-to-door situation, or it could be in a store where space could be better utilized with the miniature versions. A salesmanís sample will sell for many times more than a miniature.
* * * * * * * * * * * * * * * * *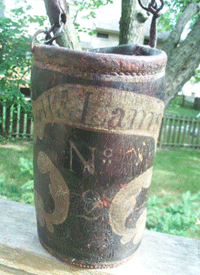 $662 (28 bids): Early 1800s Leather Fire Bucket, Rare No. 2 W.M Lamson Firefighter. I just got this at a local estate and thought someone would really appreciate this piece of firehouse-memorabilia history. This is a one-of-a-kind fire bucket we have dated to the early 1800s. Take a look at the iron rings that attach to the leather handle. They are hand hammered by a "smithy" and not factory-produced. We see fire bags in terrible condition sell for $400 or $500 and they actually sell. (Photo: eBay seller treasurehuntershawn.)
DBA: This is a very good buy as it does look like a very old fire bucket. Most of these would sell for much more, even at auction. This is not even the highest price for a leather fire bucket on eBay. There are many collectors of fire memorabilia. Fire buckets in colonial towns had the ownersí names painted on them. Laws often required residents to purchase them and keep them in repair. Finding more information as to the ownership of this bucket or information on the town it came from would add value to the object.

---
Deborah Abernethy is a certified appraiser with the International Association of Appraisers. She can be contacted at 404-262-2131 or Deborah@expert-appraisers.com . Her website is www.expert-appraisers.com .