$5,405 (50 bids): G. Heileman's Old Style Lager Beer 2 Side Porcelain Sign. This is an antique/vintage circa 1930's sign measuring 42 inches wide and 36 inches tall. It has nice vibrant color on both sides. It has some chips, as can be seen, but overall, it is still in pretty nice condition. Some silver and beige paint on the surface in places, but I am pretty sure it could be cleaned off if you wanted to put in the effort. Overall, a nice example of a fairly hard-to-find sign. (Photo: eBay seller Gypsiegirlz.)
DBA: Porcelain signs were a major form of advertising from the 1880s until about 1950. These were made to be used outdoors and were fairly durable and somewhat weather resistant. The process involved a lot of work. These were professionally designed to attract attention and sell the product. This particular one is a larger sign, probably made to attract attention from the road.
One of the reasons for high selling prices is the scarcity of such signs. Acid etching caused by environmental issues along with "target" practice, not to mention that the WWII war effort with needing the metal content has depleted the once abundant reserves. While $5,405 seems like a lot of money to pay for an advertising sign, these do frequently sell for huge amounts. I would say this was a good buy.

* * * * * * * * * * * * * * * * *
$1,625 (27 bids): Antique Western Lakota Sioux Native American Indian Beaded Moccasins, Authentic! After some searching on the net, I found that these antique, early 20th century, beaded moccasins are Lakota Sioux. I had never encountered a pair with beaded soles and found on the net that it was not uncommon. They were for important dress occasions like a marriage. These moccasins were for a large man, and measuring the bottom, they are 11.25 inches long by 4 inches at their widest point. I just went and took another close look at both moccasins, and they are perfect with no restorations. Inside, you can see some evidence of use. These circa-1900 Lakota Indian moccasins are an excellent example in perfect, clean condition. Similar examples have sold for very high prices at Native American auctions. (Photo: eBay seller wwolst12.)
DBA: I would surmise that the buyer got a fabulous deal. Native American moccasins usually sell for much more money. Maybe it not being adorned with thunderbolts or eagles and not in a color that we readily identify with Native American objects made it less noticeable.
* * * * * * * * * * * * * * * * *
$690 (19 bids): Miniature Salesman's Sample Surveyor's Level Transit Telescope. This is an antique/vintage, very small surveyors level. I have never seen one this small as it measures only 6 inches long, almost like it is a salesman's sample, but maybe it was for use in difficult locations that required compact and light tools, such as in mountains for mining. It is very well made and functions well. It has crosshairs when you look through the eyepiece and a level on top. It has a small part that threads onto the viewer as well, and all the adjustments of a larger instrument. (Photo: eBay seller gypsiegirlz.)
DBA: I believe this to be a small transit, not a salesman's sample. These were made in small sizes as well as larger ones. The early ones were all larger. This one appears to be late 19th or early 20th century. Only the small size makes it anything different. Given the cost of such equipment today and that this one probably works just fine, it was a good buy and a fair price.
* * * * * * * * * * * * * * * * *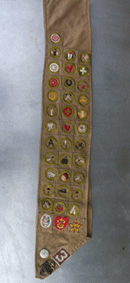 $3,050 (76 bids): Boy Scout Eagle Scout Sash, 34 Square Merit Badges.
I really don't know much about this. I picked it up at an estate sale. It's up to you to decide what it is. What you see is what you get.
(Photo: eBay seller ajbarnes1976.)
DBA: Before you run to find your old Boy Scout sash to sell, let's look for the reason why this one sold for so much money. The word square gives us a clue. Square merit badges were the first ones made and were used from 1911 to 1933. While 34 merit badges would not seem like a lot today, there were fewer ones in the early scouting days. So this was a merit sash belonging to someone actively involved with scouting in the early days. Something similar from the 1950s would probably sell for $300, not $3,000.
Editor's note: only 21 merit badges were required for Eagle Rank then (and now) so earning 13 more showed the owner was a dedicated and motivated scout.


* * * * * * * * * * * * * * * * *
$3,550 (24 bids): 1909 Connecticut Porcelain Enamel Black Single Block C License Plate.
(Photo: eBay seller jcasparr.)

DBA: License plates were first required in Connecticut in 1905. All of the first license plates were porcelain enamel with black letters, and all started with C and were numbered in sequential format starting at 1. The only difference is the block "C" letter form was only used in 1909. Different colors were used starting in 1910. In 1914, dates were added and "CONN" instead of just "C" was used. The block style is very rare because just a few were issued before the entire style was changed. There are many collectors of license plates, and many plates from this time period will sell for thousands of dollars.
---