$2,855 (86 bids): Antique Tin Chinoiserie "Phonolamp" (Phonograph Floor Lamp). If you are a collector or dealer in rare antique Phonographs, then you know about the Phonolamp Company of New York. They made a variety of tabletop and floor model electric lamps that contained electric phonographs. All of these phonograph lamps are rare, but some are very rare. The 67.5-inch tall tin floor lamp in this auction is one of the very rare Phonolamp Examples. At the top is a 25-inch diameter by 12-inch tall pierced tin lamp with a cloth liner. The cloth is original, but will need to be replaced. The all-tin base is painted black and hand decorated with Chinese Chinoiserie designs. The majority of the hand-painted design is perfect and only needs a light cleaning. This is not lacquer, although it does look like it. The tapered octagon base has lost its paint, and there are a couple sections on the bottom where some of the paint is lifting. The original electric motor is still there, but the original wiring is poor, so we cannot plug it in. Underneath the turntable is a compensator for the Thorpe Electric Motor. The reproducer is original. (Photo eBay seller wwolst12.)
| | |
| --- | --- |
| | |
DBA: Phonolamps are a combination of a lamp and a phonograph! These are very rare, and there are few collectors for this type object. However, whenever one comes to market, there is some interest in this unusual combination. The Phonolamp was trademarked in 1917 and made by the Electric Phonograph Company of New York City. From other phonolamps I have seen (and none in person), this one looks more like a lamp than other examples. If the buyer can do the repair work, this would be a very good buy.
* * * * * * * * * * * * * * * * *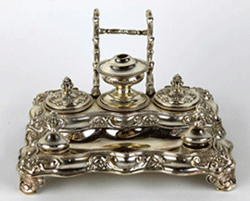 $1,525 (35 bids): French Hall Marked Repousse Sterling Silver 925 Double Inkwell. The center of the inkwell features an open urn with cased floral border. The urn is surmounted by a pair of doors which opens up to reveal a porcelain-bottomed and sterling-topped inkwell and a porcelain-bottomed, sterling-topped "shaker." The lids are wonderfully repoussed with sun engraving and finials. The center features a high polished depression for desk-related paraphernalia such as stamps or paper clips, etc. Entire stand rests on four "feet" which have Rococo embellishments. At the back side of the stand is an ornate, raised penholder comprised of scrolls of silver. The design work is very intricate. There are .950 sterling silver guarantees, the head of Mercury indicating the piece was made for export. Condition is overall good. Measures about 7.5 x 8 inches. Very good condition with small bends that can be straightened out. Possibly missing center finial. (Photo: eBay seller middlemanbrokers.)
DBA: This seems to be an incredibly low price, but then there are slight problems: the missing finial, the "bends" in the silver. The only bend that I could see was behind the center urn. This object without the defects would bring a lot more money. However, the silver metal content would probably be worth this much so it should be a good buy.
* * * * * * * * * * * * * * * * *
$1,315 (51 bids): Blown Opalescent Sandwich Glass, Marbrie Witch Ball and Stand, c.1860. Offered in this sale is a fabulous early American blown-glass witch ball and stand that I believe were made by the Boston and Sandwich Glass Company circa 1860. If I had only found the vase or base, I would have been thrilled, but to find it with the original witch ball takes the piece to another level. The glass is flint glass, which you can hear when you tap it with your finger. Overall, the set measures 12.75 inches tall. The base or vase alone measures 7.75 inches tall x 3.75 inches across the top x 3 inches across the base. The witch ball measures roughly 5 inches in diameter. The condition is excellent, no chips, cracks, flakes, hairlines or evidence of grinding. (Photo: scott0228.)
DBA: The witch ball tradition can first be found in 18th century England where a glass ball was hung in cottage windows to ward off evil spirits. Later these were seen on top of a vase or suspended from a cord in the mantles. This seems like a really low price for this object. In 2006, an identical object was sold at auction for $1,880.
Glassmakers in England in the 17th century experimented with calcined flint as a substitute for silica. Flint is a hard form of pure quartz and was combined with lead oxide to make fine quality crystal. Nearly all fine glass made in America contained lead only and not flint, although that term was used.
Marbrie is a term that first started with the Saint Louis Cristol (French) company and was associated with paperweights with a looped design. This term has also become associated with the loop design of swirled glass.
* * * * * * * * * * * * * * * * *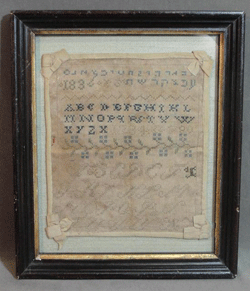 $2,307 (33 bids): 1836 Antique 19thC Folk Art Alphabet Sampler, Hebrew. Measuring only 8.5 by 7.25 inches, this small 19th century alphabet sampler is unique in that the top two rows depict the Hebrew alphabet, as well as the date 1836. Below this are the English alphabet and numbers, plus a second set of English letters in script. On the right hand side is a small brown dog, and in the middle is a blue-flowered vine. This sampler has a silk edging with bows at the corners and is in original, untouched condition. There is some light discoloration to one side, but there are no holes, tears, or missing stitches. The handwritten piece of paper framed on the back reads: "1836 Fanny Silverman 1836. Walsdorf by Bamberg, D???erf Ro??f L??i?s??." (Photo: eBay seller wwolst12.)
DBA: This is an amazing high price for such a small sampler. Many samplers are not identified as to the person who stitched it. This one is also dated. But the Hebrew alphabet is the most unusual part of this sampler and is probably the driving force in the price. There are large numbers of sampler collectors so I would think that this will remain a good buy.
---
Deborah Abernethy is a certified appraiser with the International Association of Appraisers. She can be contacted at 404-262-2131 or Deborah@expert-appraisers.com . Her website is www.expert-appraisers.com .