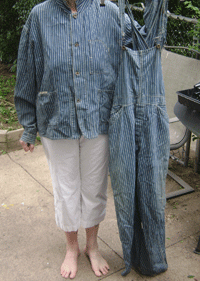 $4,050 (15 bids): Railroad denim Jacket & work bib overalls FREELAND buttons jeans. There are six buttons on the jacket and four on the overalls, all marked "The Freeland." I was told this person worked for several railroads during his lifetime. This was also the name of a company that made work clothes starting in the late 1800s.
Selling as found, definitely worn, a few tiny holes, some fraying on cuffs, some fading, some rust color spots. These are not new and made to look old. This is the real thing. I talked a friend that visited into modeling this. She said, "Hey, this is really comfortable!" No size on it, but my friend is about 5'10" and 160 pounds. This is a great find for a vintage antique jeans and jacket collector. You are getting this fantastic old jacket, bib overalls, complete with all 10 buttons all alike. (Photo, eBay seller snikelfritz34.)
DBA: Most of these have not survived. This type of clothing is usually just worn until it is worn out. It seems like such a lot of money for something that would have been made in large quantities. I did not find a similar set, just the jacket. But that jacket sold for $2,500. Several factors made this sell for more money: 1) that it survived; 2) that it is a railroad outfit—railroad things are very collectible; 3) that it is a striped denim rather than plain. This price was "the going rate."
* * * * * * * * * * * * * * * * *
$3,050 (31 bids): Antique nautical boxwood nocturnal with swing arm 18th century astrolabe. Nocturnals were used to determine the time at night when the sky was clear. The nocturnal was able to determine the time based on the position of the stars together with the day of the month. This fine instrument measures 10.25 inches from the end of the arm to the pointer on top of the base plate. The condition is exceptional, no cracks or repairs. Nocturnals were used as a navigational tool until around 1825 when the mechanical chronometer was invented, which made them obsolete. This nocturnal came out of a very old house in Rhode Island. (Photo: eBay seller technogallery.)
DBA: This is an early 19th century (or possibly 18th century) navigational instrument used for calculating the time of night, and it was important because calculating the tides around ports would have been necessary. A nocturnal will have an outer disc with the months of the year (usually with raised markings as it would be used at night), and an inner disc marked with hours. The outer ring is set on the date, Polaris is spotted through the hole in the center, and a reference star is then used to determine the time. The pointer arm is rotated to point to the chosen reference star. The intersection of the pointer arm with the hour markings on the inner disc indicates the time. The instrument should also have a handle or an indication of how to be held.
I was not able to find any similar nocturnal for price comparison. These are seen in maritime museums today or are available as reproductions. Based on that, I would say that $3,050 was probably a good deal for the buyer.
* * * * * * * * * * * * * * * * *
$4,750 (16 bids): Antique Mini Sewing Machine. Patented August 6, 1867. Adjustable height stitch plate, top penetrating needle. Needle is present (uncommon). Wooden spool with thread. Excellent condition, all original, about six inches in length. (Photo: eBay seller: kwikwitt.)
DBA: This machine is marked "H J Hancock." Henry J Hancock received his patent for this machine in 1867, very early in sewing machine production. Hancock sewing machines were made for only about ten years and are scarce. This machine is a hand-operated, single-chain stitch machine that clamps to a table. There are no serial numbers on Hancock machines, but these are clearly marked with a patent date. Rarely do you find an antique machine with a needle. I did find another Hancock sewing machine which sold for $1,300 (without a needle and with lots of paint loss); $4,750 is a lot of money for a sewing machine, but this one is very scarce and will probably retain its value.
* * * * * * * * * * * * * * * * *
$133 (14 bids): Hand-painted Royal China Blacksmith Occupational Porcelain Shaving Mug. The underside is marked "Royal China International" and is hand signed in gold gilt by the artist "C. L. Hain." This is 3.5 inches tall by 4 inches in diameter, hand painted, and depicts a blacksmith's shop, along with a large horseshoe and the name, "H. T. Schoener." There is an even crazing to the glaze on this occupational mug, but there are no other problems or any restorations. (Photo: eBay seller wwolst12.)
DBA: Around 1880, sanitation laws required that each client in a barbershop have his own shaving mug—although the razor could be shared! These laws were in effect from 1880 until to about 1920.
The values for each shaving mug depend on: the occupation (the more exotic usually means more money); the condition (obviously, the better the condition, more money): the manufacturer of the mug (the nicer manufacturers means more money); and whether it is a hand-painted design, a transfer design, or factory made. The seller got a great deal as the photo shows a great-looking mug.
$61 (41 bids): Western California Mission Indian Large Basket Tray. On either side of this 17-inch diameter by 1.5-inch tall Native American Indian basket tray are two handles. The simple design and tight construction is typical of the Mission Indians of California. There is a break and some missing stitches to the rim. There is also some reddish residue that is removable. There are no other problems or any restorations to this circa 1900 Mission Indian basket. (Photo: eBay seller wwolst12.)
DBA: Compared to other Mission baskets, this one is lacking in design motifs and very plain. Plain can be a good thing in some designs, but not necessarily in the Mission Indian style. My guess is that the missing stitches, the residue, or the very simple design may have caused this basket to sell for only $61.
The term Mission Indian refers to a group of different tribes who lived around the San Clemente area and were forcibly relocated to the missions. You will not find many early baskets from this region as the custom upon death was to burn the individual's possessions in a ceremony. This custom stopped about 1890. The baskets made around 1900 were made for tourists instead of being traditional use baskets. However, these are very collectible.
This is a low price for such as basket, and I would say the seller got a great deal for an Indian basket. However, collectors want pristine examples, so it may not be easy to sell.
---