$1,499 (6 bids): Abraham & Mary Todd Lincoln owned dinner plate used in White House. Up for auction is an excessively rare dinner plate used in the Lincoln White House in 1865 and present there at the time of Lincoln's assassination. This plate is from the Lincolns' informal, regularly-used household service; thus, it saw much more use than the formal pattern used for state dinners. The plate measures 9.5 inches wide and bears a buff-colored gilt-edged band at its edge, as well as a circular gilt band near its center. It is in overall excellent condition and ideal for the collector of Lincolniana. It appears that this same service may have been used in the White House during the administrations of Andrew Johnson and Ulysses S. Grant as well.
The dinner plate was personally designed by former first lady Mary Todd Lincoln for her husband, Abraham Lincoln's, second Presidential term. This plate was used in White House dinners three months before President Lincoln was assassinated and has been on display in the White House museum as well as the Smithsonian for decades since. Only recently have a few pieces been available to the public. Included is the plate, all notarized provenance papers, a printed history of the plate, the case it is pictured with and a plate stand. (Photo: courtesy of eBay seller luxuryla 10.)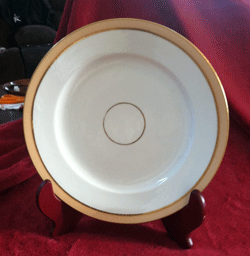 DBA: About 15 years ago, I was faced with an appraisal of a "crazy quilt" that was stated to have been made from the remains of Mary Todd Lincoln's clothing from the White House years. My dilemma was how to value this object with its unique provenance. I found three objects from that time period which had a Lincoln provenance and compared those with the same object without the Lincoln provenance. Examples of the objects used were a Renaissance Revival chair shown with the Presidential family and a book inscribed to Mary Todd Lincoln from the President. I found that the objects with the Lincoln association were sold for three times the most common price than those without the provenance. This factor does not apply here as this is far more than three times the cost of similar dinnerware. One possible reason for this increase is that the eBay market is so vast, making most of the world possible bidders. The prior sales were done in a world where one would have had to attend an auction to see such objects or to have them recorded easily.
Presidential objects are very collectible. Everyday china is not so collectible. The provenance of this object is key to the value, and if the paperwork for this purchase is lost, this is just an old plate.
* * * * * * * * * * * * * * * * *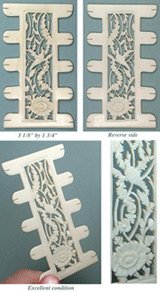 $1,525 (10 bids): Carved Filigree Thread Winder, English, Ca. 1800s. This beautiful fretwork silk winder has amazingly fine carving and a gorgeous old patina and grain pattern. It is of ivory or bone. A bird is surrounded by scrolling foliage over a large flower. It measures 3.125 by 1.75 inches and was made to hold multiple colors of silk thread. The condition is excellent with no chips, cracks or loss of the delicate filigree work. It was once in the collection of Diane Pelham Burn, and this is the piece that was photographed for the top plate on p. 13 of her excellent book, Thread Winders, A Collector's Guide. (Photo: eBay seller elegant.arts, www.elegantarts.com.)
DBA: All thread was once sold in skeins, much like embroidery floss is today. Winders were used to hold the thread for easier household use. This object was used when most people had the majority of their clothes made at home. The skill and wealth status of the homemaker was reflected in the materials used for the sewing implements. This is a very elaborate thread winder that indicates high status. This one is obviously antique, but thread winders are still used today, mostly for embroidery floss, and are currently being made in status materials such as mother-of-pearl. Ivory is a banned object, except in antique objects. An added feature is that this one is in the Diane Burn book, Thread Winders. That feature is most likely the reason for the selling price of this object being higher than the usual for a similar one. Most antique ivory thread winders (much smaller and with less design) found were basic in style and selling for around $150.
* * * * * * * * * * * * * * * * *
$757 (60 bids): Motorola Radio Advertising Thermometer, Tin. This colorful 37 x 8.5-inch thermometer was used to advertise the Motorola brand of automotive and home radios. Original finish is in very good condition with some slight discoloration of the yellow. Appears to read correctly. Marked, "AAW-D1162." (Photo: eBay seller ysi, www.ysiantiquesandcollectibles.com.)
DBA: Motorola is still around. Now, of course, they also make cell phones, and they were purchased by Google several years ago. Given that there are many collectors of advertising collectibles, this would seem to be a good buy as many similar advertising objects sell for much more. While comparing the prices paid for similar objects, one factor stands out: the size of this thermometer makes it one used in a commercial environment, not a smaller one used in a home. This is a large decorative object. This object fits several categories, including advertising objects and an example of a telecommunications company entering the "computer" market.

* * * * * * * * * * * * * * * * *
$2,551 (21 bids): Miniature Hingham Folk Art Bucket Signed C H Original Paint. An absolutely "right as rain" Hersey miniature butter bucket in its original painted surface. From Hingham, Mass., in the early- to mid-1800s. Signed on bottom. Measures about 2 inches tall without the handle and 3.5 inches tall with the handle up. About 2.5 inches in diameter. (Photo: eBay seller kateys7777.)
| | |
| --- | --- |
| | |
DBA: Hingham, Mass., is known as "Bucket Town," and the most famous emblem from the 19th century is the Hingham bucket. In 1845, Crocker and Alden Wilder built the "Old Bucket Factory" which began the mechanized manufacture of wooden buckets where about 50 skilled craftsmen made about 1,000 buckets a day. These were made in many sizes and from three kinds of wood. White oak was used for dairy products, red oak for heavy items, and pine for household uses. The buckets were superior to others because they had tongue-and-groove staves, making them leak-proof, and a wide recessed bottom which made it easy to stack them. The local fishing industry was a good customer, and the buckets soon became known around the world. These have been collectible for years and will likely continue to be.
This was a good deal for both buyer and seller. While there are many Hingham buckets, miniature ones are very rare. Many of the larger buckets sell in the $1,500-to-$2,000 range. I have never seen a miniature one before now.
---
Deborah Abernethy is a certified appraiser with the International Association of Appraisers. She can be contacted at 404-262-2131 or Deborah@expert-appraisers.com . Her website is www.expert-appraisers.com .