$301 (18 bids): Large Rare Guerin 1886 Photograph Black Americana Star Guitar Minstrel. I realize this large 19th century photograph has some problems, including toning to the outside corners and a serious tear that travels up and through the second musician on the right. There also are a couple of smaller tears in the lower left-hand corner. Normally, I would not list a photograph with such damage; however, this is a very rare black Americana photograph. I was not able to find one other example anywhere on the internet. Signed in the lower right-hand corner, "Old Kentuck, Copyright by T. W. Guerin, 1886."
Fitz W. Guerin (1846-1903) was a St. Louis photographer and Medal of Honor winner during the Civil War. He was a portrait photographer, especially of children, but he also took gentleman photographs of nudes.
This large 17.5-inch by 24-inch photograph depicts five black gentlemen in the middle of a song. You can almost hear them playing, and the gentlemen in the center is singing at the top of his lungs. He is wearing medals on his vest and holding a small strange horn with an attached bell. There is another unusual instrument in this photograph. Check out the star-shaped guitar of the second gentlemen on the right. Wouldn't you love to find that guitar in an attic somewhere? Even with the damage, this large 1886 photograph is quite impressive. You rarely find early photographs depicting people moving or singing. (Photo: eBay seller wwolst12.)
| | |
| --- | --- |
| | |
DBA: There are several collectible areas to explore here. Black memorabilia is a hot area of collection, but photographs are also very collectible. Fitz W. Guerin was a gifted photographer, and many of his works were very carefully staged and executed rather than "snapped." I found a small photograph of a child by Fitz W. Guerin that sold for $650. If this photograph had been in better condition, it would have sold for far more.
Guerin was known for his photographs of children and society people. He made quite a bit of money also for his nude photography. Although not noted for black photography, this area is so collectible, I feel that a collector would want this as much as his children or society photos.
* * * * * * * * * * * * * * * * *
$17,778 (23 bids): 1891 Brooks Backstrike Typewriter. This may be the rarest of the 1890s short-lived backstrike types which included the Fitch, Waverly, North and the Brooks. I have only seen one other Brooks at auction. This one is in good working condition with age wear. It looks to be complete and works pretty smoothly. Its ribbon is dry. Overall, this is really a great opportunity and certainly one for the serious collector. (Photo: eBay seller gypsiegirlz.)
| | |
| --- | --- |
| | |
DBA: This is a very early example of a typewriter. A backstrike typewriter has type bars in the rear which makes a problem of where to store the paper. There are only four companies that produced this style of typewriter: North, Waverly, Brooks and Fitch. Although this style of typewriter was ultimately not successful, these collectible typewriters command the highest prices today; $17, 778 is not the highest price paid for a typewriter, but it is close to it. There are many collectors for this piece of equipment, but that doesn't seem odd when you think of how the typewriter changed business in the world. One of the highest prices paid was for Edward Murrow's WWII typewriter which sold for $12,000. So it's not just the equipment that brings in the money or excitement.
* * * * * * * * * * * * * * * * *
$688 (23 bids): Super Rare Monkees Collectible-Signed Michael Nesmith 7" Mike & John & Bill, 1963.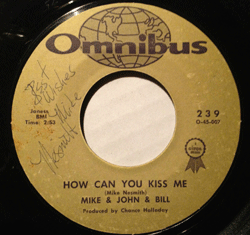 Artists: Mike & John & Bill (Michael Nesmith of the Monkees). Record Company/Label: Omnibus, catalog #: 239. Condition--record: side 1, VG+, "How Can You Kiss Me," numerous small hairline marks; plays well, no skips, signed by "Mike Nesmith"; on the left side of label signed, "Best Wishes, Mike Nesmith." Side 2: VG+, "Just A Little Love," numerous small hairline marks. Signed by bassist John London, later of Nesmith's First National Band and also of the Lewis and Clark Expedition and also included fellow Texan Michael Murphy of "Wild Fire" fame. There also is a light word written under the Omnibus logo, but I cannot make out what it says; thought it might be the drummer Bill Sleeper, but it doesn't look like it. Details: This is a really cool and collectible piece I acquired from an elderly Texan collector that recently passed away. It is a true gem for a Monkees' collector as Mike Nesmith (as he was called then) was pre-Monkees in 1963 and on his 2nd single. The music is very "Byrds-y" in my opinion. Apparently, a Nesmith signature is not the easiest to acquire. (Photo: eBay seller 2gnarly4u.)
DBA: The Monkees were not formed before the television show of that name in 1965. Michael Nesmith recorded music under the name Michael Blessing and Mike & John & Bill, so some items will not be recognized as being by Mike Nesmith. By 1970, the television show and group were no longer active. He has participated in several ventures with the Monkees in later years. I did find several Monkees albums signed by all four original Monkees selling for $599 and $799.
* * * * * * * * * * * * * * * * *
$4,725 (47 bids): Oak & Brass Gamewell Telegraph Firehouse Fire Department Alarm Gong Bell.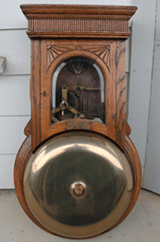 This is an antique, circa 1900, Gamewell Fire Alarm Telegraph Co. of New York. These hung in firehouses to send the firefighters and equipment on their way. This one is large, measuring 36 inches tall by 19 inches wide and 9 inches deep with the brass bell being 15 inches in diameter. Very heavy. It includes the door key and the mechanism winding key. Mechanism winds well and sounds the bell with a loud and sustained ring. I assume it once had an electrical piston of some kind to push down the lever to sound the alarm when a call came in. Really an impressive fire department item. (Photo: eBay seller gypsiegirlz.)
DBA: While this sounds like a lot of money, this is far from the record amount paid for similar firehouse alarm gong bells. A 53-inch oak case with 15-inch bell sold for $13,000. A 48-inch oak case one sold for $7,500.
Larger is better when it comes to fire gongs. The older ones are quite beautiful with their oak cases and brass gongs. Later ones are more structural looking. This is the "going rate" for similar objects.
---