$5,885 (39 bids) Earnest Mignon RC2 Crystal Set Loose Coupler Radio, 1914, Marconi Era. One of the first crystal sets ever manufactured by Ernest C. Mignon, the pre-World War I Mignon RC-2, serial number 35 from 1914! Ernest C. Mignon immigrated to the USA and arrived on August 4, 1907 on Ellis Island. Ernest Mignon was of German decent and sailed on the Caledonia from Glasgow, England to the United States.
In 1914, he founded the Mignon Wireless Corporation located in Elmira, N.Y. The company became later Universal Radio Mfg. Co.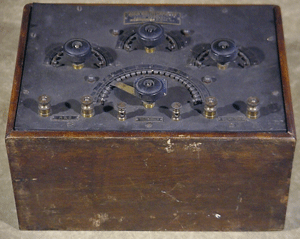 Ernest Mignon was a pioneer in the field of wireless and had a great future. However, he was robbed of his opportunity to show his true potential. The same way the U.S. Government rounded up Japanese immigrants after the attack on Pearl Harbor to keep them locked up in detention camps in the desert of Nevada during World War II, the U.S. Government interned immigrants of German decent at Fort Oglethorpe, Ga. Among the detainees rounded up at the outset of World War I was Ernest Mignon. He was held against his will in the detention center until the end of WWI. It can only be imagined what else he would have contributed to the development and improvement of early wireless technology.
This exceedingly rare and early radio, one of the first radios he ever produced, is in as-found condition. It was found in an attic in northern Pennsylvania. The case measures 12 inches wide, 8 7/8 inches deep and 6 inches high. The knobs on top add another 1 1/4 inches. The weight is 9 lbs and 5 ounces. The case is made of heavy oak; the top panel is somewhat warped. On the panel are two brass labels with the following writing: MIGNON WIRELESS CORPORATION, MANUFACTURERS OF RADIO APPARATUS, RC-2 35, PATENT APPLIED FOR. The second brass label reads: SUPERIOR MIGNON SYSTEM RADIO APPARATUS.
The terminals are from left to right: Antenna & Ground; Telephones; Detector. This museum-quality piece is complete and in all original condition. (Photo: eBay seller technogallery.)
DBA: Marconi built the first commercially successful wireless system based on radio transmission around 1894. The first "radio station" for broadcasting began in 1909 in San Jose, Calif. The first continuous broadcast in the world began in 1916. In 1917, when the U.S. entered WWI, all civilian use of radio transmissions ceased. All radio stations came under government control. Little improvements other than military uses were made in that time period.
This radio is a very early crystal radio (rather than vacuum tube operation). The amount of money paid for this early radio is based on the rarity of the item. While I could find similar type and age radios, this one is rare.
* * * * * * * * * * * * * * * * *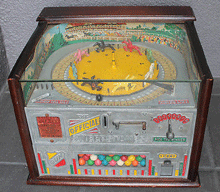 $2,818 (38 bids): Rockola Sweepstakes Horse Race Penny Coin Op Trade Stimulator. This is a circa 1934 Rock Ola Sweepstakes Horse Racing Penny Gumball Trade Stimulator. These are some of the neatest trade stimulators, and this one is in very good working condition. It has nice color, and it appears to be in original condition. Measures 15 inches wide by 12 inches tall and 12 1/2 inches deep. Includes rear door key. Aside from a few small scrapes, it is really in excellent example. (Photo: eBay seller gypsiegirlz.)
DBA: This is not the highest price recently paid for a Rockola Horse Race Trade Stimulator. Apparently another one sold on eBay in 2011 for $3,800. There have been some for lower prices as well. This is "the going rate" for similar objects. This was a fair price for this type object.

* * * * * * * * * * * * * * * * *
$8,500 (27 bids): Large German Hand-blown 4-Panel Onionskin Blizzard Mica Marble Antique Toy Marble. Measures 1 5/8 inches, weight 3.5 oz., of German origin, circa 1890-1920. This antique glass toy marble is in untouched, as-found condition. Hand blown with ground pontil in the Onionskin Blizzard form. Having two panels of cherry red on white base and two panels of emerald green on a white base. Above these base colors floats blizzards of suspended mica chips. Overall condition is good, some light play-use surface scratches. Of note, there is a smooth, one-quarter inch, shallow divot next to one pontil that is very hard to see. (Photo: eBay seller oldwellantiques.)
DBA: Antique glass marbles are very collectible, especially the handmade marbles by German glassmakers. The pontil mark identifies the marble as being handmade. America stopped importing German marbles during WWI, and machine-made marbles became popular. Handmade marbles were dangerous to make from handling the glass material to grinding the pontil mark where the glass particles could be inhaled. Many glassmakers died from tuberculosis. Size matters with marbles with larger being more expensive. This marble is very large and has four panels of color. All of these are factors in the very high price paid for it. Handmade glass marbles have not been made in about a hundred years.
This marble was sold for much more than similar marbles on eBay and other places. I did find a similar marbles selling for $3,500 and for $1,500. The seller did very well.

---