$2,850 (40 bids): Early Coin Operated Pay Phone Box For Candlestick Telephone. Please note that the candlestick telephone is not included with this auction. It is shown only to demonstrate how the message collector box was used. This auction is for a very rare and primitive form of pay telephone device. It is called a "Message Collector," and it was made by the "S.M. Manf. Co. of Philadelphia PA." On the top of the box, there is a metal retaining ring that is used to secure any standard telephone receiver. When you drop a nickel into the slot and press down on the metal ring, it raises up to allow you to remove the receiver and use the telephone. This must surely have been intended for use in small stores where the phone would always be in sight of the clerk.
I do not have the key for the cash drawer; otherwise, the message collector is complete. It is in working condition. The metal top looks to have been repainted, and the wood screws that hold the metal top in place have been replaced; otherwise, it looks to be in original condition. A very unusual and interesting piece. (Photo: eBay seller tomtheworm.)
| | |
| --- | --- |
| | |
DBA: This is a very early coin operation pay system. The first payphone mechanism was installed in 1889 and was invented by William Gray. The first was a device that collected money at the end of the conversation. The first pre-pay telephone box was installed in 1898. Since this one is activated by dropping money into the box, it is after 1898. We cannot date this device by the telephone connected to it. S. M. Manufacturing Co. of Philadelphia must be the Southwark Foundry and Machine Co. which was founded in 1836 and was purchased by Baldwin Locomotive in 1930. They were primarily known for making steam engines, held several patents, and made other devices.
An early Gray Pay Station was just sold on eBay for $1,025. Other "turn of the 19th/20th century" pay boxes have not sold for over $1,000 on eBay. There is much evidence of a strong market for telephone memorabilia. Since other earlier pay boxes did not sell for nearly as much money, one would assume that the company, S. M. Manu, had some collector's attention.
* * * * * * * * * * * * * * * * *
$4,160 (29 bids): Fruit Jar "T.E. BATTERSON," Patented 1868. Aqua in color, hand blown with around-lip closure-type seal, straddle-lip glass lid with wire clamp engaging serrated under surface lugs on jar's neck. On the front, it has, "T.E. Batterson Patent 1868, Rochester, N.Y.," and on the reverse, "William & Patterson Family Jar. (Photo: eBay seller gs2420.)
DBA: This is a very rare bottle. Only one other one was found for sale in the past few years, and the other one had a hole in it and also a crack. Nothing was listed as to damage for this one sold on eBay for $4,160. T E Batterson was the patent holder for the closing mechanism. The patent, #77,570, was issued May 5, 1868 and was described, "Loosely attached to the jar is a wire clasp capable of end motion as to adapt it to the holding lugs if the cover be not placed centrally. The central coil allows a certain degree of spring." The maker of the jar must have been William & Patterson, although nothing was found on that company.
In contrast, the Mason jar was patented by John Landis Mason in 1858. His invention created a threaded screw-type closure that revolutionized home canning. Mason sold his patent rights and died a charity case. "Mason" jars were manufactured and sold by many companies.
There are many collectors of these type jars. Recently, an Earle's Patent Jar dated 1864 was sold on eBay for $7,898. Given that information, one would assume that this was a good buy.
* * * * * * * * * * * * * * * * *
$3,701 (5 bids): Antique Samson Model Salesman's Sample Windmill by Stover of Freeport, Illinois. Original and authentic miniature windmill used as a salesman's sample. Produced for only four years from 1939 to 1942. Stands 37 inches tall, 23.5-inch blade, 15 blades. Mostly copper construction. Mechanisms are complete and operational, but need new bushings. Tail swivels perfectly; brake mechanism is intact, but loose. One blade has a small crack in the metal. Tail, blades, gears, and tower are all original. Purchased by current owner from an antique dealer in Aptos, California, about 15 years ago. (Photo: eBay seller 209lloyd.)
DBA: There is a strong market for windmills and salesman samples, and this is likely to continue. This price is on target for the age of this windmill. The earlier ones, 1890-1900, sell for $10,000+ at auction. This one is circa WWII. Others have sold on eBay for similar amounts in the last few weeks.
* * * * * * * * * * * * * * * * *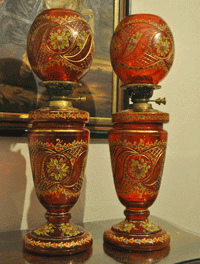 $4,419 (33 bids): Magnificent 19th Century Antique Victorian -Bohemian Hand Cut & Painted Oil Lamp. Stunning and large antique 19th century Bohemian hand-cut ruby-red glass oil lamp with original shades heavily enameled, gilded and embossed with hand-painted pattern with duplex burner in working order. Height: about 80 cm. condition, excellent. Both lamps as well as shades are 100% intact, in excellent original condition. There is no crack, restoration, repair or any other sign of damage in either lamp. (Photo: eBay seller heliley.)
DBA: It is rare to find a pair of these lamps and especially ones so decorative and in original condition. This is at the high end of the value spectrum for such lamps, and I would assume that someone, as a collector or decorator, had a particular spot for this pair. I would also assume that these would hold their value. I could refer to many of these banquet-type lamps which have sold for up to $2,000 each. A pair would be more than twice the value of just one. A major thing to consider, however, is that almost anyone can sell on eBay and does not have to be a dealer with a physical location with all of those expenses. When stating whether it was a "good buy" or a "good sell," we need to consider the resources of the seller (which we do not know).
---
Deborah Abernethy is a certified appraiser with the International Association of Appraisers. She can be contacted at 404-262-2131 or Deborah@expert-appraisers.com . Her website is www.expert-appraisers.com .