$1,542 (14 bids, 8 bidders) Rare Russian Cloisonné Enamel Silver Gilt Hatpin. The hatpin measures 21 centimeters in total length and has a ball-shaped head which is approximately 2 centimeters in diameter. The hatpin has fabulous cloisonné enamel in colors of royal blue, sky blue, white and red on a silver gilt ground. (Photo: eBay seller ladywants66.)
DBA: The heyday of hatpins was approximately 1890 to 1920 when hats became large and elaborate, along with the hairdos. At the time of WWI, metals were needed for wartime uses so frivolous things as jeweled hatpins were not so popular. Hats became smaller, and restraint was the order of the day. After the war, they did not regain the previous popularity.
There are many collectors of hatpins and hatpin societies or organizations. Hatpins were and are considered jewelry. The most valuable hatpins are those that have hallmarks, are made of precious metals or jewels, and have survived in good condition. Cloisonné is a particularly skilled process where glass is fused to metal at high temperatures. So this hatpin meets all of these high-value points. While this is on the higher end of prices for hatpins, there are many collectors, and this one is more valuable than most. I would think that this is a fair price for this hatpin, and most likely, it will hold its value.
* * * * * * * * * * * * * * * * *
$1,209 (52 bids): Fabulous Antique Dutch Solid Silver Figural Cow Cream Pitcher Jug with Jeweled Eyes. The creamer is the finest example of its kind, featuring jeweled eyes which I believe are real garnets. There are Dutch hallmarks on the bottom. The creamer is in excellent all-original condition, measures 5.5 inches long and 3.75 inches tall, and is 80% pure silver. (Photos: eBay seller joanies_house_of_treasures.)
DBA: Compared to prices for silver cow creamers from retail sites, the buyer got a very good deal. Silver cow creamers became very popular in London about 1760, and collectors particularly note those by John Schuppe. While this one does not have those British hallmarks, these short scrawny legs on the cow and the fly on the lid show his influence as collectors still call them "Schuppe legs," and this cow does have the same shaped "fly".
* * * * * * * * * * * * * * * * *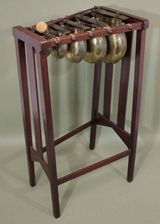 $1,148 (20 bids, 10 bidders): Antique Secessionist Arts & Crafts, 5-Bell Dinner Chimes & Stand, circa-1900. The design of the stand is from the early Arts & Crafts, Secessionist period. (Photo: eBay seller wwolst12.)
DBA: This dinner bell chime stand is from the earliest time or beginning of the Arts and Crafts period, which makes it particularly interesting and valuable. Most antique dinner bells are of the four-bell xylophone type, and this one has five. The art of the dinner bell to announce dinner has almost become a thing of the past. Given the price for most Arts and Crafts period accessories, the seller got a good buy.





* * * * * * * * * * * * * * * * *
$1,526 (34 bids): Ca. 1889 S. MAW & SONS Chemist Spanish Ad Toothpaste Antique Luster Pot Lid & Jar. This is crafted by the London England-based company S Maw, Son & Son. The lid is written in Spanish and reads, "Pasta Rosa Blanca exquisite preparation for preserving and whiten teeth. It purifies and freshens the breath preparation Aldersgate Street London. (Photo: eBay seller estateauctionsinc.)
DBA: This has several groups of collectors. The container was made by the Maw Company, a London manufacturer of scientific and medical equipment. They started in business as J and S Maw in 1828, then became S Maw, S Maw and Son, and S Maw Son and Thompson. After the retirement of Thompson, the company became S Maw, Son and Sons, which is the label on the container. This is a high price for an advertising container, but this meets several collecting groups: Maw antique scientific equipment, dental equipment, and Spanish-language containers.
---