$10,250 (37 bids): John Date Diving Helmet Used by Shawinigan Water & Power Company.

A very scarce diving helmet manufactured by the oldest and only Canadian maker of prestigious diving helmets and gear, John Date of Montreal, Canada. This diving helmet was bought from the son of a man that worked and used this helmet for the Shawinigan Water and Power Company in Quebec in the late 1930s to the 1950s. A plaque on the back of the helmet reads, "Property of the Shawinigan Engineering Co. Limited S.E. No. 3048," and on the front, there is the same number punched into the copper. All numbers match on this helmet top and bottom. The helmet measures top to bottom 18.5 inches high shoulder plate 16.5 inches on the inside across and front to back 14.5 inches. Condition of this helmet is it has not been cleaned and has its original patina. It has not been cleaned and has its original patina. It has wear and some dents, but this is normal wear. It is missing two small screws on the bars over the glass. This diving helmet is a true piece of history of diving in Canada, John Date the maker and the Shawinigan Water and Power Company in Quebec. (Photo: Peter McFadden, eBay seller salestoomuch.)
DBA: This is the "going rate" for this rare object. In doing research for these helmets, I encountered websites that track "want lists" for various types of antique dive equipment and found one helmet that sold in five minutes. A check on auction records showed similar helmets selling in the $9,000-to-$11,000 range.
U.S. Navy dive helmets tend to be the most expensive to buy. Replica helmets are abundant so if you are not knowledgeable, be careful, and either get help or get an education before opening your wallet.
* * * * * * * * * * * * * * * * *
$249 (18 bids): Vintage 1950s Pepsi-Cola Spanish Advertising Wood Toy Truck & Bottles.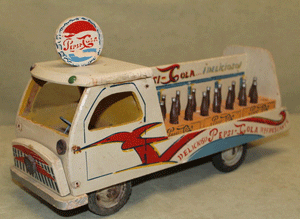 After searching online for quite a while, I was unable to find another example of the 1950s Pepsi-Cola Advertising Toy Truck we are listing tonight. Measuring16.5 inches long by 6.5 inches wide and 9.5 inches tall to the top of the wood Pepsi-Cola Button, this 1950s wood toy truck has stenciled advertisements, all written in Spanish. Each side of the truck reads "Pepsi-Cola Delicioso" and "Delicioso Pepse-Cola Refrescante." This toy delivery truck has some wear to the painted wood surface and two of the small 1.75 inches tall painted wood bottles are missing. The rubber tires have hardened over the years, and there is a tin headlight missing from the front of the cab. Overall, this rare 1950s Pepsi-Cola Toy Truck is in original unrestored condition.
DBA: Wow, and to think that I found an old 1985 newsletter where a 1950 toy Pepsi truck was going for $20, which with a CPI inflation calculator conversion would be $47.50. I would say these are getting more valuable. Advertising collectibles generally will hold value longer than toy collectibles. Trouble with this type of collectible is that when the people who remember these toys are no longer around or no longer have disposable income, the price drops substantially. At that time, only museums will want them and only want them donated.
If this was only a toy (rather than also in the advertising category), I would say the seller got a good deal. However, as a Pepsi collectible, I feel that this will probably increase in value over time.
* * * * * * * * * * * * * * * * *
$9,601 (74 bids): Art Nouveau L.C. Tiffany Favrile, Jack in the Pulpit, Art Glass Vase. Of all the different examples of Art Nouveau, Tiffany Gold Favrile Art Glass, the Jack in the Pulpit vase is one of the largest and most dramatic. Measuring 18.25 inches tall, this hand-blown LC Tiffany Favrile Vase is number 35202. The base measures 5 inches in diameter, and the flared top measures approximately 9 by 9 inches. This classic circa-1900 Art Nouveau Tiffany Art Glass Vase is in perfect condition with no restorations. If you search the internet, you will find other examples of Tiffany Jack in the Pulpit Vases. You will also find that they can sell for very high prices. (Photo: eBay seller wwolst12.)
DBA: Favrile is a type of iridescent glass first patented in 1894. Tiffany's Favrile glass is different from other types in that the color is embedded in the glass itself. Not only is Favrile glass very collectible, but Tiffany of any type is collectible, and Jack in the Pulpit vases are very collectible, as well.
In America, Jack in the Pulpit is a poisonous flower. Tiffany is frequently given the credit for producing the first Jack in the Pulpit vases, but that is not true. The British were the first to make the style, but they did not call it "Jack in the Pulpit." The poisonous plant also grows in Britain, but it is called, "Lords and Ladies." The British gave the vase model numbers, not names. The first Jack in the Pulpit-type vase was produced in Great Britain in 1854.
This is more a retail price but fair to both seller and buyer.
* * * * * * * * * * * * * * * * *
$3,201 (46 bids): Antique LM Ericsson wall telephone. LM Ericsson Model 301 Wall Phone. Made in 1892. I am pleased to offer for your enjoyment and bidding a very rare and hard-to-find collectable telephone. Model 301 was produced in Stockholm by LM Ericsson, and this phone was, according to its serial number 45246, manufactured in 1892—111 years old! The phone is complete, and the condition is good for its age. It has a nickel-plated microphone, an undamaged handset with the original cord and original crest. The battery box has the original transfer; all the veneer is original without repairs and the original shellac. (Photo: eBay seller nightingale_red.)
DBA: This is a high price for an antique telephone. The key to the high value is the original condition, and that this one is so old. It is getting harder to find one in original condition. (They did not say working condition.) I have seen these selling in the $400 range; however, condition was not the same as this one. There are many collectors of telephones, so while I believe this has sold at the higher end of the market, I feel that there will continue to be telephone collectors and a strong market for telephone collecting. It was a fair deal for both selling and buying parties.




---