$172.50 (31 bids, 19 bidders): 1935 Boston Braves Babe Ruth Score Counter Quaker Oats Premium Watch Fob. Produced for Quaker Oats by the Parisian Novelty Company of Chicago, this rare antique Round Score Counter depicts Babe Ruth. It measures 1.75 inches in diameter and depicts a close-up photograph of Babe Ruth wearing a Boston Braves cap. On the back is a celluloid score counter with five separate wheels. Besides strikes and balls, it keeps track of the score and the innings. This Babe Ruth Score Counter is from 1935 after he retired and joined the Boston Braves. This was not only a score counter, but it had a holder at the top so it could be worn as a watch fob.
| | |
| --- | --- |
| | |
DBA: A fob was worn outside a gentleman's watch pocket and was used to extract the timepiece. Because it could be seen, it was used for advertising. These advertising fobs ranged from expensively produced ones to paper or plastic ones. This one has survived because it is of Babe Ruth, and others just like this one can be found selling for between $85 and $350.
* * * * * * * * * * * * * * * * *
$2,034 (35 bids, 12 bidders): 1880s-1890s Leather Baseball Catcher's Chest Protector. How often do you see one of these? The leather on this protector is in great condition. It is very thick and strong and still very supple. It is two-sided with horse hair padding in between! All of the edge stitching is nice and tight. It also has several old rivets for added strength. It has both of the thick leather shoulder straps with steel buckles, which are in great condition. It has signs of wear and use but no damage. It is a nice, heavy, full adult-size protector measuring 27 inches high x 18 inches wide, not counting the straps. There are no visible markings. How amazing would this very early antique baseball catcher's chest protector look displayed in your office, sports room, or man cave? It will make a great addition to anyone's sports collection! (Photo: eBay seller hammersportsrelics)
DBA: This is definitely a hard object to find in good condition. I could only find two of these offered by dealers but for less money. I would say the seller got the deal here, although these are rare, and baseball is so popular.


* * * * * * * * * * * * * * * * *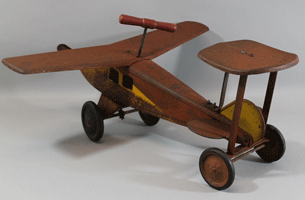 $157 (29 bids, 10 bidders): Keystone Pressed Steel Ride-On Airplane, Original Paint. The back rubber tires are marked, "Made by Keystone MFG Boston Mass U.S.A." It measures 24 inches long with a 23.5-inch wide wingspan, and the height to the top of the wood handle is 12.5 inches. The paint on this pressed steel airplane is the original first paint. This circa 1930s Ride-On Airplane is in very good original condition with only one damage: on the underside strip of steel that would have hit the gear in the center of the wheels, making a clacking sound. (Photo: eBay seller wwolst12.)
DBA: Keystone made many ride-on toys in various styles, not just airplanes, but trucks, trains, steam shovels, etc. I have seen these toys sell at auction for up to $3,000. The buyer got a very good deal. Keystone was in business from 1919 to 1960.
* * * * * * * * * * * * * * * * *
$82.98 (12 bids, 4 bidders): Huge 1944 WWII German 17cm Railroad Gun Shell Egypt Trench Art. 6.5-inch diameter by 12.5-inch tall Trench Art Shell marked "17cm KMrsL." After a short search on the internet, we found that this WWII shell was used on a German Railroad Gun. A talented craftsman engraved a picture on the side depicting the sphinx with the pyramids and rising sun in the background. On the other side it reads, "EGYPT 1944." There is a small dent to the top edge of this large Trench Art Shell. (Photo: eBay seller wwolst12.)
DBA: This is a very large shell, although the design is not as deeply carved as many I have seen. With these objects being individually done, it is a different evaluation from those objects mass produced. This one has the "feel" of a soldier showing tourist-type memories on that shell casing. Although artistically this is not the best trench art I have seen, the memories of this soldier of seeing those historic sights makes this a moving object. I feel that the buyer got a very good deal.
* * * * * * * * * * * * * * * * *

$1,009 (21 bids, 7 bidders): Burns & Bassick 15-inch Bowie Knife w/Sheath, 1800s Bridgeport, CT. Bowie knife with a .30-inch thick, 15-inch blade; 22 inches overall with one piece hardwood handle with brass double guard and brass pommel cap. Pommel cap stamped, "The Burns & Bassick Co., Bridgeport, CT." No other markings. In original unmarked heavy leather sheath with belt loop. In good overall condition, lightly used. Leather is still supple. Very unique, well made and impressive Bowie, made in the USA circa late 1800s. (Photo: eBay seller travis)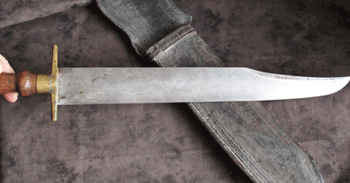 DBA: The Bowie knife is a fixed-blade fighting knife which derives its name from Jim Bowie, who died at the Alamo. There are a number of conflicting stories about the design of this reported knife which appears to be a series of knife designs, improved over time by Bowie, a notorious knife-fighter.
The first knife that Bowie had was a large butcher knife given to him by his older brother. What has become known as the Bowie knife is a large fixed blade knife with a sharp, curved point and with a handguard. The metal on a fighting knife is very important, and how these are produced is very important as it does not need to break at a critical time in the fight! This price seems to be the going rate for a knife of that quality and era.
---