$6,100 (38 bids, 9 bidders): Antique Vintage Gillette Gold Tone Safety Razor Traveler Travel Set leather case. Up for auction is a Gillette gold-plate, brass-comb, five-piece safety razor set. It includes the razor, two blade containers, one tall container and a shaving brush; comes in the brown, original leather case. This very lightly used 5-piece safety razor set is in very good, clean condition.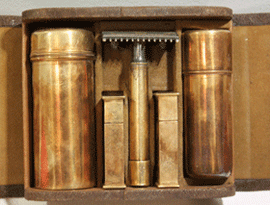 There are inscriptions on every piece of the set. Under the razor is the name "Gillette" in a lozenge on the left and "Made in USA" on the right. On each piece, it reads "14k" and a number of grams. (Photo: eBay seller chrisguil.)
DBA: A similar razor set was found and dated "made in 1919." This showed the same case and number of pieces. That razor set was not 14kt, and the razor was not engraved. The gold tone case set was offered for sale at $100. A sterling silver set that was just like the one sold on eBay and like the gold tone one just mentioned was offered for sale at $315. I am trying to understand the $6,100 price paid for this set. Nothing identical could be found in the marketplace. Obviously, at least two people wanted this set very badly.
* * * * * * * * * * * * * * * * *
$1,063 (43) bids: Double Orange Soda Advertising Sign, Rolf Armstrong, Cherie Pin-up Girl. Measuring 17 7/8 inches in diameter, this authentic 1930s die-cut paper sign advertises for "Truly Delightful Double-Orange" soda. This is a very rare sign and was designed by the American painter of pin-up girls, Rolf Armstrong (1889-1960.) The sultry woman in the center of this sign was used in a few other pieces by Rolf Armstrong, and she is named "Cherie," or "Kiss Me Again."
The condition of this authentic 1930s Rolf Armstrong Double-Orange sign is perfect, with the exception of some removable masking tape on the backside. I'll leave it to the experts have this tape removed. (Photo: eBay seller wwolst12.)
DBA: This is a very wonderful example of advertising from the 1930s. The price is perhaps on the high side for this image. However, it is difficult to evaluate the condition of the object from sales results and not from actually seeing and handling the object. These advertising objects were not treated as works of art at the time of their manufacture. I did find an identical one selling on eBay in January of 2015 for $567.88.
There are giclee copies and plain old "Xerox" copies being made of this image so be careful when purchasing that you are getting the original if you are paying significant amounts of money. This is collectible in two categories, not just soda advertising, but the portrayal of "flapper era" women.
* * * * * * * * * * * * * * * * *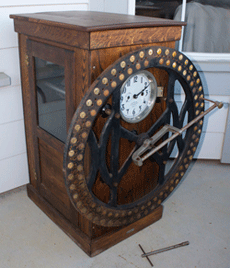 $730 (37 bids): New York International Time Recorder Clock Factory Punch Clock. This is an Antique International Time Clock made in Endicott, New York. This is the early wheel mechanism type, and it is in good overall working condition, though I am sure it could use a little tinkering to work perfectly. It has the nice oak cabinet with doors on both sides to access the mechanism. Includes extra paper rolls and winding key. It has an electric cord as well. The clock has some rust on the cast iron number wheel, but it actually looks worse in the photos than in person. Measures 36 inches tall by 27 inches deep, and the wheel has a 27-inch diameter. These would have been in factories, schools and other places of employment. Overall, a nice old time recorder. (Photo: gypsiegirlz.)
DBA: The first time clock was invented by Willard Bundy on November 20, 1888. A year later, his brother Harlow organized the Bundy Manufacturing Company to mass-produce time clocks. In 1900, Bundy Manufacturing sold its time recording business to a new company, International Time Recording Company, which merged in 1911 into the Computing-Tabulating-Recording Company, the forerunner of IBM. I have seen this model sell for much more money so I would say the buyer got a good deal.
* * * * * * * * * * * * * * * * *
$5,000 (9 bids, 5 bidders): Antique Anna Pottery Railroad River Guide Pig Flask, 1876, Prized Collectible.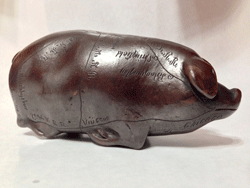 Exceptional, early stoneware pig bottle with incised decoration, signed "Anna Pottery / 1876," finely-molded, Albany slip, glazed pig bottle with hole at rear, incised hooves, elegantly incised face, anatomically correct underside. Surface covered with an incised map of the Midwest, including the following landmarks: Miss. River, Grand Tower, Jonesboro, Cairo & St. Louis R.R., Alton, AVA, O. & M. R.R., C & V R.R., Murphysboro, Chicago Alton & St. Louis. R.R., Bloomington, Vandalia, Springfield, Vincennes, Sparta, Anna Jug City, Cincinnati the Pork City and Chicago the Corn City. The word Cairo leads to the hole at the rear of the bottle. Covering one side of the pig is the slogan, "St. Louis the future Capital / Safest and most reliable / River and Railroad Guide By / Anna Pottery / 1876."
DBA: This whimsical little folk pottery pig was made by the Anna Pottery Company of Anna, IL. Founded in 1859, they made mostly utilitarian objects, but they did make quite a few bourbon pig flasks. Most of these were made by brothers Cornwall and Wallace Kirkpatrick with each being a little different and some having political views. I believe the world record for an Anna Pottery Pig is $35,650, sold on 3/2/2013. So, the buyer probably got a fantastic deal.
---