$4,600 (50 bids): Weather Vane, J.W. Fiske Eagle, Gilded Copper, Late 1800. This is a terrific weather vane featuring a gilded eagle perched on a globe with his wings outstretched, which I acquired years ago at Medford Circle, West of Nashua, N.H. I am as sure as I can be that this eagle was made by J. W. Fiske & Company of New York in the late 1800s, most likely between 1875 and 1885.
J. W. Fiske & Co. was in operation from 1863 until 1886 and was founded in 1863 by Joseph Winn Fiske. The Fiske Company was considered to be one of the preeminent New York City makers of ornamental iron and zinc objects in the second half of the 19th century. J.W. Fiske & Co. is most well known for its fine production of copper weather vanes. Our eagle is a good example of the fine work produced by this company.
As our eagle stands on his simple wooden support, he is 16.5 inches tall and 15.5 inches long. The eagle on his globe is 11 inches tall and 8.75 inches from his beak to the back of his tail feathers. The arrow is 15.5 inches long from the front point to the back of the distinctive fletching. The end of the arrow rod is sealed.
At first glance, it may appear as if all of the gilding is still intact. That is a trick of the light. This eagle has the mustard-colored undercoat which many old weather vanes have. It was used so that when the gilding started to wear, it would not be so noticeable from far below. Quite a bit of the gilding is worn on this eagle, revealing this mustard undercoat and in some places, the old copper.
Our eagle seems to have suffered the common indignity of being used for target practice. He has two small holes on the underside of his right wing. Whatever he was shot with remains inside his body and can be heard rattling around if he is moved a bit.
There are some dings on the globe and a dimple on the forward edge of his right wing. The sharp points of the fletching show some expected wear, especially the ones at the very end. Structurally, he is completely sound and turns on his stand. He displays very well as an excellent example of the best of American metalwork of the 1800s. (Photo, eBay seller gabrielli-art.)
DBA: In 2002, noted scholar Myrna Kaye wrote about the J .W. Fiske molds for their weathervanes being donated during WWII for patriotic scrap metal. That was found to not be true when Joe Fiske, a descendant who was heading the firm, Fiske Iron Works, stepped forward to indicate that these molds were not donated for scrap metal as some other types had been. The weathervane molds had been donated when the firm closed in 1982.
These molds can be found at the New York State Museum in Albany, although some will be found missing. There is also a facsimile catalog published of Fiske's 1875 catalog which was published in 1964. This catalog even lists sizes for each weathervane.
Not all objects made by the firm were marked. This is a low price for an attributed J. W. Fiske weathervane. A similar size weathervane was sold at Christie's in 2001 for almost $13,000, and I wonder why paying $15 for a copy of that catalog for further verification of attribution wasn't done. A J. W. Fiske weathervane for $4,600 would be a tremendous buy.
* * * * * * * * * * * * * * * * *
$2,866 (26 bids): 1925 Voice From The Sky Figural Horn Loudspeaker. Manufactured by Florentine Art Products of Chicago, Ill, the horn is made of plaster and stands approximately two feet high. Exceedingly scarce, especially with its original decal still intact, it is among the most sought-after loudspeakers from the 1920s.
Condition is excellent. No chipped or damaged areas and the horn stands perfectly level on a table. The original color decal on the base is excellent with only minor wear evident. There's some fine checking in the paint on the top and back and a few minor nicks and marks, but no areas where the paint is flaking or otherwise blemished. I've been told that many, if not most, surviving examples of this speaker have had large portions of their surfaces repainted, or at least touched up at some point in their past, and because I've owned this speaker for less than a year, I can't warrant that the paint on this example has not been freshened up, but the tone, texture and finish look right everywhere, so if it was repainted, the work was done expertly.
The driver is good, and the speaker still works great. Driver cord is in excellent condition with the metal tips still planted firmly in the cloth sheathing. The speaker stands approximately 25 inches high. The shell diameter is approximately 12 inches. The distance from the front of the shell to the back of the base is approximately 12 inches. Shipping weight will be approximately 35 lbs. (Photo: eBay seller firebottles.)
DBA: This speaker was made in three finishes, mahogany, ebony, and walnut, and was sold for $30 new in 1925. There is some controversy online about the paint being original, and the three finishes may have something to do with that issue. The company that made this object was Florentine Art Productions of Chicago. It is a very rare speaker not easily found. This object has sold for far more than any other horn-type loudspeaker, and it must be assumed that the Art Deco type figure had something to do with this. Most of the other horn loudspeakers have been selling in the hundreds-of-dollars range, not the thousands-of-dollars range, so it is difficult to feel that this is a good buy or that this object could be sold for that amount again.
* * * * * * * * * * * * * * * * *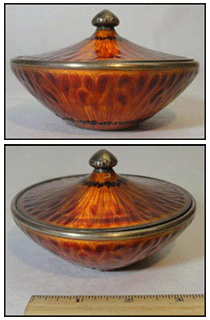 $5,377 (43 bids): Tiffany Sterling & Enamel Eugene Feuillatre French Art Nouveau Box. Constructed by the French goldsmith, sculptor and important enamellist Eugene Feuillatre (1870-1916), this solid sterling, silver-covered box has an Art Nouveau decoration of a chrysanthemum flower in a deep burnt-orange enameling. Underneath is the diamond hallmark with the initials "EF" over the number 1 and the name "Feuillatre." Along the top edge of the bowl and the edge of the cover is the stamp for Tiffany & Cie, Sterling, France.
This important enamellist worked with Lalique as well as Tiffany, and although he died when he was only 46, he has a long, important artistic resume, especially in jewelry.
At the bottom of each flower petal is a tiny black enamel spot which represents the stamen of the flower. At the bottom, one of these tiny spots on one petal has chipped off cleanly. This should be a very easy fix. There are no other problems, and there have never been any restorations to this important 4.5-inch diameter by 3.5-inch tall Art Nouveau enamel box. (Photo, eBay seller wwolst12.)
DBA: Eugene Feuillatre (1870-1916) is considered to be among the greatest French fathers of Art Nouveau jewelry. He is best known for his jewelry, but his enameled objects also bring good prices. I have seen even small jewelry pins sell for $25,000, so this object seems like a bargain for the buyer. While this is not the type of object for which Feuillatre is best known, it is a beautiful object, and it also has the Tiffany trademark. This is a good buy as this object is likely to hold its value. It does seem to be a good deal for the seller because eBay has such low fees for selling, which is not possible with a regular consignment, and also, the seller does not have to wait months for the right auction.
* * * * * * * * * * * * * * * * *
$3,748 (22 bids): Archive 16 Letters Teacher Slaves South Carolina 1864, 8-page letters from Catherine Noyes w/Drawing. This is a fantastic archive of 16 letters from Catherine Porter Noyes, a young woman who went to South Carolina in 1864 to teach freed slaves on St. Helena Island. The letters are from 1864 and 1870, when she went back to continue teaching. They are a wonderful firsthand account of what was going on with the former slaves at that time. There is also a small drawing of the plantation she was on in 1864 and the surrounding area. There is great content throughout the letters as many of the letters are several pages long. A few of the letters are only partially present, but most of them are complete. Here is a small sample of what is in the letters: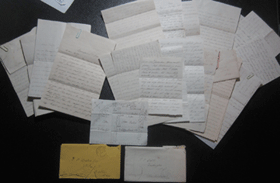 "On Monday I was teaching alone and when I had the bell rung for them to come in from recess nine of the biggest boys stayed out. They did not come in for a long time, finally they sauntered in one after another, when they were tired of playing so as they came in I told them to go into the little room and let them wait till they were all assembled then I went in to them and told them to go home. They went out of the schoolhouse accordingly but lingered about the door, talking laughing and playing flinging and making so much noise that I could hardly go on teaching, so I went out and told them to go home again but they did not go for some time. It was very much displeased with them and the next morning when they came to school I sent them all into the little room again and kept them there till Miss B arrived…In the afternoon we saw some of the parents and told them of the boys bad behavior, they seemed very much distressed and some of them promised good whipping …After two or three days the boys began to send us little notes saying they begged pardon and some said ten thousand pardons, one said he would never try to do so again…." (Photo, eBay seller weehaveit.)
DBA: St. Helena Island is home to the Gullah culture, even today. Slaves were brought to the island in the early 18th century, and with the planting of cotton, there was great wealth for the planters. The Northern forces seized Hilton Head Island and built a base for its blockade fleet. St. Helena Island is next to Hilton Head, and soon, a group of abolitionists set about educating the freed slaves. The planters on St. Helena fled, never to return. In 1862, two abolitionist women from Philadelphia set up a school for the freed slave called Penn. This island was very much isolated until the first bridge to the island was built in 1927 from nearby Beaufort. This was a culture that, because of this isolation, held onto its West African culture and customs for much longer than any other slave descendants in America.
These letters must have been written by a teacher at the Penn School. While we don't know what these letters show about life at that time, these may be quite interesting. I wonder if these were purchased by a collector or a scholar who plans to use these as part of a study of the culture. Obviously, the owner of these letters would have the right to publish them. There has been a lot already published about this school, and there are many letters in the collection there, so I am not sure that these letters add significantly to the body of knowledge about the Penn School.
I doubt that these letters were purchased as an investment or with an intention to resell them at some point in the future. They were probably purchased as a donation for their historical significance, so they may be a good donation/tax write-off.
---
Deborah Abernethy is a certified appraiser with the International Association of Appraisers. She can be contacted at 404-262-2131 or Deborah@expert-appraisers.com . Her website is www.expert-appraisers.com .