$1,059 (22 bids, 5 bidders): Cubs Baseball Wrigley Field Early 1917 Scorecard Book, 44 pages! Amazing survivor from 1917, the Cubs second year at Wrigley Field, actually Weegham Park, as it was called back then. This is much more than a scorecard as it consists of 44 pages, all chocked full of wonderful vintage ads. The game was against the Cincinnati Reds, and it is scored in pencil. There are some minor creases and a few pencil notations throughout, but the pages remain clean and intact; none are loose, torn or missing. Clean, scarce item. (Photo: eBay seller fourbases.)
DBA: The scorecard was invented in the 1890s and changed the way live baseball games were watched. These quickly developed into programs where advertising was a big factor. In the 1930s, these programs were sold for a quarter. Using the consumer price index, a quarter in 1930 would be $3.55 today, so this item has increased many more times in value.
Baseball collectibles are driven by fans who make buying decisions based on emotional factors. I can find many examples of very high amounts of money paid for baseball items that similar objects were obtained for much less. (Are other collectors any different?)

* * * * * * * * * * * * * * * * *
$1,602 (35 bids, 11 bidders): 1933 Emerson Walt Disney Mickey Mouse Depression Era Radio. This model is housed in the seldom seen cabinet with raised Disney figures. The radioís condition is excellent, about as good as an original. The radio is unrestored and was still playing with only static in the sound. (Photo: eBay seller radios10467.)
DBA: Emerson and the Walt Disney Company entered an exclusive licensing agreement in the fall of 1933 and introduced three Mickey Mouse souvenir sets. The model 411 was walnut with carved Mickey Mouse characters. These were actually a pressed wood composite known as SyrocoWood. This radio had an introductory price of $25. The buyer got a great deal as these usually sell for much more. EBay sold another one for $2,150 in 2012.Three versions of this radio were manufactured: a black radio with silver trimming, an ivory with green trimming, and the walnut carved version. The ivory version is the rarest.
* * * * * * * * * * * * * * * * *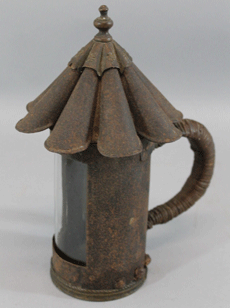 $3,850 (41 bids, 10 bidder): Antique 19th c. Tin Candle Lantern Revolving Top Thin Curved Glass, Reflector Back. The glass lens on this 19th century tin candle lantern is so thin I thought it must be mica, but it is actually very thin handmade glass, filled with tiny imperfections. The 6-inch diameter, eight-sectioned top has a brass cap and finial. This whole tin top revolves from open, to the glass panel, to a tin section that blocks the light. Inside the 3.5-inch diameter base is the original candle socket.
This early 19th century candle lantern must get very hot when used. A 19th century owner has tightly wrapped cord around the handle to insulate against the heat. This cord has a wonderful worn surface. Around the bottom edge are six air holes, three which are blocked with very old wax. I was tempted to remove it, but Iíll leave that task to the high bidder. Overall, this 9.75-inch tall, early candle lantern is in good condition, but there is damage around the scalloped edge of the thin, top brass cap. There are no other problems or restorations. (Photo: eBay seller wwolst12.)
DBA: The seller got the best of this deal. While these are rare, similar 18th and 19th century lanterns can be found and for less money. I found several under $500 selling in antique shops. Most from the late 18th century/early 19th century had horn instead of glass. This one sold on eBay had a more unusual and decorative top, but this should not translate into thousands of dollars.
* * * * * * * * * * * * * * * * *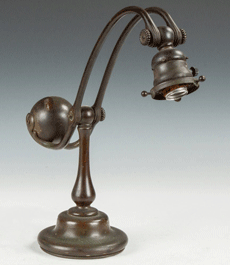 $2,148 (21 bids, 8 bidders): Tiffany Studios Bronze Counterbalance Lamp Base # 417. Magnificent circa 1900 lamp in very good condition with wonderful patination throughout the bronze. It is missing one of the turn nuts; there should be four total and one of the small screws around the switch. The socket appears to be a modern replacement. I am not sure if the cord is original. The lamp stands 15.5 inches tall. This Tiffany lamp is a masterpiece and makes a wonderful display. (Photo: eBay seller Greystone 45.)
DBA: Since these lamps (with shades) sell for more than $10,000 at retail, the buyer got a great deal. This lamp is missing its shade, and if an appropriate one is not found, the value of this lamp would be decreased significantly. However, this lamp is still a great deal for the buyer.


---