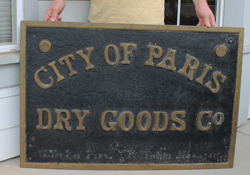 $3,333 (25 bids): Brass Plaque Sign City of Paris Dry Goods Co., San Francisco. This is a true piece of Bay Area/San Francisco/Old West History. This is a huge brass corner sign from the historic City of Paris Dry Goods Co. store that was in San Francisco in Union Square. This sign is big, measuring 48 inches wide and 32 inches tall; it has the raised brass ornate letters and hammered copper background.
City of Paris was established in 1850 by Felix Verdier during the Gold Rush and was a very important store in San Francisco until 1976. Much info about it can be found online. Christmas was a major destination time for this store when people would come from all over the country to see the 60-foot tall Christmas tree erected annually in the beautiful rotunda.
The City of Paris building was one of the only buildings in the area to survive the 1906 San Francisco earthquake. This sign represents so much in regards to San Francisco and western Americana history that it would surely be a centerpiece to any historical collection. It is very heavy. (Photos: eBay seller gypsiegirlz)
Inside the City of Paris store.

The City of Paris store with the corner circled
where the sign was mounted.

The 60-ft. Christmas tree inside the City of Paris store.
DBA: It is so hard to comment on truly one-of-a-kind objects with historic significance. Normally, my comments would be geared to whether the sale is in line with sales of similar (or identical) objects. This is the type of object that one would find in a historical museum for an area. I did find a sale of the Derrydale Press Company/ Eugene V Connett from 1927 that sold for $3,000 in 2007. So, this amount of money is not out of line with sales of something similar.
* * * * * * * * * * * * * * * * *
$706 (21 bids): Art Modern Georg Jensen Henning Koppel Stainless Steel Coffeepot. Georg Jensen is well known for his art modern silver jewelry, but he did produce a variety of utilitarian objects, many in stainless steel. He also was known to collaborate with the Danish artist Henning Koppel. The clean Modernist stainless steel double pot in this auction is by these two artists. The stainless steel is in perfect, unused condition with its original bright factory brush finish. There is one problem though: the larger of the two solid ebony wood handles was poorly reattached by a past owner. I tried to loosen this handle, but I was afraid to force it. There are no other problems or restorations to this 8-inch diameter by 7.75 inches tall stainless steel double pot. (Photo: eBay seller wwolst12.)
DBA: Georg Jensen was born on August 31, 1866 and died on October 2, 1935. In 1904, he opened a silversmith company in Copenhagen which quickly became very successful. His works command a great price, and many are in museums.
Henning Koppel was born in 1918 and died in 1981. He came to work for Georg Jensen in 1946 after fleeing to Sweden during WWII. When it is stated that he collaborated with Georg Jensen on certain product lines, this means he worked with the company Jensen founded since Georg Jensen was no longer alive at that time.
Henning Koppel-designed products are still available from the Georg Jensen store. The sterling objects designed by Henning Koppel command very high prices. The only stainless steel products that I could find are water pitchers which currently sell for around $500 new. I did find a stainless steel sauce pan with the same handle as the coffeepot that sold in Australia in 2012 at auction for the equivalent of $400. I believe this to be a high price for this object at this time.
* * * * * * * * * * * * * * * * *
$10,000 (59 bids): Antique Oceania Pacific Easter Island Wood Ancestor Statue Figurine. A genuine antique tribal carved wood ancestor figure collected in the South Pacific Islands during WWII. The condition is excellent as shown, with no cracks, chips or repairs. The original dark patina carries age well, and the overall smooth wear is further proof of great age and continual use by the people who created this piece. Not for tourists. (Photo: eBay seller posters!.)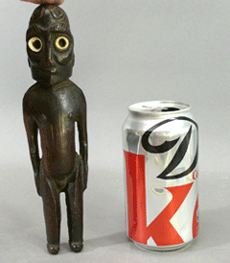 DBA: This resembles the Solomon Island ancestor figures that can be found in museums around the world in limited amounts. These carvings represent a male ancestor to whom the people would have prayed for spiritual support and protection. This one is a small household ancestor which would have been kept in the home. When someone says "Easter Island figure," I think of the huge carved-stone figures.
The early "sailor trade" figures can be found selling for as much as $1,000 and the more recent ones with less detail for under $100. So how do you know if you have a $100 figure, a $1,000 figure or a $100,000 (or more) figure? It would be best to consult a specialist who may have to do some scientific analysis before authenticating. Judging from the number of bids and the interest, several people found this object to be of interest. Compared to what this type of object would sell for at a major auction house, such as Sotheby's or Christie's, the seller got a tremendous deal as I found many of these similar object selling upwards of $100,000. One major difference is that the major auction houses require authentication and provenance, a history of ownership. The authentication process may involve much work and cost money up front and take some time as well.
* * * * * * * * * * * * * * * * *
$572 (30 bids): Advertising String Holder Gold Dust Twins 1908 Original Sign Antique Store display. This is an original Star Dust Twins 1908 advertising string holder, one of the most sought-after tin string holders with N. K. Fairbanks advertising three of their most popular products: Gold Dust Granules, Fairy Soap for the bath and Sunny Monday Washday Soap. The three-sided, six-paneled display is extremely hard to find in any condition. This is a complete rarity! It shows age and wear. This piece stands roughly eight inches tall from the bottom of the tin to the top. I cannot stress enough how sought after this piece is, a must and a welcoming addition to any country store collection. (Photo: eBay seller bluecollarantiques.)
| | |
| --- | --- |
| | |
DBA: This item is collectible in two categories: advertising collectibles and Black Americana. It is almost that the more politically incorrect or offensive the advertising may be, the higher the price of the object. Even though the National Association of Colored Women in 1914 challenged the manufacturers of the Gold Dust Twins soap powder to stop using the stereotypes, these images were used through the 1950s.
Few of the Gold Dust Twins packaging survives today as these were discarded when empty and made of flimsy cardboard. This is actually the store advertising the soap for sale. I could find two identical to this one that were sold at auction for similar amounts, but one identical sold for $3,750 in May of 2014, so I would say that this one for $572 had to be a good buy.
---