$567 (22 bids): Large Cigar Silk Ribbons, Folk Art Sewn Advertising Quilt Sign. Hand sewn from over 150 original Cigar Silk Ribbons, this hand-sewn Folk Table Cover is very impressive. I'm not even going to try and list all the different cigar names, but I have not been able to find one double. Measuring 35 inches square, all the silk ribbons are in perfect condition, except for one which does have a hole. Considering how fragile antique silk cloth is, it is surprising that it is in such good, clean condition. Around the outside edge of this Folk Art Table Cover are handmade silk tassels. The back of this table cover is also constructed from silk. There is separation to the silk on two ends as well as a couple of small stains. This silk backing is the only problem with this circa 1900 Cigar Advertising Table Cover. (Photo: eBay seller wwolst12.)
| | |
| --- | --- |
| | |
DBA: Before cigars were sold in cedar boxes, they were bundled together and held with silk ribbons, circa 1890. At that time, no fabric scraps would have been discarded, and the ladies would make these silk ribbons into all sorts of craft projects. This is a large size for a cigar ribbon textile. The names of the cigar companies are prominent on the ribbons, and the hand-made tassels that surround the textile make it more valuable. While many guides would say this would be worth between $3,000 and $5,000, I could find several for sale at prices close to this eBay auction price and even one that sold on eBay in 2011 for less than $200. Even with all of this information, I feel that the buyer paid a fair price for the object.
* * * * * * * * * * * * * * * * *
$2,950 (35 bids): W W HUFFS Linament Bottle Deep Green 4.5 inches tall, PONTIL. Found at a local estate sale of a bottle collector/antique dealer. This is a fabulous old bottle in great condition and irregular shape from the maker. Has ton's of bubbles! Looks great. From my research, this is quite a rare bottle—you be the judge. (Photo: eBay seller Antiquerustler.)
DBA: Did anyone else notice that "liniment" is spelled "linament" on this bottle?
I did find one that sold on eBay around 2002 for $1,800. There were many pontil-type bottles that I found selling below $100, so why is this one so popular? Was it the misspelling? No, apparently there were many companies that did not spell correctly in the 1850s. Other green-colored bottles with a double-tapered collar were not selling for this amount of money. The key here is that this is a rare bottle, and there are many bottle collectors. I have no idea why this one is rare, but this bottle consistently sells for a lot of money.
* * * * * * * * * * * * * * * * *
$3,306 (22 bids): Authentic Antique American Parlor Kinetoscope Peep Viewer With Film Reel. Patented 1897, coin slot on top, film or paper reel inside, comes with glass and mirrors, front hand crank does turn. I am not sure how this item actually operates or what repairs it needs. However, with only a handful even known to exist—and this may possibly be only one of even fewer of the early coin-operated ones still in existence—this is a very rare treasure indeed! We have not cleaned, polished, or even really touched this machine since we came across it from a local estate sale. (Photo: eBay seller nikkidalesantiques.)
| | |
| --- | --- |
| | |
DBA: These are very rare. A kinetoscope is an early motion picture device, and the first of these in a commercial environment was in April of 1894 in New York City. Only one person could view the film at a time through a peephole, hence the term "peep viewer." As stated, this one is not in use and needs repairs. The only Kinetoscope that I found selling was in March 2001 at Skinner, and it sold for $24,150 and was a 1901 model. When new, they were purchased for around $100, and the owners could place them wherever they wanted. They could charge people to view the films. In other words, back in that day, you didn't need a permit. The buyer got a tremendous deal.
* * * * * * * * * * * * * * * * *
$3,500 (38 bids): Pair of Early 19th C. Wedgwood Black Basalt Vestal Covered Oil Lamps. Each with a female figure seated atop the shoulder of an oval lamp with fluted shoulder and foliate border, one figure pouring from a water jug; the other reading a book. Both bases have the impressed "Wedgwood" mark only. The pieces date to early 19c. They measure 9 inches tall and 8.5 inches wide. One has a tiny well done repair nick at the opening covered rim; the other has a nick inside the top rim. It also has some small chipping around the top stem of the base at the point where it attaches to the bottom of the lamp. These are special pieces seldom seen on eBay and would make a great addition to any collection. (Photo: eBay seller 1crazecollector.)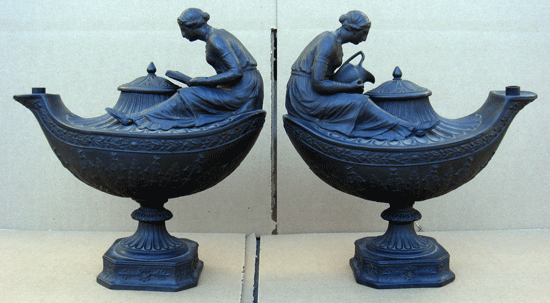 DBA: I would say the buyer got a deal. In 2010, Skinner sold one Wedgwood Black Basalt oil lamp for a little over $5,000. That particular one was about the same size and just a little older. In 2002, a very similar pair was sold at Christie's for about $3,000. These have been quite popular with collectors for a long time. I would expect this trend to continue. Josiah Wedgwood introduced black basalt ware in 1768, basing the designs on Greek Classical vases from museums.
---
Deborah Abernethy is a certified appraiser with the International Association of Appraisers. She can be contacted at 404-262-2131 or Deborah@expert-appraisers.com . Her website is www.expert-appraisers.com .