$13,350 (35 bids): Beatles 1962 "Love Me Do" Parlophone 45 Signed by all Four Beatles! Very historic and beautiful signed original first issue "Love Me Do" red label, UK 45 signed on the label by all four Beatles on Oct. 6, 1962, exactly one day after the record was released. All have signed in dark blue ballpoint pen. Signed at Dawson's Music Shop in Widnes, England.
Check out the image and note the difference between the signatures of their early career and just a few months later when they polished them up. Condition of the label is near mint. Vinyl is scuffy and about VG-, but that's not that important with this one. No chips, no warps, no cracks. Please note that most all known signed examples of this 45 experienced lightened ink issues in the silver areas of the label. The ink did not take well and appears much lighter in those areas than the rest of the label. This particular example has had some enhancement professionally done only on the silver areas of Ringo's signature and a minor part of John's last name. Also the tip of one of Paul's letters in his name. No other restoration has been performed at all to the rest of the label or any of the remaining signed script, which is about 80% of the autographs. This was done to enhance the visual impact of the autographs that were affected by the silver areas. Also note, the affected areas were still legible lightly, so it is not like they were blank there.
| | |
| --- | --- |
| | |
I show this record before and after. I did not have the work performed; I simply took the record in and obtained all the proper information before listing it. This item will come with a letter of authenticity by Frank Caiazzo, the world's leading autograph authority. It will also come with my letter of authenticity. (Photo: eBay seller perrydcox.)
DBA: Wow, this is probably the one and only one of these. It is difficult to say if this was a good deal for the seller or a good deal for the buyer because there are no identical and few similar objects. This is the first record released by the Beatles, and with the signatures, it is extremely rare. The only way I can imagine that this would be worth less money is if our economy is so bad that almost nothing is holding value (or maybe after all Baby Boomers are dead!).
* * * * * * * * * * * * * * * * *
$2,761 (53 bids): Voltamp B&O Steeple Cab. Appears to be complete; wires are frayed and disconnected. Gears and motor turn freely and looks great. (Photo: eBay seller. Updog309.)
DBA: These trains are very collectible. Voltamp made the first toy train that operated on ordinary household electricity instead of batteries. These trains were made for the two-inch gauge metal tracks.
The actual steeple cab was developed in America and first released around 1900. It offered better crash protection for the crew, along with good visibility.
The seller got a very good deal. A Voltamp trolley car was sold on eBay on Dec. 22 for $12,380.
* * * * * * * * * * * * * * * * *
$4,494 (60 bids): Barn Find: 1917 "Uncle Same Wants You," Flagg, unrestored, unhung poster.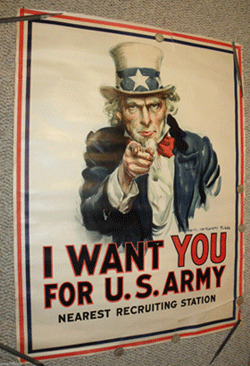 This iconic WWI poster is an original 1917 Flagg poster that was never restored, mounted or framed. There is only one tear to the image area: a 1.2 x 1.7 inch on his sleeve with nothing missing. I've shown the worst edge wear and tear in close-up pictures, and I'll describe the damage in detail: 2-inch tear at top center edge; 1.75-inch tear at bottom right center edge; 2-inch tear at bottom left center edge; bottom right corner area tears but only very tiny pieces missing on white area; top right corner area tears but only very tiny pieces of white missing. Overall size is 30 x 40 inches. Small print at bottom center says, "Leslie-Judge Co. N.Y." Colors are bright and vivid, and paper is not brittle. Very rare to find this poster that has not been restored or mounted. Easy restoration and you will have a fine example for your home or business. I recently found this poster rolled up with several other original WWI recruitment posters. (Photo: eBay seller smartfinds.)
DBA: This is a high price for a WWII poster. Movie posters are the ones that typically sell for the highest sums of money. In checking WWII poster prices, it occurred to me that these posters are sold as reproductions, and many sites sell posters for several hundred dollars each. This may be the intended future use for this poster. Rights to reproduce are typically available for objects of this age so the reproduction rights make this poster a possible money maker in addition to the initial value. For someone with printing equipment and a viable print business, this would definitely be a good buy.
* * * * * * * * * * * * * * * * *
$1,226 (29 bids): Antique Victorian Aesthetic Bohemian Art Glass Gilt Enamel Bugs Dragon Tall Vase. Exquisite antique 19th century Bohemian cranberry or ruby art glass footed vase features a thick enamel allover pattern with insects, butterflies, flowers, a phoenix bird and a dragon. Applied gold gilt foliage and drips along the top covered in tiny hand painted enamel bugs. Vase has one sizable chip to the base, one smaller chip to the base; the top has been ground down about one-eighth inch, minor wear to the gilding. Measures about 16 x 6 x 3 inches across top by 5 1/8 inches across base. Fresh out of a fine old estate! (Photo: eBay seller two-cool-dudes.)
| | |
| --- | --- |
| | |
DBA: Bohemian glass is considered to be from the area once called Bohemia but now is a part of the Czech Republic. This is very collectible glass. Another very collectible consideration is that the designs are from the Aesthetic Period. With two or more collectible categories, the possibility for maintaining or increasing in value goes up. Given the decorations on this glass, but also considering the repaired and unrepaired damage, this is probably a more appropriate retail value.
* * * * * * * * * * * * * * * * *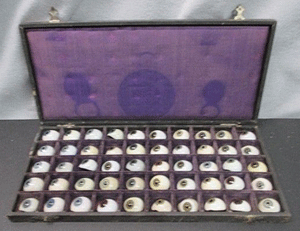 $1,777 (21 bids): Fifty 50 Prosthetic Human Glass Eyes in Original Case Early 1900s.
These are blue shell right. There are 16 thin and 34 thick. The case locks nicely. (Photo: eBay seller fishinplug.)
DBA: Coming from a decorative design background, I was unaware of collectors of this type of object. I would guess that people with a scientific interest in eye prosthetics would have an interest. I have never seen a collection of eyes in anyone's home. In doing a little research, I have discovered that most prosthetics today are plastic rather than glass, so these have no use in that way. Further research showed individual glass eyes for use in mannequins are selling for around $200 each, so 50 glass eyes would retail for around $10,000. So for someone with a use for these, it was a very good buy.

---
Deborah Abernethy is a certified appraiser with the International Association of Appraisers. She can be contacted at 404-262-2131 or Deborah@expert-appraisers.com . Her website is www.expert-appraisers.com .