$7,601 (66 bids): Extremely Rare Antique 1908 Burnett Typewriter, Chicago, Unusual Slope Type Bar. These were manufactured for only a few months and marketed by Sears Roebuck; very few sold. It functions as semi-frontstrike/downstrike machine due to its unusual sloping type bar. Measures approx. 11 inches wide x 13.75 inches deep, and 10 inches high. Typewriter is in very good condition overall with expected wear. Metal frame has some paint loss, pitting and rust spots. The finish, stenciling and graphics have some loss. Front cover has dings, bends and creases. Typewriter has not been serviced. It will need attention to operate properly. The keys stick and the carriage does not advance (probably due to operator error). (Photo: eBay seller ksnus, Kyle McArthur.)
DBA: When the typewriter was first introduced, many companies jumped into the business, and many of these companies were of short duration. The Burnett typewriter's design was based on a previous "out of business" company machine called the Triumph Visible, which sold for $60. When the Sears Roebuck Co. introduced the Burnett, the cost was $22. Despite that much lower price, this machine was only sold for a short time. This typewriter is rare because few were sold and of those, few have survived. These were expensive. Even the Sears "bargain" price of $22 would equate to between $500 to $600 today, and at that time, typewriters were not essential to business.
There are a number of collectors of this type of equipment and a buzz on the Internet from this sale. Many of the collectors purchase at flea markets and yard sales and can't touch one of these at this price. But as long as there are collectors who can purchase at this level, this should remain a good purchase, just based on the rarity.
* * * * * * * * * * * * * * * * *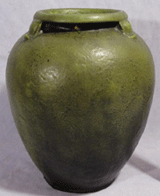 $3,250 (25 bids): Large Antique Signed Grueby Matte Cucumber Green Arts & Crafts Pottery Vase. Measuring 9.25 inches tall by 8 inches in diameter at the shoulder, this antique American Art Pottery vase is signed with the round "Grueby Pottery, Boston USA" mark. The classic cucumber-green, matte-green glaze is thick and textured. Around the 4.75-inches diameter rim are three small hand-formed leaves. There are a couple of tiny glaze misses and a tiny fleck to the bottom edge of the thick glaze. The rest of this large vase is perfect, and there have never been any repairs.. (Photo: eBay seller: wwolst12.)
DBA: This is a very good buy. Grueby was probably the premier American Arts and Crafts pottery company. The matte glaze is what they are best known for, and green was the most produced color. This vase is one of the larger in size, and the hand-formed leaf design is also typical. The matte glaze was developed by William Grueby using a special method of firing. Other companies later copied this finish. The mark is from 1904 to about 1910. What is so remarkable about this pottery is that each object is a one-of-a-kind, and there will not be a match.
* * * * * * * * * * * * * * * * *
$5,933 (30 bids): Victorian T&V Limoges France Tray Charger. A Victorian, signed, Limoges, extra large tray or charger, painted with a wealth of incredible pink and mauve roses and signed by the artist. Used for a lemonade set or a tea set, often for the vanity. Very large tray, 16 inches across. No chips or breaks, paint is excellent. The back is marked "T & V Limoges France." It weighs 4 lbs., 5 oz. unboxed. (Photo: eBay seller gypsycaravanleader, http://stores.ebay.com/Vintage-Apt)
DBA: At first glance, this seemed an extremely high price for a painted tray. But this is not your grandmother's painting on china. This was an artist-signed tray with the artist actually being a "listed" artist, Franz Aulich. A ceramic urn by Franz Aulich recently sold at auction for $3,887, including buyer's premium.
Also, check closely, and you may find that your grandmother's "painted porcelain" may actually be a decal with an embellished painting, and that cannot be compared to an artist-painted object. This is more a retail price for this object.
* * * * * * * * * * * * * * * * *
$1,925 (42 bid): 37 Antique German Glass Marbles in VGC with Turned Wooden Solitaire Game Board. Antique turned wooden Solitaire game board with 37 antique German glass marbles of many different types and colors. Most are swirl marbles with latticino core, solid core and ribbon core. There is one silver mica marble and one green opaque marble. Condition: very good. No chips and only some flea bites. Most show very little wear. Some pontils are rougher, and some are smoother. The marble size varies 15 mm-17 mm. The game board's diameter is 23 cm. (Photos: eBay seller inkietta.)
| | |
| --- | --- |
| | |
DBA: Given that these were blown glass marbles and the price would be about $50 a marble, this was a good buy. There are many marble collectors and books written about marbles. Will this trend hold? Will this game compete with hand-held video games in the future? Was this even purchased with entertainment in mind? There was not enough information about each marble individually for me to access an individual value. I could not enlarge the images to get a closer view, but I have seen some large antique German marbles sell for hundreds of dollars each.
---
Deborah Abernethy is a certified appraiser with the International Association of Appraisers. She can be contacted at 404-262-2131 or Deborah@expert-appraisers.com . Her website is www.expert-appraisers.com .