$1,644 (70 bids): Antique 18k gold Waltham pocket watch, fob 18ct, hunting scene, 15 jewels, hunter. Offered is an 18ct gold Waltham sidewinder pocket watch with stunning decoration. To the front is profuse foliate decoration with an uninscribed cartouche, whilst to the back cover is a forest scene with an animal within the woods. Inside the front cover is the markings "18ct" and numbers 526870, whilst the back bears "C.W.C.Co. trademark 526870."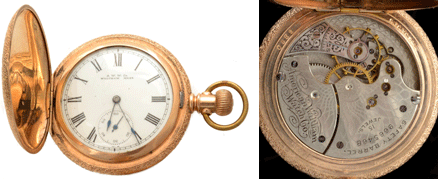 The mechanics work perfectly and are a whir of cogs and wheels smoothly ticking in unison. Engraved to these mechanics is: "American Waltham Co. Safety Barrel 9665468 15 jewels."
Whilst hallmarked, we also carefully acid tested the case and had a gold merchant electronically test and verify this as solid 18k gold. An unusual hallmark and rare to find in 18ct gold, it is an outstanding piece. In very good condition, some very minor dings in places. (Photo, courtesy of eBay seller vandalane.)
DBA: This buyer made an excellent purchase. This is a watch with the serial number indicating that it was made in 1856-57. The C. W. C. Co. stands for "Crescent Watch Company," which made the case. This is a higher-quality watch in 18k gold. The American Waltham Watch Co. was the first successful company in American to manufacture watches in mass production using machinery to make parts similar. Waltham made watches from modest to the finest. This 18k watch would fall into the finer category.
* * * * * * * * * * * * * * * * *
$1,540 (69 bids): Cast Iron Book Binding Paper Ornate Press, "Alexanoe Werk". Offered is this very handsome and nicely made antique book press in original condition. The paint is original. The overall quality and condition is excellent! There are no issues that merit mentioning. There are no breaks, chips, cracks and/or repairs. The light rust on the bottom and paint wear, etc., can be viewed in the photos. It measures 10 inches tall x 12.25 inches x 14 13/16 inches.
DBA: I am thinking that this must be an Alexander Werk product. Alexander Werk is a German company which started with an iron foundry with mechanical workshops. The iron foundry part of the business has closed, but the company has developed into a renowned engineering business known for its special machines and equipment for the chemical, pharmaceutical and food industries.
Most book binding equipment is used for bookend decorations in private libraries and is sold in the $350 range. This one is more ornate than most bookbinding equipment, and I would guess that the name on it has something to do with the higher selling price.
* * * * * * * * * * * * * * * * *
$3,767 (24 bids): Fully Brass Lantern Clock. This clock comes from my late mother's estate. I don't know much about clocks so I am unable to properly describe the item. I have no idea of its age. I remember mum getting this clock in the early 1970s and being thrilled with it.
The clock is very crude with unusual slotted steel screws, early cogs and gears, etc. The pendulum is in the shape of a ship's anchor with an adjustment screw at the base of the anchor. The bell is heavy and makes quite a chime when you pull the striker back. There is string around one of the drums, but I have no weights. Two of the front bell supports have early solder repairs. The only writing I can find is on the face of the clock; it seems to read, "Ingibfon Onger."
Allot of the clock is held together by tapered steel pins. Height 34 cm, width 14.7 cm, depth 14.7 cm, bell diameter 13.5 cm; weight, clock alone, 4.9 kg., clock and case, 6.4 kg. (Photo: eBay seller kess1245.)
DBA: "Ingibfon" is probably "John Gibson." The old "J" tended to look like an "I", and the old English "s" looks like an "f". Onger is less than 25 miles from Central London. It is not possible to identify exactly who the John Gibson may be as there are several clockmakers with that name.
The lantern clock first appeared about 1630 and was widely used throughout the 17th century and the first half of the 18th century. While not in excellent condition, this still seems to be a very good purchase. Given that there appears to be the remains of rope rather than chain, this seems to be an earlier clock. Also, Onger was close to London, and while the provinces continued to make lantern clocks until the mid-18th century, London clockmakers began to make more accurate clocks.
Lantern clocks keep time by adding or subtracting weight, and this is how the clocks could be made to gain or lose time. Their timekeeping was never very good.
* * * * * * * * * * * * * * * * *
$3,539 (10 bids): English "Thistle" Sterling Silver Thimble, Hallmarked 1893. This sterling silver thimble is in the shape of a thistle and has a British registered design number (Rd 222443), registered by H. Poths & Co. in 1893. It has the sterling silver hallmarks for Birmingham 1893 and the maker's mark for John William Kirwan.
The condition is perfect, in round with no holes, repairs or other damage. The size is hard to gauge, but based on how it fits my finger, I'd say it's about an American size 7. This thimble is illustrated on p. 87 of Bridget McConnel's book, The Story of the Thimble. It is also shown on the front cover and p. 12 of British Registered Design Thimbles by Norma Spicer & Diane Pelham Burn. (Photo, courtesy of eBay seller elegant.arts.)
DBA: This is a rare thimble design that has been well recorded in written literature about thimbles. It was made in very small quantities as it was not comfortable to use. An identical thimble was sold in 1995 by the Thimble Society of London for £3,172. Using today's currency conversion rates, that would be more than $5,000. Even with the current economic differences, I would feel that this was a good purchase, especially if the buyer plans to hold onto it for a while.
---
Deborah Abernethy is a certified appraiser with the International Association of Appraisers. She can be contacted at 404-262-2131 or Deborah@expert-appraisers.com . Her website is www.expert-appraisers.com .