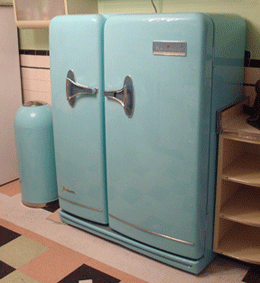 $2,001 (65 bids, 18 bidders): 1950s Kelvinator Foodarama Fridge Refrigerator Retro. Listing my vintage Foodarama. I have been putting this fridge together for a long time. No room for it now. This fridge is complete with some extra shelves. The breakfast bar is complete with both juice containers, egg holders and the bacon shelf. Extra shelving with slides, if you want to add them. Old ice trays included and an old Foodarama ad.
This fridge starts and runs. Things may need adjustment down the road. It's an old appliance being sold as is. Measurements: 61 x 48 x 23 inches; weighs about 300 lbs. Fridge works, I made ice earlier. Repainted the Kelvinator Nash paint code from an old Nash paint chip book. (Photo: eBay seller nipsydaisers; Instagram: @dustydixie)
DBA: This model has been called the "Rolls Royce" of refrigerators. This 1950's era refrigerator is one of the earliest side-by-side refrigerators. It had an in-door "breakfast bar" with built-in egg holders and removable juice containers. There were specialized components that could be added according to your use and needs. I could find several of these for sale but not in a restored condition. While this states that it is working, it also says it is being sold "as is." I did find one selling for $300, but it did not work and was rusty. That $300 version would require someone with skill in refrigeration and restoration, not to mention parts. This one for auction on eBay is an incredible deal for the buyer, as long as it does not need major operational work down the road.
* * * * * * * * * * * * * * * * *
$3,150 (20 bids, 7 bidders): Set Of 6 Norman Cherner Molded Plywood Seating Chairs. For sale is a set of six lightly used Norman Cherner classic, molded, plywood chairs, including four side and two arm chairs. All of these chairs are licensed authentic and originally purchased by me at Design Within Reach five years ago. These chairs show the lightest wear possible for their age. The only reason for selling is we are moving to a smaller space that will not accommodate these beautiful chairs. (Photo: eBay seller jjkramer19)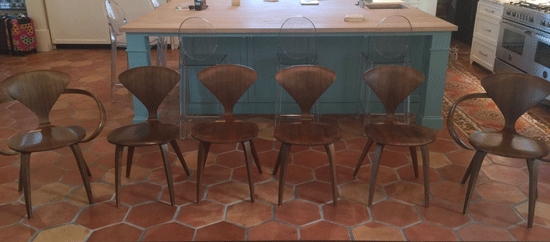 DBA: This chair was designed by Norman Cherner in 1958 and made by The Cherner Chair Company, recently reissued in "exacting detail" from the original drawings and molds. These are made in the USA. The list price for the armchair is $1,250, and the side chair's list price is $800. So the retail price for these six chairs would be $5,700. The chairs appear to be in good shape, and the buyers saved themselves some money for the set. For selling a set of chairs that has been used for five years, the seller made out quite well compared to what most people would have received for used chairs. I would say that both got a good deal in this transaction.

* * * * * * * * * * * * * * * * *
$4,327.77 (43 bids, 13 bidders): Big Claude Conover Olancil Ceramic Vase Pottery. Excellent item from a local San Diego estate. Beautiful craftsmanship with great attention to details. In excellent condition. It measures H 20 x W 16 inches. (Photo: eBay seller brictobrac)
DBA: The buyer got a deal. This is a low auction price for this object. Claude Conover (1907-1994) worked as a commercial designer for 30+ years before turning full time to ceramics. He is known for stoneware pots, mostly monochromatic, bold and large, with cryptic scratches covering the surfaces. His work was shown in almost 50 exhibitions during his lifetime. His work is in museums and in many private and public collections. A retail price would be more like $12,000 to $15,000.
* * * * * * * * * * * * * * * * *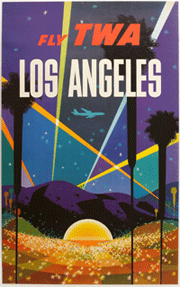 $2,750 (41 bids, 12 bidders): Original 1960s Mid-Century Modern "TWA Los Angeles" Poster ~ David Klein. One of David Klein's best posters ever produced for TWA. Considered a classic of Mid-Century Modernism, this magical view of the Hollywood Bowl is one of his finest examples. Along with Klein's "TWA NYC," this is a classic among vintage airline posters! The poster has been carefully stored in a flat file for many years and is in remarkably good condition. There is a tiny tear at the top of the poster and some edge bumps along the borders. Colors are very fresh and bright overall. (Photo: eBay seller schiffy1)
DBA: David Fedric Klein (1918-2005) was best known for the art posters he created for Howard Hughes and Trans World Airlines (TWA) in the 1950s and 1960s. The Atlantic's January 10, 2012 edition published an article titled, "How David Klein and TWA Branded America's Jet Age." If you follow auctions systemically, you may find a deal under $1,000, but that would be very time consuming. All of his travel posters sell for much more. The record holder poster is "TWA Times Square" which sold for $9,944 (hammer price). Given the low seller's fees for eBay, this was a good deal for the seller. The buyer got a fair deal.

* * * * * * * * * * * * * * * * *
$1,250 (28 bids, 3 bidders): Original T.H. Robsjohn-Gibbings/Hansen Modern Design Brass Floor Lamp. An original T.H. Robsjohn-Gibbings/Hansen modern design brass floor lamp fresh from a Connecticut home and new on the market. The lamp is in good vintage condition with light-to-moderate oxidation to the brass. There are no bends, breaks or repairs. Measures 48 inches high. Wiring is good, and sockets are original and have the original pulls. The base and diffuser are each stamped, "HANSEN NEW YORK." There is no shade. (Photo: eBay seller rlantiques)
DBA: Terence Harold Robsjohn-Gibbings (1905-1976) was a British-born architect and furniture designer. During the late 1930s and the 1940s, he was the most influential interior designer in America. Today, he is best known for his design pieces, both furniture and decorative objects, and more specifically, the collection of furniture for Widdicomb. While exhibiting a classical influence, he insisted that his designs be comfortable to live with and have no sharp angles or sharp edges. The buyer got a deal in that this identical lamp (which originally had a slightly angled white shade) would sell for $4,500.
---