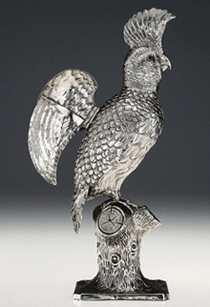 $4,707 (24 bids): 20th c. German Hanau Solid Silver Parrot Figure, Chester Import, c. 1903. The statuette is particularly large, very naturalistically well-refined, with hinged wings and pull-off head set with glass eyes. The bird stands on a filled silver base modeled as a log. The piece bears the German silver purity mark (935 standard, very high) on each part and other French and Dutch import marks. The piece is also fully hallmarked, English import mark (925+ standard), Chester, year 1903 (C), Import's mark SBL (Samuel Boyce Landeck). In great condition, just general wear and a very small chip to one wing. Height: 28.5 cm; width: 8.5cm; weight, 685g. (Photo: eBay seller pushkinantiques, www.pushkinantiques.com, www.stores.ebay.co.uk/Pushkin-Antiques-Ltd.)
DBA: Some silver objects made at the end of the 19th century in Hanau have problems with hallmarks. This object is clearly marked with a German purity mark and an importer's mark dating this to 1903. The problem with some of the hallmarks is that objects in the style of an older object were marked with spurious marks looking like hallmarks from that period. This is more of a retail price than an auction price. There were several similar silver figural animal objects that had been sold for less than half this price. So this is a very good deal for the seller, but my belief is that with this being an accurately marked Hanau object and very unique, collectors made this a sought-after object.
* * * * * * * * * * * * * * * * *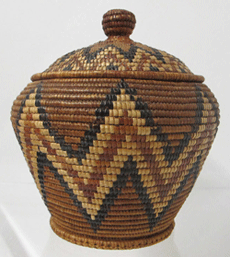 $910 (35 bids): Antique Northwest Coast Tlingit w/Lid Indian Basket. This is a Northwest coast Tlingit Tribe covered basket, wonderfully made. It is made from beargrass and cedar bark. Exquisite shape with five primary zigzag bands on the body. Lidded with what is called a rattle top lid. In overall excellent condition with just a little loss to the underside of the lid rim. Very tight and clean. It measures approximately 8 inches wide x 9 inches high. This is oh so cool. We are estimating late 19th century to early 20th century.
The Tlingit are an indigenous people of the Pacific Northwest coast. Their name for themselves is Lingít, meaning "People of the Tides". The Tlingit are a matrilineal society that developed a complex hunter-gatherer culture in the temperate rainforest of the southeast Alaskan coast and the Alexander Archipelago. An inland subgroup, known as the Inland Tlingit, inhabits the far northwestern part of the province of British Columbia and the southern Yukon Territory in Canada. (Photo: eBay seller estateauctionsinc.)
DBA: These utilitarian baskets were used to collect food for storage and for food preparation. These foods were primarily berries, roots and shellfish. The rattle top boxes had either pebbles or lead shot to make the sounds. These early baskets were first made for storage, but they became a source of income as people began to collect them as tourist objects. The materials to make the baskets were collected usually in the spring and woven in the winter months when getting out was not so comfortable. It would take about 300 hours to make a basket like this.
This is an auction price for this item, and retail would be at least $2,500. The buyer got a tremendous deal.

* * * * * * * * * * * * * * * * *
$2,550 (75 bids): c. 1890s Huge Wooden Steamship Riverboat Ship's Wheel.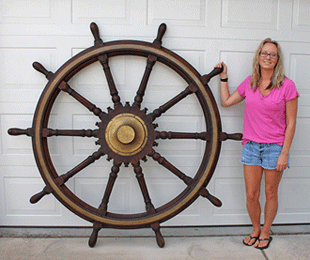 This wheel measures 72 inches across and is quite ornate when compared to most. This is an authentic antique ship's wheel. It has the fluted spokes with the small decorative knobs in between the spokes around the perimeter of the center hub. It has the large brass cover cap in the front with the steel keyway mount on the back. It also has a brass ring around both sides of the perimeter wood. This wheel came from the scrap yard at Mare Island and was given to and hung in the Coral Reef Restaurant in Sacramento, Calif., which has long since closed. This wheel is very impressive in person and very heavy. I have had several antique ships' wheels over the years, and I think this may be the nicest I have seen. It likely was in a passenger-type ship as I doubt they would have bothered with the extra details on a commercial ship's wheel. Overall, a very impressive maritime antique. (Photo: eBay seller gypsiegirlz.)
DBA: This is a very large ship's wheel as most ship's wheels have eight spokes, and this one has ten spokes. It is a late 19th century ship's wheel or helm. This is an extremely large price for such an object. While a similar size could not be found, several 60-inch wheels were found selling for around $350 at auction. The buyer got a statement piece, but the seller got a good deal.
* * * * * * * * * * * * * * * * *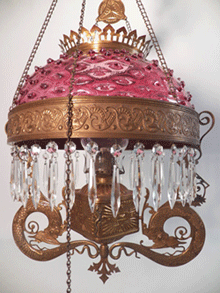 $2,838 (21 bids): Ornate Antique Pull-Down Oil Lamp Chandelier w/ Dragons & Pink Hobnail Shade. You are bidding on an ornate antique oil lamp, circa 1900. The lamp has a wonderful pink hobnail globe that measures 13.75 x 5.75 inches. From the rim that holds the globe are dazzling glass spear prisms. Under the oil well are two ornately scrolling dragons. Every detail is spectacular. The lamp hangs 40 inches from the ceiling and pulls down another 40 inches. The mechanism operates smoothly. The entire fixture is in good operating condition. The clips that attach the bottom section to the ring have been replaced and are not original. The hanging disk that keeps the soot from soiling the upper part of the fixture is missing. (Photo: eBay seller rkingdom1.)
DBA: While these old oil pull-down chandeliers can be found in the marketplace (but are getting harder to find), this one is particularly ornate and nice. Sometimes, these are called hanging parlor oil lamps or hanging library oil lamps. Auction descriptions rarely state safety issues, and those in retail advertisements almost always state that the fixture had been re-wired or refitted with oil. At $2,838, this is a retail price for this object.
---
Deborah Abernethy is a certified appraiser with the International Association of Appraisers. She can be contacted at 404-262-2131 or Deborah@expert-appraisers.com . Her website is www.expert-appraisers.com .