$1,624 (23 bids): Victorian ~ Brussels Net Handmade Lace Wedding Bridal Long Chapel Veil. This is an original, antique, Victorian Era, handmade (Brussels?) lace, ivory-color, long, bridal, chapel veil that is in very good antique condition. It looks like this lace is made of silk (I think). Sorry, I'm not an expert in this field. It is beautifully made, incredibly soft and very delicate. The whole veil is in pretty sturdy condition. However, it does have several small holes in the net in two areas. The veil is about 74 x 70 inches without the headdress. (Photo, courtesy of eBay seller deonino.)
DBA: This is a beautiful garment and meant for a very special event. When I saw the photographs, I immediately thought bridal train with the addition of a simple dress. The asymmetrical design of the back shoulder detail would show best against that very simple dress. The stand -up collar is so elegant that it could only be for "the bride". Without actually seeing the lace or at least a five-times magnification of the material, I cannot comment about the type of lace or whether it is or is not silk.
Brussels is a type of needle lace (as opposed to bobbin lace). While there are other ways to form stitches, these two are the most prevalent. Bobbin lace is a form of weaving with no fixed warp or weft. Bobbins are used and the threads travel in all directions. Needle lace is a stitched lace with the stitches being a basic loop. This is one of those emotional buys and who can put a price on that? However, based on similar bridal garments, I would say that this was a good buy.
* * * * * * * * * * * * * * * * *
$3,364 (9 bids) Wonderful Set of 2 Antique Cast Bronze Brass Figural Eagle Doorknobs. Estate-fresh find of great cast bronze (I believe) as they are heavy and of the highest quality figural eagle doorknobs. No maker's name, very nice condition, they measure 2.5 inches across in diameter, 2.25 inches deep. Great antique set of doorknobs!
DBA: This is an incredible amount of money for cast-bronze brass figural doorknobs, even antique ones that are of eagles. There is a pair of them, but there are many places to get multiple doorknobs of similar size and quality. This was a good deal for the seller. There are many antique architectural dealers on the Internet with quality merchandise offered for sale. These did not even have a manufacturer's mark to identify quality, so I am surprised at the amount for this sale. (Photo, courtesy of c.1901.)
* * * * * * * * * * * * * * * * *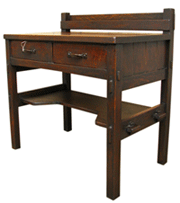 $3,351 (6 bids): Early Antique Gustav Stickley Small Desk Mission Oak. This is a good early antique Gustav Stickley desk from the early 1900s Mission and Arts & Crafts period in very good condition. The piece is made of superb quarter-sawn oak with an old refinish. It has excellent form with a profusion of exposed joinery, including three pinned-through tenons on each post, a pair of keyed-through tenons on the side stretchers, and pins at the top. The drawers feature their original hammered pulls with pyramid screws and the sides, and back are chamfered. The desk is signed with an early red decal and is extremely heavy and well made. Size: 34 inches high, 34 inches wide, 20 inches deep. (Photo, courtesy of eBay seller joemission, www.joenevo.net.)
DBA: Gustav Stickley was a prominent designer known for his mission-style furniture. While Stickley furniture is much sought after, the collector's market for it is not as strong as it has been in more recent years. The high in the market was probably when Barbra Streisand was collecting the early Stickley furniture. In 1988, she paid $363,000 for a Gustav Stickley sideboard. The $3,351 price for this desk in today's market is probably a fair price. I did find an identical one offered for sale at $4,500—offered, not sold.
* * * * * * * * * * * * * * * * *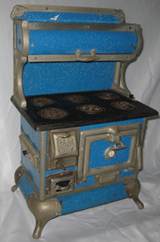 $2,425 (20 bids): Antique Karr Range Company Blue Enamel Wood-Burning Stove Salesman Sample. This auction is for an absolutely great Karr Range Co. Salesman sample wood burning stove/oven in great shape. The range is a rare piece and very hard to find in this condition and with almost all of its parts. The range measures 20.5 inches tall, 13 inches wide and 9 inches deep.
There is some chipping on the blue speckled enamel coating around the edges of the base, but the rest looks good. Some of the original screws have been replaced. The crossbar that attached the base to the range is missing and will need to be replaced. The burner covers, grates, over tray wood drawer and overhead door are all included and in great shape. With a minor amount of restoration, this range would make a beautiful display item for any collection. (Photo, courtesy of eBay seller littlemarz, www.ccestatesales.com.)
DBA: Salesman samples have a large collector group, and prices for these objects can be quite high. Salesman samples are working small models of the product. The salesman sample can be more valuable than the full-size product. While $2,425 may seem like a lot of money for one small object, I have found similar objects selling for far more money. This was a good buy as the salesman sample collectors' market has continued to be strong.
---
Deborah Abernethy is a certified appraiser with the International Association of Appraisers. She can be contacted at 404-262-2131 or Deborah@expert-appraisers.com . Her website is www.expert-appraisers.com .