Shining Light on Railroad Lanterns
By Paul Koren
Of the various types of collectibles that reflect the great age of American railroads, lanterns are among the most popular. They remind people of an era when trains were run by steam power and when most facets of personal and community life had some connection with the railroad. Over the last few decades, a common approach to classifying railroad lanterns has gradually evolved among collectors. The terms used here are sometimes quite different than that found in original manufacturers' catalogs and railroad rule books. However, such terms serve the purpose of allowing collectors to have a common understanding.
First, collectors usually make a distinction between lanterns and lamps. A lantern is essentially a metal "cage" containing a transparent or translucent globe that protects an interior light source. This definition applies to lanterns using combustible fuel rather than electric lanterns, which usually have exposed light bulbs instead of a globe.
Lamps are essentially a solid metal cylinder with one or more lenses used to transmit light from an interior light source. There are perhaps five basic categories that collectors use to classify railroad lanterns: fixed-globe lanterns, tall-globe lanterns, short-globe lanterns, conductors' lanterns, and inspectors' lanterns.
Conductors' Lanterns. A style of lantern often used by conductors was the "conductors' lantern", also called a "presentation lantern". The latter term reflects the fact that this style of lantern was sometimes used for award purposes with markings honoring a specific individual. As a category, conductors' lanterns were generally fancier and more finely crafted than other lantern models. They are often found with nickel or brass plating, ornate engravings, and/or globes with elaborate lettering. This difference in quality reflected both the status of the conductor as the highest authority on a passenger train (higher than the engineer), and the fact that his lantern was likely to be seen by the traveling public.
A wide variety of conductors' lanterns were produced by different manufacturers: Adams & Westlake, Meyrose, Post, Handlan-Buck, C.T. Ham, and Parmalee & Nonnell.
One special globe often found in conductors' lanterns is the two-color globe, so called because it consists of a band of colored glass - usually green - over a band of clear glass. The purpose of the colored glass was to shield the conductors' and passengers' eyes from glare while checking and collecting tickets. Two-color globes are one of the "holy grails" of the hobby. In today's market, they can go for hundreds, even thousands, of dollars.
Inspector's Lanterns. Inspector's lanterns were characterized by a unique but utilitarian design suited to examining rolling stock. They were typically constructed of sheet metal with a reflecting surface made of metal or glass for focusing light in one direction. However, the flame was enclosed in a globe, so they can reasonably be classified as a lantern. Inspector's lanterns were produced in a couple of different sizes by only a few manufactures, among them Dietz and Star Headlight & Lantern. Values usually range from $75 to $100 or so, although examples with rare marked globes can be considerably lighter.
Fixed-Globe Lanterns. The earliest type of railroad lantern was the fixed-globe lantern, so called because the globe was cemented or plastered in a frame and could not be readily removed. This style of lantern was most popular in the decades that spanned the Civil War. It's not possible to precisely pinpoint the date when fixed-globe lanterns were replaced by the removable-globe variety, although evidence suggests that the latter was introduced immediately after the Civil War. However like most innovations, removable-globe lanterns were not instantly adopted by the industry, and it appears that fixed-globe lanterns continued to be manufactured for a decade or two after the Civil War.
The heyday of the fixed-globe lantern especially coincided with the era of railroad expansion in the northeastern United States. The first transcontinental railroad line was not completed until 1869; however, railroad building in the northeast had already been underway for several decades. Therefore, most of the railroad markings found on fixed-globe lanterns reflect lines from this part of the country. There were many small manufacturers of railroad lanterns at the time-standardization in the industry had yet to occur-so there is a wide variety of styles and features that can be found in surviving fixed-globe lanterns.
All fixed-globe lanterns are rare. Values generally range from $500 to $1,000 for examples with railroad markings, even higher for examples with unusual historical provenance or rarity.
Tall-Globe Lanterns. Tall-globe lanterns are distinguished by removable globes of 5 3/8" to 6" in height. The fact that globes were both removable and interchangeable represented a real improvement over fixed-globe models for obvious reasons of convenience. The first removable-globe lantern was produced in 1865 by William Westlake. However, tall-globe lanterns became the dominant style of railroad lantern during the period from the 1870s to World War I.
Tall-globe lanterns are particularly popular due to their variety of design and large number of railroad markings. Many manufacturers produced such lanterns, including Adams & Westlake, Armspear, Handlan-Buck, Dietz, Star Headlight & Lantern and C.T. Ham. Since tall-globe lanterns were produced during the most expansive period of U.S. railroading, they often are marked for railroads that are long gone and that have special historical significance. Since many technological innovations occurred during this period, a variety of different models were produced. Toward the end of tall-globe lantern production, the number of companies in the industry narrowed down to a fairly small number, and a certain level of standardization became the norm.
Market values of tall-globe lanterns vary widely and depend on numerous factors, including the presence of a railroad marking, the particular railroad represented, whether the globe is also marked for a railroad, whether the globe marking is cast or etched, rarity of patent dates and so on.
At the lower end of the continuum, a tall-globe lantern in good condition with both frame and globe marked for a common railroad like the Pennsylvania Railroad might be acquired for around $100. The majority of tall-globe lanterns fall in the $100 to $500 range. However, rare examples have been setting new price records of late with some particularly rare globe and lantern combinations going for thousands.
Short-Globe Lanterns. Short-globe lanterns came into production after World War I and continued to be made for specialty and commemorative purposes. Their regular use in railroad service effectively ended in the late 1960s or early 1970s. They are generally characterized by standardized globes that are 3 ?" in height, with the exception of a few models that take globes up to 4 ?" in height. Short-globe lanterns succeeded tall-globe lanterns because railroads switched to kerosene as lantern fuel after World War I, and the smaller burning chamber of the shorter globe was especially suited to this type of fuel. The lighter weight and better portability of the short-globe lantern were also positive factors in its acceptance.
Among collectors, short-globe lanterns are considered less desirable, mostly because as a class they are relatively newer and more common. The major U.S. manufacturers were Adams & Westlake, Armspear, R.E. Dietz, Lovell-Dressel, and Handlan. Dietz also made a series of lanterns called the "Vesta", which used a special 4.25" globe that was an inch taller than a true short globe. Despite this unique globe requirement, Vesta's were extremely popular among railroads and are very common in today's market.
Market values of short-globe lanterns reflect their more common status. This is a big advantage to the novice collector, however, who can find them relatively easily and at reasonable prices. A short-globe lantern in good condition with a marked frame but unmarked globe might be acquired for around $50 to $60, sometimes even less. Of course those with rarer markings and cast globes generally go for more-between $100 and $200.
About Globes. Much reference has been made here to globes, and indeed, globes represent a special sub-category of railroad lantern collecting. Marked globes - those marked with a railroad name or initials - are particularly desirable, and colored globes (as opposed to those with clear glass) are even more so. In railroad operations, globe colors had special meaning: clear (and sometimes green) for proceed, red for stop, amber for caution, and blue for "Rule 26", meaning equipment was being serviced and could not be moved.
In today's market, globe values are generally determined by rarity of railroad markings and color. Clear globes are the most common, followed by red, blue, green, and amber. It is not possible to specify globe values without going into much detail. While an unmarked globe may be purchased for as little as $15, an extremely rare globe recently achieved an auction price of over $25,000!
About Fakes and Reproductions. As in other categories of antiques, reproductions and counterfeiting have begun to affect the field of railroad lantern collecting. Reproduction globes have been made, reproduction lantern frames have been imported from overseas, and some lantern markings have been added or altered by unscrupulous individuals to increase value. While these problems have not yet become an epidemic, they require increasing vigilance among collectors. The Railroadiana Collector's Association, Inc. (see footnote) publishes information on railroadiana fakes and counterfeiting in its magazine and on its website.
This overview only touches the surface of railroad lantern lore. There is a lot more to be learned about this fascinating corner of railroad history. Information on lanterns and other aspects of railroadiana can be found on the website of Railroadiana Collectors Incorporated: http://www.railroadcollectors.org .
---
The RCAI is dedicated to informing its membership of all matters of railroad collectibles through its quarterly magazines and website. To join, contact RCAI President Richard Wright at P.O. Box 4894, Diamond Bar, CA. 91765-0894 for an application. You may also get an application at the above web address.
Thanks to the collectors who supplied photos for this article.
Sources:
Barrett, Richard C. The Illustrated Encyclopedia of Railroad Lighting: Volume One: The Railroad Lantern (1994). Railroad Research Publications, Rochester, NY.
Knous, Bill and Sue. Railroadiana: The Official Price Guide for the Year 2000 and Beyond (2000). RRM Publishing, Denver, CO.
01/2004

C.T. Ham fixed-globe lantern with a brass top and clear globe marked "B&A RR" (Boston & Albany Railroad).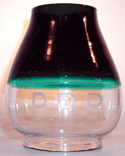 Pennsylvania R.R., 2-color, tall globe with wheel-cut "PRR" initials.
Dietz tall-globe bellbottom lantern marked "B.A.&P." (Butte, Anaconda & Pacific Railway) with a blue globe.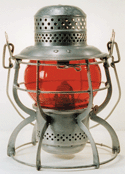 Armspear short-globe lantern marked "B&O RR" (Baltimore & Ohio Railroad) with a red globe."
Dietz Acme inspector's lantern marked "P&LE" (Pittsburgh & Lake Erie Railroad) with a clear globe.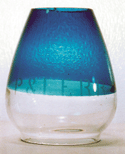 P & LE (Pittsburg and Lake Erie RR), 2-color globe.