The Celebrity Collector

Rich Gannon, 2002 NFL MVP, Collects Petroliana
By Ken Hall
Growing up in Philadelphia in the 1960s and '70s, former pro football quarterback Rich Gannon had two passions: athletics and automobiles. The first he was able to parlay into a career that included one NFL MVP award (in 2002) and consecutive Pro Bowl MVP awards (in 2000 and 2001). The latter he saw blossom into a vintage car collection and, later, a petroliana collection.
Petroliana, if you're new to the word, means gas station collectibles, and it's a rapidly burgeoning genre. Recently, a book dedicated solely to petroliana was published, titled "Warman's Gas Station Collectibles" (by Mark Moran, published by KP Books, an imprint of F+W Publications, $24.99). Petroliana is mainly gas station pumps, globes, signs and containers from the 20th century.
Gannon owns examples of all these, and he's even recreated an authentic gas station from a bygone era, but before we get into that it's important to chronicle his love affair with cars. His older brother liked old cars, and he passed the interest on to Rich. In college, the younger Gannon drove a 1965 Oldsmobile 98 hardtop. Later on, after he turned pro, his collection really began to take off.
"After my rookie year (with the Minnesota Vikings in 1987), I went back to Philadelphia and bought a 1960 Buick Elektra 225 convertible for $4,400," Gannon recalled. "My brother and I spent two years restoring it, doing the paint, interior, the motor, new top, new tires - the works. I still have that car today." Along with about a half-dozen others, although he's owned as many as 13 at a time.
"I guess I'm down to about six or seven now," he said, and he began listing them: a 1963 Corvette with a split rear window (highly coveted among collectors); a 1967 Corvette convertible, with a 427 engine (packing 435 horsepower); a 1968 Shelby Mustang GT 500 KR convertible (only 318 were made); a 1958 Chevy Impala convertible, with 348 cu. in. engine; and a 1940 Ford coupe.
The last of these ­ the oldest car Gannon owns ­ is a Deluxe Opera Coupe, with fold-down seats in the back. He bought it at auction in Minnesota, where he makes his home. The car with the least sex appeal but probably the most sentimental value is a 1968 Ford Mustang, a base model with a small-block 6-cylinder engine, no power steering or brakes, and little appeal as a collectible.
But it happens to be the car that Gannon's father bought brand new and drove for years, back and forth to work. "He gave it to my brother and my brother gave it to me," Gannon said, "and I got the idea to restore it." So that's what he did ­ unbeknownst to his Dad. "I had him over when it was done and said, 'Hey, Dad, look at this.' His jaw just dropped. It was worth it just to see his face."
When his car collection reached the point where he could no longer park them all in the driveway, Gannon began looking around for a storage facility. He found one, but he thought the storage fee of $50 per month, per car, was a little excessive. So he launched a search for a building of his own, which he found, in suburban Minneapolis, near his home. But there was something missing.
"The walls inside were just bare white, with nothing on them," he said, "so I thought to put something up there that was car related, but I didn't know what." Enter Gene Sonnen, a friend and fellow car enthusiast who had three old cars of his own at home in his garage. Except Gene's walls were covered with petroliana. "The place looked like a museum," Gannon said. "It was awesome."
He decided then and there to start a petroliana collection of his own. His first purchase: a neon sign advertising Buick Lubricare. Since then he has added all manner of sign, pump, globe, rack and container. But it was a learning process. Gannon found out it pays to get an education (via publications like Petroleum Collectibles Magazine), attend trade shows and talk to the right people.
"I can't tell you how many times, in the beginning, I would be at a show and have something in my hand, and felt like I had a great buy, only to learn it was a reproduction," Gannon remarked. He may have been a grizzled veteran in the world of pro football, but he felt like a rookie when it came to gas station collectibles. Now, though, he knows what to look for and what to steer clear of.
"Look for examples that are colorful, have great graphics and are in the best of condition," he advised. "Buy quality. Even if you feel you're paying more than you'd like, the market will catch up with you. And variety is important. It's fine to focus on something like globes, but there are so many great signs, cans, paper items, and so on. You can see how different pieces relate to each other."
One of Gannon's favorite pieces is a single-sided tin sign for Sealed Power Piston Rings, measuring 22" x 35". The Warman's guidebook values it at $500+. Other signs in his collection include ones for Rajah Motor Oil (20" x 28", $350); Majestic Batteries (26" x 19", $400+); Champion Spark Plugs (29-1/2" x 14", $300+) and a huge sign, circa 1953, for "Ford: America's Favorite V-8."
Gannon didn't stop at simply decorating the walls of his storage building. Over time, he has converted a portion of the interior into a full-size Gulf gas station (he's a member of the Gulf Oil Historical Society), complete with pumps, signs, a working rest room, counter with cash register, maps and ephemera. He's dubbed the place "Gannon's Service," and it does look quite authentic.
A sign above the door says "Gulf Cards Honored," and another sign above that lets everyone know Rich is an "Authorized Gulf Dealer." A display rack contains real cans of oil, a globe touts Gulf's "No-Nox Ethyl" gas, a tire insert promises "More Mileage," there's an old-time air pump, two vintage gas pumps with lit globes, and, lest we forget, a sign promising "Clean Rest Rooms."
Gannon's soda collectibles ­ which he keeps in a downstairs room at home ­ seemed like a natural offshoot from the cars and petroliana. "They're from around the same time, and it was common to see soda machines inside gas stations," he said. He has, among other items, Vendo 44 and 81 machines (both Coke) and tin signs for 7-Up, Coke, Nehi, Orange Crush and others. And, as a complement to all that, he has a candy machine from the '40s and a Wurlitzer Model 1015 jukebox.
Rich Gannon attended St. Joseph's Prep School in Philadelphia, where he excelled in athletics. He attended the University of Delaware on a football scholarship and was selected in the 4th round (98th overall) of the 1987 NFL Draft by the New England Patriots. He was soon traded to the Minnesota Vikings, where he was played sparingly for two seasons before breaking out in 1990.
That year, he became the Vikings' starting quarterback, displacing incumbent Wade Wilson. In 1993, he was traded to the Washington Redskins. Two years later he was traded again, to the Kansas City Chiefs. For two years he was a backup to Steve Bono. In 1997, he excelled as a starter, but split duties with Elvis Grbac. In that year's playoffs, the team lost a close 14-10 contest.
In February 1999 Gannon was signed as a free agent by the Oakland Raiders, where he thrived under coach Jon Gruden's "West Coast" offense. He was voted to the Pro Bowl four consecutive years, and in 2000 and 2001 he was named the Pro Bowl MVP, the first and only time a player has achieved the feat back-to-back. But 2002 would proved to be the crown jewel of his career.
That season, Gannon guided the Raiders to Super Bowl XXXVII (a game won by the Tampa Bay Buccaneers, 48-21). He led the league in pass attempts (with 618) and completions (418, a record). A shoulder injury cut short his 2003 season, while a serious neck injury in 2004 effectively ended his career. In 2005, Gannon retired from football and is now an NFL analyst for CBS Sports.
2006
Rich Gannon's Upper Deck
football card for 2004. He played for 15 years in the NFL and was
the league's Most Valuable
Player in 2002.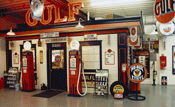 Part of Gannon's warehouse in suburban Minneapolis has been turned into an old-time Gulf station.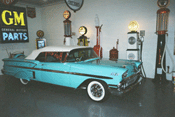 1958 Chevrolet Bel-Air convertible, with wide white walls and a 348 cu. in. engine.
Gannon has a soft spot in his heart for Ford products. He restored the very Mustang his father bought new in 1968.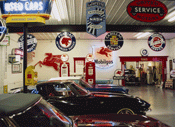 The inside of "Gannon's Garage" is a wonderland of petroliana and vintage automobiles.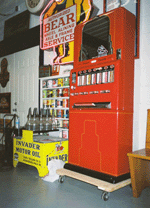 This beautifully restored (and
functional) candy dispenser lends a wonderfully authentic touch to "Gannon's Garage."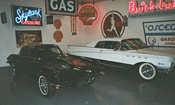 Gannon owns two classic and highly coveted cars from the '60s: a 1963 Corvette with split rear window and a 1960 Buick Elektra 225 convertible.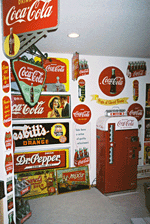 Rich keeps his soda collectibles in the basement of his home just outside Minneapolis. The Coke machine dispenses real soda.