Japanese Puzzle Boxes
Japan has exported secret opening boxes to the West since before 1870. They are often complex, requiring many "moves" to open them. The puzzle is to find the secret compartment inside.
To solve a puzzle box, one or more sliding parts in one end are moved, allowing the other end to be moved slightly. This partially unlocks a side panel, which allows other pieces to be moved. These, in turn, partially unlock the top or bottom. This method is continued, moving around the box, until the top panel can slide, opening the box.
Most of the very early puzzle boxes from the late 1800s/early 1900s only had a few moves to open, usually 2 to 4. They can sell for several hundred dollars if they are in good condition and work properly.

Contact us to place your antique shop or antique related information here.


Puzzle boxes were often beautifully lacquered or veneered. The elaborate wood mosaic is called yoseki, a craft practiced for centuries in Japan. It uses the natural grain and texture of a wide variety of woods. Woods of many colors are selected-spindlewood for white, Katursa for black, sumac or mulberry for yellow, camphor for brown, American walnut for purple, Japanese cucumber for blue, Chinese cedar for red, and so on.
Oblong rods of the desired cross sections are selected and glued together to form the geometric pattern desired. Subsequently, the sectional surface is sliced into very thin sheets of veneer that can be glued onto the surface of the box. The box is then glazed and polished.
By choosing wood of different cross sections-squares, regular and irregular hexagons, etc.-and of different colors, it is possible to design patterns of great beauty and complexity. These serve not only to decorate the boxes. They also play an important role in concealing the sliding pieces, which must be moved to open them.
It is likely that Japan was making puzzle boxes before 1800, but it was a closed society until Admiral Perry opened Japan to trade in 1854. Within about a decade after Japan began to trade with other countries, the Japanese jewel-box was being sold in the 1867 "Adams & Co. of Boston Catalogue." It states in the catalogue, "Genuine Japanese manufacture."
In 1896, the Marinka & Co. Catalogue showed a Japanese inlaid puzzle box. This box had a drawer that slid out from four different directions.
Dating old Japanese puzzle boxes. The McKinley Tariff Act of 1891 required the country of origin to be marked on items imported to the USA. From March 1891 until September 1921, Japanese goods were supposed to be marked with the country of origin. The Japanese choose to use the word Nippon for their marking.
The Act was strengthened in 1921 so products were to be marked "Japan" or "Made in Japan." From 1945 to 1952, the required marking was "Made in Occupied Japan." After 1952, "Made in Japan" was supposed to be marked on goods exported to the U.S. Much more accurate dating of puzzles can be done by the use of novelty, puzzle and magic catalogs.
Pre-World War II puzzle boxes were smaller, made of dark colored woods and frequently exhibit fine workmanship. Post World War II puzzle boxes were made with lighter colored woods and are larger in size.
Solutions for puzzle boxes frequently require sliding sections of the ends of the boxes as well as the top and bottom. The level of difficulty in solving the problem varies widely-some boxes only require two moves to open them, while others require as many as 122 moves to solve.
Sizing up a puzzle box.
The traditional Japanese unit of measure is called a "sun." A sun is about 1.22 inches, and curiously, it is a unit of measure for length only, not width or height. Small puzzle boxes are 1, 2 or 3 sun in size. Medium boxes are 4 sun, and a standard size is 5 sun. Large puzzle boxes are 6 and 7 sun.
---
Our thanks to Jerry Slocum. His latest book, The Tangram Book, contains the first comprehensive history of one of the world's most popular puzzles, as well as 2,000 Tangram puzzles to solve. It is available at Barnes & Noble, Amazon.com and most bookstores. Unless otherwise noted, photos are courtesy Jerry Slocum.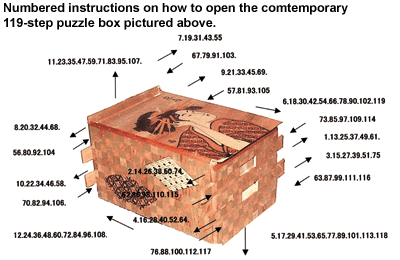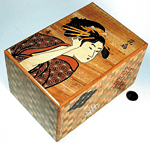 119 moves are needed to open this beautiful puzzle box made by the late Master Craftsman, Yoshio Okiyama. (The illustration of the Japanese girl is Zougan Art of Ukiyoe by Yoshihiro Ishikawa.)
Watermill puzzle bank.
Boat puzzle bank.
Japanese puzzle boxes from the 1920s to 1930s. The two smaller boxes are also banks with slots for coins and only two or three moves are needed to retrieve the money.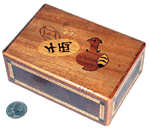 A 1937 puzzle box with a hidden coin slot and drawer. Four moves open the box.
The upper puzzle box contains a noise maker that produces a "moo" sound when the box is tilted. The middle box requires nine moves to open a secret compartment and drawer, and ten moves are needed to open the secret compartment in the lower box.
More Puzzle Box History
The Himitsu-Bako (personal secret box) is a traditional Japanese puzzle box that was designed over 100 years ago in the Hakone region of Japan. The Hakone Mountains are noted for their great variety of trees. The creators of the personal secret box took advantage of this wide variety of natural wood colors and textures to produce their elaborate geometric patterns.
The appeal of the personal secret box is not merely in its entertainment qualities. It is valued as a mosaic woodwork of the type usually applied to small handicrafts such as trays, boxes and chests. This marquetry technique originated in the late Edo Period, and for many years, the town of Hakone was a relay station on the main road to Edo (present day Tokyo). The mosaic woodwork was developed as souvenirs for travelers.
The personal secret box was first referred to in a journal issued during 1830-1843. In this time period, the secret box was in its early stages. It was referred to as a Sikake-Bako and as a Tie-Bako. Sikake means device or trick, and Tie means idea, wisdom or intelligence. These were small boxes used to contain strings, nails, sewing kits, etc.
These string boxes were developed into small chests for use by workers to carry their tools in and to keep them safe from theft. Because of the device or trick, no one could get into the box without first knowing the secret. Workers used these chests on coaches and ships to keep them secure.
The small string box was made with a very simple device or trick in the beginning. As this box became more popular, the device/trick became more complicated. Up to this point in history, these secret boxes were very simple with little or no decoration. They did not resemble the secret puzzle boxes of today.
It was after 1870 that puzzle boxes were used to keep important documents or secrets safe. Originally, the boxes were more flat in shape, but soon they were developed into 5 sun and 6 sun sizes with up to 66 intricate moves to open.
Most Japanese personal secret boxes have a variety of difficulties, ranging from 4 to 66 moves. A few large puzzle boxes have exceptional numbers of moves, such as 78, 122, 119, or 125.
The art of making personal secret boxes has never been written down. Instead, it has been passed on from master craftsman to apprentice for generations.
2003



Our thanks to http://www.cleverwood.com/ for the More Puzzle Box History article. Cleverwood sells many types of wonderful puzzle boxes on their website. They can also be contacted by calling 888-593-8653.