Pottery With Panache: Art Deco Ceramics

By Daniele Gair
Posted July 2011
When one thinks of Art Deco, delicate porcelain vases may not be the first thing to come to mind. But amid streamlined cars and sleek buildings, ceramics crafted during this glamorous period made a bold statement of their own, transforming centuries-old floral delicacy with striking architectural design and vibrant colors.
According to the Art Deco Collector's Guide by Judith Miller, Art Deco ceramics are among the most rewarding items to collect. From the ever-popular Fiestaware to luxurious designs by companies like Sèvres and Meissen, Art Deco ceramics offer great variety to both the beginning and the seasoned collector. Although one may think that the most valuable pieces are either too rare, expensive or simply non-existent, many outstanding items are still attainable. To determine which of these are highly collectible and which are a dime a dozen, there are a few things to keep in mind.
First, it is important to become familiar with all that the term Art Deco encompasses. First introduced at the 1925 Paris World's Fair, or Exposition Internationale des Arts Decoratifs et Industriels Modernes, from which the term Art Deco was later taken, objects in the Art Deco style combine exotic influences from cultures like ancient Egypt, Africa and Latin America with the modern interests in speed and streamlining. Originally called "Modernism," this new, avant-garde sensibility was interpreted in many different ways. Also, inspired by and in pursuit of glamour, artists used the finest materials available, such as rare woods, precious metals, jewels, ivory and shagreen, ever with an eye toward luxury.
Secondly, it is also tempting to think that there is a vast difference in quality and value between those items that were hand-made versus machine-made wares. However, this is often not the case, as many highly desirable pieces originated on the production line.
One of the most recognized names in Art Deco ceramics, Clarice Cliff, created the highly successful Bizarre line of brilliantly-decorated geometric wares, which was originally conceived in 1928 as a means to decorate old blanks. This line, which came to include 500 shapes and 2,000 patterns with names like Sunrise and Fantastique, was produced between 1927 and 1940.
Today, Cliff's work is beginning to fetch high prices. According to Ask the Expert's Guide to Collectibles, her more rare patterns, such as Café, May Avenue and the Appliqué, can command prices in the tens of thousands. According to the Clarice Cliff Collectors Club, Cliff's work has commanded astronomical prices. In October 2006, a vase in the rare Sunspots pattern was sold for an incredible £17,000. More recently in 2008, one of Cliff's Triple Bonjour vases in the Blue Firs pattern was auctioned for an impressive £6000, or $11,115, by Bonham's of London. A rare Red Autumn shape 369 vase was auctioned for £4900 ($9,077) at Fielding's auctioneers of Stourbridge, and Woolley and Wallis auctioneers of Salisbury sold a 3-inch miniature Café vase, used as a salesman's sample in the 1930s, for £3000 ($5,5571). What's more, the value and prices for Cliff's pieces continue to rise, making her distinctive pottery a solid investment.
When it comes to collecting Cliff's work, do your research, as fakes are common. Look for pieces made before World War II exhibiting bold colors, unusual forms, and genuinely backstamped with the Clarice Cliff signature, including the name of the pattern.
Thirdly, treasures can be found among the catalogues of major companies and smaller firms alike. European porcelain manufactories, which are usually considered bastions of 18th- and 19th-Century classical and Rococo porcelain, also created their own lines of Art Deco ceramics and employed some of the best talents of the day.
Companies like Wedgwood, Sèvres, and Meissen, and smaller companies like Wiener Werkstätte produced some of the most original porcelain in their history, thanks to artists like famed furniture designer Jacques-Émile Ruhlmann and Keith Murray whose simple, yet striking, vases and bowls are clearly distinctive. Many of these European pieces are still available and would be stunning and unusual additions to any collection. For instance, an extremely rare Sèvres vase dating from the mid-1920s can command prices upwards of $7,500.
Wiener Werkstätte produced some of the earliest Art Deco designs, and in June 2007, the work of two Wiener Werkstätte artists, Vally Wieselthier and Gudrun Baudisch, dated 1928 and 1929, was valued at €12,000–20,000 and € 27,000–50,000, respectively, at auction by im Kinsky of Germany.
Not to be outdone by their counterparts on the other side of the Atlantic, American ceramics presented innovative design as well. The best examples include: Rookwood, a firm known mostly for its Arts and Crafts ceramics, whose architectural Art Deco Era pieces are intriguing and affordable; Roseville, whose Tourist and Futura lines exhibit striking color variations and highly modern lines; and the celebrated Fiestaware, one of the most recognizable ceramic lines in the world. The quintessential Art Deco ceramics, the Fiestaware line was first introduced in 1936 with a choice of five colors, and by 1940, more than 50 designs were available. Although its modern incarnation is extremely popular and widely available, original Fiestaware offers collectors unusual styles and colors.
Of course, there were many smaller firms that produced a stunning array of highly collectible pieces. Hidden treasures by firms like Myott, Cowan Pottery, and Carlton Ware exhibit exciting artistry and, despite acquiring many fans in recent years, can still be found at reasonable prices.
When choosing a piece of Art Deco pottery, whether as an investment or for enjoyment, remember that the rarest pieces, as well as those made of the finest materials, will be the most desirable and will have the best chance of appreciating in the future. Pieces made in Europe are often hard to find in the U.S. and vice versa. Pieces made before 1940, in short runs or by companies that no longer exist, are also pieces to seek.
In many ways, Art Deco is about tradition re-imagined in a modern way. In the pottery created during this exciting period, artists found new ways to stretch the boundaries of this ancient art, inventing new forms to adapt to and change modern tastes. These pieces present an excellent opportunity to stretch the boundaries of your collection.
---------------------------------
1 Based on an average exchange rate of $1.85251: £1 British for 2008.
Sources:
Art Deco, 1992, Victor Arwas
Art Deco Collector's Guides, 2005, Judith Miller
Understanding Antiques, 1998, Judith and Martin Miller
www.claricecliff.com
www.collecting20thcentury.com/articles/clarice.htm
www.decodance.com, a resource for Clarice Cliff items, which features a wide range of Cliff's most exciting pieces.
---------------------------------------
A native New Orleanian, Daniele Gair has been obsessed with the written word and the arts ever since she could remember. Holding a B.A. in English from Newcomb College of Tulane University, she has honed her skills as a professional writer for 13 years. Daniele has explored the world of visual art as an owner of an art gallery/snowball stand, and she currently researches and writes about fi ne art and antiques for M.S. Rau Antiques in New Orleans.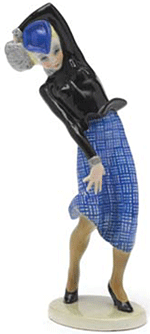 "The Wind," 1933, 37cm high, signed "Lenci, made in Italy, Turino"; sold for £7,800, with buyer's premium. (Photo, Bonham's)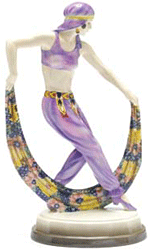 "The Arabian Dancer," pottery figure by Goldscheider, ca. 1925, 47cm high, printed maker's marks and numbered 5613; sold for £2,160 with buyer's premium. (Photo, Bonham's.)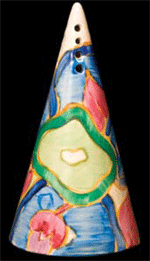 Conical sugar sifter by Clarice Cliff in the Blue Chintz pattern, 5.5 in. high; signed "Fantasque Bizarre," £585. (Photo, www.decodance.com)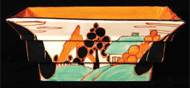 Stepped bowl in the Trees & House pattern; 9 in. wide; dates to c. 1929. Signed "Fantasque" by Clarice Cliff; £1,095.
(Photo, www.decodance.com)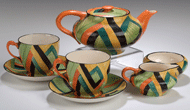 Susie Cooper for Grays Pottery, a "Cubist" tea set, all with printed marks. Sold for £588 with buyer's premium.
(Photo, Bonham's)