Collecting British Polychrome Pot Lids, Jars & Ware
By John Foumakis
In 1835, George Baxter invented his polychrome printing process on paper. His predecessors in the printing industry viewed his use of as many as 20 or more different engraved plates to break down the picture into its colour components as mastery. With careful registration of each corresponding color plate on the paper, the desired result was nothing short of magnificence and artistry that today is admired for the precision and expertise of the engravers during the Victorian period.
This was very instrumental around 1845 in the development of colour printing on ceramic wares. One of the firms to recognize the commercial viability of polychrome ware was the English firm of F & R Pratt and Co. of High Street Fenton, Stoke on Trent. The firm was noted for its excellence in production in this field under the direction of Felix Edwards Pratt and his chief engraver, Jesse Austin.
The method that Austin employed was not unlike George Baxter's. Jesse would first make a study of the intending subject, and from this drawing a series of copper plates would be made dissecting the subject into its corresponding colours. These would number three, but sometimes four copper plates. The final outline plate would be charged with either a dark brown or black to complete the process.
These plates would take as long as four months to complete with the various engraver's tools. Each plate would be charged with red, blue or yellow, and this primary colour would blend in areas to produce the secondary colours required. The transfer of colour would first be placed on a tissue and then transferred onto the raw ceramic, which was previously fired into its biscuit stage by means of a stiff brush or roller. After two days of drying, the lid would then be coated with a clear glaze, and the true colours would appear in the final firing. Additional gold detailing would have yet another lower temperature firing to fix the gold onto the glazed surface.
Collector's today value items that have a good registration, where there is no shift in the colour, and the colour is strong. The very early examples have many of these qualities when the copper plates had their freshness, so to speak. Later examples have had copper plates reworked because of continual use and seem to lack the finer details in colour and registration.
Sadly, because of the cost of production and cheaper methods of colour printing, the period in which engravings were manufactured was a relatively short one, about 1845-1880. There are currently around 450 different designs known to exist, and reissues using some of the original plates have been issued up until 1963. The colours and porcelain texture easily distinguish these later editions.
Polychrome pot lids primarily encapsulate history, in both the development of colour printing on ceramics and in the subject matter depicted. They sometimes give us a little insight into their thinking and way of life. More importantly, they transcend their function as a pot lid and have become an art form. They are all a very individual expression of the engraver or artist and capture wonderful moments of Victoriana.

Along with F & R Pratt, the companies of T.J. & J. Mayer, J. Ridgeway and Co., and Bates Brown-Westhead, Moore and Co. are recognized today as the foremost producers of multi-colored, under glaze, transfer printed ware. Amongst pot lids, polychrome wares were produced by the technique described above by these factories, and many of the registrations (scenes) found on pot lids also accompany these wares. Tea sets, dinner sets, tobacco jars, trinket sets, vases and the very desirable advertising plaques have all been found with designs from the factories.
Many of the pot lids were produced simply to attract the buying public, and many firms commissioned companies such as Pratt of Fenton to produce lids and containers to advertise their wares. Crosse & Blackwell, John Gosnell, Robert Fiest, S. Banger, Blanch Flower, Hill & Ledger, and Copland & Co. were a few that knew the power of distributing their wares in these decorative containers. Even the American company of Jules Hauel, who achieved success in the Great Exhibition of 1851 at the Crystal Palace, commissioned advertising lids by Pratt depicting scenes.
Their products contained potted meats, shrimp paste, anchovy paste and various other cosmetic preparations. Many scenes give us obvious clues as to their contents, such as those depicting bears in various pose. Naturally, one would assume they contained bear's grease. (Bear's grease served many functions at this time-in cooking, rifle cleaning, leather/boot waterproofing when mixed with bees wax, as a skin cream, hair restorer, etc. Bear grease is still rendered and used today.)
Many pot lids were naturally discarded, and many are excavated out of early refuse sites and backyard rubbish holes. One lucky collector found over a dozen pot lids depicting bears. Interestingly, the original purchaser of this Victorian hair preparation had thrown these lids away in a septic hole, which consisted of no more than a large hole in the ground with a wooden seat over it. He obviously was very concerned with his receding hairline and throwing them away in this manner would rid the evidence of his concerns. Much to the delight of the new owner, they are a wonderful and most valuable discovery today.
Others lids are somewhat cryptic, but we can surmise that winter scenes or scenes depicting ice skating and games, may have contained cold cream. Many are not so obvious, but as many manufacturers won awards at various exhibitions, it seemed natural to have pot lids depicting the exhibition buildings where they achieved success.
During the Victorian period, it became very fashionable to mount pot lids in circular, ebonized frames, thus preserving them and sparing many from breaking (which is often seen when they are found in old refuse sites). Many of the paste jars are nearly always unearthed in early dumps, which would account for their scarcity and the reason why so many are damaged and seldom found in perfect order.
Their popularity as decorative items would also explain why so very few pot lids had additional advertising on the actual lid face itself. Many of these pot lids with advertisements are recognized as amongst the earliest examples, extremely rare and command premium prices. An advertising of Clayton's Bears Grease achieved over $8,000 in recent years. With current popularity very high, one can only assume a perfect example may reach five figures.
Polychrome ware is finally gaining the respectability it deserves, which it initially did not command as it was produced as utilitarian ware. Fortunately, its recognition as an important form of art was recorded as early as the 1920s when Howard G. Clarke first published a book on multi-coloured printed ware. Clarke initiated a clever categorization and allotted each scene with a corresponding number. The scenes are split into several categories, such as subjects with bear motifs, personal adornment subjects, portrait subjects, exhibition subjects and so on.
Since Clarke's initial recording, there have been some further studies and publications on the subject. Abe Ball's, Price Guide To Pot Lids and other Underglaze Colour Prints on Pottery to this day stands as one of the most definitive books on the subject. Many collectors can attribute their knowledge to Abe's book, but since it is now 23 years old, many omissions and errors have been noted. Fortunately, a new book by Professor Keith Mortimer, Pot Lids and Coloured Printed Staffordshire Wares has every polychrome lid recorded, a rarity guide and a price range achievable at auction. It lists all authenticated and known varieties (borders, sizes, colours, etc.) and gives the value and rarity of these varieties.
My interest in polychrome Staffordshire pot lids was essentially fueled by the throwaway society prevalent in today's western civilization. Our present day packaging is little more than a mass-produced, mechanically-made holder, catering to thousands of buyers, whose care appropriately extends to more than its disposal in the nearest refuse tin.
Pot lids challenge present day logic, that something made for temporary use could be so decorative and so well made. They perhaps represented a memento of a purchase, and it is no wonder that many were kept, framed and adorned the many walls of Victorian homes, as they do amongst many collections today.
Some of the more available varieties of pot lids can be purchased for under $100, which represents wonderful decorative value. My advice to new collectors, or simply those who wish to purchase some examples, is to choose those that have strong colours, and if they are common varieties, then stay away from examples that have damage or repairs. Lids with original pots can increase the value by 20% or more if the pot has a complimentary decoration like marbling, trade names or gold embellishments. Plain white bases make little difference.
Antiques have always been one of my immense sources of pleasure and fascination since I was a mere eight years old and when jobs were relatively few in the late 1970s. It was a natural progression for me to open an antique shop here in South Australia. I would be interested in hearing from anyone who has similar interests in collecting pot lids. Happy collecting, John Foumakis.
---
John Foukamis can be contacted at prattpot@hotmail.com. All photos are from his collection, but John wishes to thank Greg Dean (www.deantiques.com) for his assistance. Many more of John's lids can be viewed on Greg's website.
---
About the Cover: the potted meat lid and jar is by Pratt and is titled, "The Deer Stalker." A scene with a deer is on the other side. The lid is considered scarce and is valued at $300-$400. The lid of the four military men are the officers who assumed supreme command during the Crimean War. It is very rare, $1,800-$2,000. The final lid and jar are of Queen Victoria presiding at the opening ceremony of "...the Grand International Building of 1851 For the Exhibition of Art and Industry of all Nations." Created by the Mayer Factory, ca. 1851, its value is $700-$1,000.
02/2004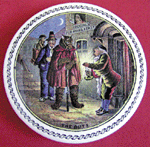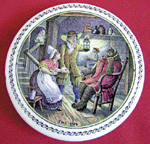 (Top) "The Inns." Bear grease lid by Ridgway depicting a bear sitting in an inn, c. 1855, $1,000-$2,000. (Bottom) A companion lid to the "Inns" entitled, "The Outs." The sign in the background reads, "Lodgings For Man & Beast."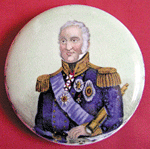 "Admiral Sir Charles Napier," (below) leader of the Baltic Fleet in the Crimean War, 1854, by Mayer, rare, $800-$1,000.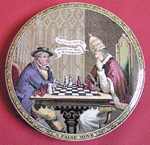 "A False Move," c. 1850, Mayer lid political cartoon; $500-$600.
"The Fleet at Anchor," Mayer,
ca. 1855, extremely rare pot, $1,500-$2,000.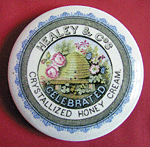 "The Beehive" lid for Healey & Co. advertising crystalized cosmetic honey cream. Unknown maker, ca. 1855, less than 5 in existence, $4,000-$5,000.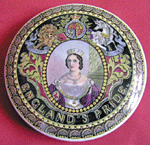 "England's Pride," portrait of Queen Victoria, by Pratt, ca. 1865, $200-$250.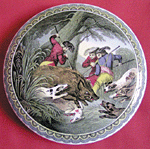 "The Boar Hunt," large lid by Mayer for a meat paste; ca. 1855, very rare, $2,000-$2,500.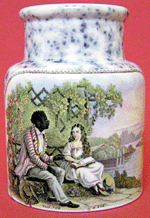 "Uncle Tom & Eva," a jar commemorating Harriet Beecher Stowe's visit to England in 1853; by Pratt, $600-$800.
Sauce bottle by Pratt depicting "The Rivals" from the Crimean War. Signed "J.A." for Jessie Austin; ca. 1855, only known example with this scene, $4,000-$5,000.
Mayer jar for Hill & Ledger, marketer of "Royal Australian Sauce." A full color scene on the reverse was titled, "Windsor Castle." Very rare, $2,500-$3,500.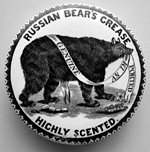 Ceramic bear grease lid.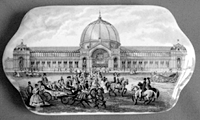 The Alexandra Palace, north London, burned in 1873. This lid by Pratt records the original palace; $200-$250.