A Killer Collection... Poison Bottles
By Mike McLeod
Although it is hard to pinpoint exactly when the method of making glass was discovered, evidence suggests that it began several millennia ago. Hollow glass artifacts do not appear in the records of world history until about 1500 B.C., although solid glass beads were known centuries earlier. In Egypt, glass was used as part of the outer glaze in figurines and ware from about 5000 B.C.
Initially, the process to create hollow jars and containers from glass was labor-intensive. A ball of clay mixed with sand or dung was formed in the shape of the desired cavity and attached to a metal rod. The rod was inserted into molten glass. Another technique was to draw strings of molten glass around a clay ball until it was covered completely with several layers. In both processes, the glass vessel had to be cooled and reheated several times to shape it into the final product.
A major break-through (excuse the pun) occurred in the 1st century B.C. in Syria when glassblowing was discovered. Glass could then be quickly blown into different shapes and sizes. Later, molds of wood or metal were used.
Although we think of them as a lead or gold goblet society, the Romans actually used quite a bit of glass. Because it was inexpensive, it became almost commonplace among them. Emperor Gallienus, who reigned from 260 A.D. to 268 A.D., refused to drink from glass "because nothing was more common." Seneca, however, extolled glass, saying that fruit appeared more beautiful in it. Indeed, a wall painting from the first century A.D. found in a town near Pompeii shows fruit in a glass bowl.
The Romans and other cultures used glass containers for food, wine, perfumes, spices, oils, sauces and medicines because it did not contaminate them with odors. Glass also allowed the contents of jars and containers to be identified without removing the lids.
Pick Your Poison
One of the most beautiful glass collectibles today is poison bottles. Most antique or vintage poison bottles collected date from the 1870s to the 1930s. Many people during those days were illiterate, so accidental poisonings were a fact of life. A New York Times article dated May 11, 1913, reported a superintendent of a Missouri hospital ordered sleigh bells chained to the necks of bottles containing poisons after an attendant gave carbolic acid to a patient by mistake. The patient died, and the attendant was indicted.
Using sleigh bells, though attention getting, was not the answer for a growing chemical industry in the late 1800s. England was experiencing an economic boom from the Industrial Revolution. Local chemists and druggists found they could produce cleaning compounds, insect killers, vermin poison, etc. cheaply enough to sell far and wide. Glass bottles, too, were inexpensive and perfect for transporting their contents to market, so the poison trade really began to take off.
And so did the death rate. Both the governments of the United States and England enacted laws to prevent accidental poisonings. However, it was the poison manufacturers themselves who took direct action to save customers who, for instance, were fumbling for medicine by candlelight and grabbing bedbug poison by mistake. What they did not only reduced the number of accidental deaths, but it also created an almost irresistible collectible.
To distinguish them from non-lethal products, poison bottles were made unique and dramatic in color, texture and shape. Colors like cobalt blue, honey amber, black, and emerald and several other shades of green were used to ensure they stood out from the other bottles on the shelf.
Poison bottles were also designed with unique textures: latticework, raised ridges, dots, diamonds, horizontal or vertical ribbing, or hobnails. Also, embossed lettering warned, "DEATH," "POISON," "POISONOUS," or "NOT TO BE TAKEN INTERNALLY."
Unique bottle shapes were created to warn users of poison. F.A. Thompson & Co. made a bottle in the shape of a coffin with "POISON" embossed on two sides. In 1999, a 3 1/8" example sold on eBay for $775.
In England, cobalt blue "subs" bottles were invented by H.J.W. Martin and G.W.J. Walker in the fat cigar shape of a submarine. It features a long, vertical neck protruding from the center of the top and is embossed "POISON." This bottle comes in three, four, and five-inch sizes and sells for several hundred dollars.
Another unique English bottle was the 10 1/2 inch, 20 oz. Martin's Poison. In addition to being very large in size and aqua in color (most manufacturers steered away from this color because of its similarity to other product bottles), the Martin's bottle was manufactured so it had to lie on its side. It also has a "U" bend or indentation in the shoulder. The horizontal direction of the bottle performed two functions: first, it pointedly identified this as an atypical bottle, and therefore, probably a poison; and second, the "U" bend prevented spillage.
Owl Bottles
In America, the Owl Drug Company opened its doors in 1892 in San Francisco, dispensing medicine, soda, pills and poisons in its own distinctive bottles. The company's success led to its expansion to a dozen states. It was eventually purchased by Rexall Drugs. But during its heyday, the Owl Drug Company produced cobalt blue and clear bottles embossed with its owl logo sitting on a mortar bowl. The cobalt bottles are particular favorites with collectors. The Owl Drug Company produced its bottles with many variations, including: one-wing owls, two-wing owls, long tail, no tail, short tail, potbelly owl, and more.
Joan Cabaniss, a bottle collector and publisher of the Antique Poison Bottle Collectors Association's newsletter, has tracked poison bottle sales on eBay since 1999. Even so, valuing Owl bottles is difficult, as Joan explains: "There are 10 sizes of the one-wing, cobalt, BIMAL Owl, from one-half ounce to a 32-ounce size. Those have sold for $48 to $64 for the one-half ounce size to $591 to $700 for the 32-ounce bottle. The two-wing ABM bottles are in eight sizes and have sold from $76 to $165.50."
BIMAL is the abbreviation for blown-in, mold-applied lip. These bottles were hand made. ABM (automatic bottle machine) bottles were made by machine. To tell one from the other, look at the seam. On an ABM bottle, the seam runs all the way through the lip. BIMALs have no seam in the lip because it is added later in the process.
When Rexall purchased the Owl Drug Co. in 1920, it stopped making Owl bottles. This was not long after Owl Drugs had switched from BIMALs to ABMs. (Automatic bottle-making machines were first introduced in the early 1900s.) Ironically, Owl ABM bottles may be somewhat harder to find than the handmade BIMALs since Rexall curtailed production not long after the company switched over. Yet, Digger O'Dell, publisher of Poison, Drug Store and Apothecary Bottles, believes that, "The older bottles will bring more money. There are a couple of ABM poisons that bring big bucks. ABM bottles may be rarer in many cases, such as the Owl bottles, but only a few purists would place more value on them."
Skull Bottles
Perhaps the most recognized symbol of death, the pirate flag's skull and crossbones, was often used on poison labels starting in the mid-1800s. Then toward the end of the century, the skull and crossbones was embossed on bottles.
A bottle in the shape of a skeleton's skull was patented in 1894 by Carlton Lewe and has become the most famous poison bottle. Found in three sizes-from less than 3 inches to 41/2 inches in height-this very rare poison bottle sells in the $2,000-$3,500 range, according to Reggie Lynch of Reggie's Poison Bottle webpage (www.ipass.net/~rlynch/bottles/poison.html). However, this bottle often has damage to the nose where the glass is thinnest.
Rather than make a different bottle for every product as we do today, early companies used the same bottles for different poisons and attached a label to identify the contents. Some companies patented the shapes of their bottles-a sort of early brand marketing-to keep competitors from copying their designs. Original labels in good condition on bottles enhance their values, as do original cork stoppers and intact contents.
Today, we often think of poison as being a liquid. However, early poisons were more often in tablet or pill form for ease of delivery and so it could be reconstituted to the appropriate strength or dosage.
Manufacturers dispensed poisons in unique shapes again as a warning to the hazard. Some examples were tablets shaped like: a coffin with skull imprint (mercuric chloride, Sharp & Dohme & Co., deep purple in color, antiseptic); a triangle with "POISON" stamped on two sides (mercury bichloride, W.R. Warner & Co., an antiseptic); white diamond (atropine sulfate, Eli Lilly & Co., muscle anti-spasmodic); and three-leaf clover inscribed "POISON" (mercuric oxycyanide, Sharp & Dohme & Co., dark blue).
So-called "poisons" during those days sometimes performed double duty as medicines. Given in small amounts, they cured; too much, they killed. Strychnine was used as a stimulant and a tonic, but the dose to cure and kill was almost the same. Atropine relaxed intestinal muscles and asthma attacks. Too much induced mental confusion and increased the heart rate. Arsenic was used to treat syphilis and skin diseases.
If you are interested in conversing with collectors, visit the Antique Poison Bottle Collectors Association website at http://www.antique.poisonbottle.com/, or write Mary Riggin at oysterking@esva.net. If you would like to learn more about poison bottles, you can receive the APBCA's newsletter by sending $10 to: 312 Summer Lane, Huddleston, VA 24104. Reference books include: Kuhn's Poison Bottle Workbooks, Vols. I & II (3954 Perie Lane Jose, CA 95132); Digger O'Dell's Poison, Drug Store and Apothecary Bottles, (Vol. 10), $25, ( http://www.bottlebooks.com/; 4943 Isaac Ln., Mason, OH 45040); Poison Bottles by Roger Durflinger.
2001
Latticework could save your
life in the middle of the night.
(Courtesy, Digger O'Dell)
Coffin-shaped F.A. Thompson & Co., Detroit, golden yellow amber, $750. (Courtesy Reggie Lynch)
The coveted Skull bottle comes in three sizes and has sold for $2,000-$3,500.
(Courtesy Mary Riggin)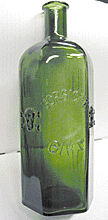 Three warnings: "Gift" means "poison" in German; "Vorsicht" ("caution"); and the skull communicates in all
languages and to the illiterate.
(Courtesy Mary Riggin)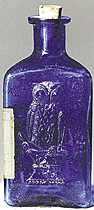 5 inch, 2-wing Owl Drug Co. bottle with original label on side. (Courtesy Reggie Lynch)
Cobalt "Subs" bottle, $440on eBay (courtesy, Reggie Lynch)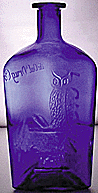 Owl Drug Co. 9 1/2" triangular
sold for $635 on eBay.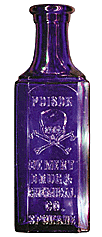 Rare DeMert poison bottle, Spokane, WA, Randy Mitchell, owner.
Bews Pharmacy, skull & crossbones embossed (Courtesy Digger O'Dell)
Sharpe & Dohme latticework bottle with intact label (Courtesy Digger O'Dell)