The Celebrity Collector

Peter Marshall has a house full of antiques
in his French-style country home
By Ken Hall
Peter Marshall is known to millions as the former host of TV's "The Hollywood Squares," a show so popular in its heyday it was something of a pop-culture fixture. The shame of it is, many people think that "Squares" is all Marshall's done, but they're wrong. He's been a big-band singer, a Broadway and film actor, part of a successful comedy team, and a nightclub and concert performer.
Marshall's career spans about 60 years and has taken him all over the world. During his travels, he's acquired a taste for antique furnishings. Many of those pieces today have a place in his California home, one that took eight years to build ­ by hand. "It's a 4,800-square-foot authentic French-style country home," Marshall said. "The builder didn't use nails. He used wooden dowels."
The house was almost a spur-of-the-moment idea. "I had the contractor (Paul Burkhart, of Prescott, Ariz.) over to do some work in my former home, and said to him, 'Why don't we just build a house?'" Marshall recalled. "Eight years later, it was finally completed" (and, as a result, Burkhart got a boost and became one of the area's premier contractors). "My wife, Laurie, and I, really love it."
The house sits on an acre, close to Ventura Boulevard and the hustle and pace of modern life. But the structure itself _ with its old wooden beams, original hardwood floors and hand-made doors and windows ­ is from another day and time. The furnishings are the piece de resistance. All were hand-selected by Marshall.
"I remember being in London in the early 1960s, when I was appearing on stage in the play "Bye Bye Birdie" (with Chita Rivera)," Marshall said. "I would go to the auctions at Christie's and Sotheby's and collect wonderful things.
Once, I bid on a lot of over 300 pieces of Patrician Wedgwood, which I love. I submitted the opening bid, which was something ridiculous, like $67."
As it turned out, the auction was being conducted on a holiday, and there were practically no dealers in the auction hall. "Nobody counter-bid," Marshall remembered, laughing. "I got the whole lot, for $67."
Marshall scored an even bigger coup in England when he went into the shop owned by a Mr. Woolsey, who had become a friend. That day, Woolsey's brother was tending the place. Marshall inquired about a 16th-century oak end table. "He quoted me a price of about $70 and very quickly I said okay," Marshall said. "I came back the next day to pick it up and the other brother was there."
It turned out the table was one of only two in the world, and the other one was in a museum in Ireland. "He even showed me a picture of it in a catalog," Marshall said. Still, being an upright businessman and recognizing that a deal is a deal, Mr. Woolsey sold the table to Marshall for the agreed-upon price. "I can only imagine what the conversation was like with his brother," he added.
Marshall speaks in reverent tones about the items in his home, like the 11-foot-tall window that came out of an old New England church. Or the sliding/ hanging oak door that leads to the bedroom, which he guesses is from the 1920s. "It's on a runner and makes this loud noise when it's brought shut," he said. Or the rugged old Irish hutch, the one that houses the Marshalls' fine china. He bought a magnificent triple-tressled dining room table in North Dakota that seats 12. "I had a picker buy it for me,"
Marshall said. "But it had no chairs. I went to a local antique shop there and the dealer showed me a picture of some Wavy Ladderback chairs for sale in Alsace-Lorraine. I fell in love with them and had them shipped over from France."
Some of his pieces are doing double-duty, functioning in a way separate from their originally intended use. A winnower, for example (an old shucking device, literally used to separate the wheat from the chaff) is now a coffee table. A French bidet he picked up in Washington, D.C. (while performing in "La Cage Aux Folles," a role he later reprised on Broadway), is now used as an end table.
"I don't like chatchkes," Marshall said emphatically, explaining why there aren't many knick-knack items on display in his various hutches and display cabinets. "My wife had some dolls, and she ended up selling them on eBay." Sadly, one small item ­ a candle holder from the time of King George I or II (Marshall can't remember which) was stolen out of the home at a former residence.
Peter Marshall was born Ralph Pierre LaCock on March 30, 1927, in Huntington, W. Va. His father, Ralph, was a pharmacist who died when Peter was just 12. His mother, Jeanne, was a seamstress and aspiring costume designer who moved the family to New York after Ralph's death, where she got a job as a saleswoman at Macy's. Peter's older sister, Joanne, began a career in modeling.
At 14, Peter got a job as a page at NBC, but singing and acting were his passions. By the time he was 15, he was already singing in a big band. Joanne adopted the stage name Joanne Dru and enjoyed some success of her own. Mom served a year as president of the Motion Picture Mothers (1975-76). The family thrived in entertainment, but Peter's star would shine the brightest.
At 22, nearly broke but still rich with ambition, Marshall moved to Los Angeles, where he met the comedian Tommy Noonan. The two became friends and formed a comedy team called Noonan & Marshall. They performed live and appeared in a few films in the early 1950s. A big break came when they were booked on "The Ed Sullivan Show." They appeared on "Sullivan" several times.
Marshall branched off on his own as the '50s segued into the '60s, mainly as a working movie actor and in stage productions like "Bye Bye Birdie" in London. He was in the Warner Bros. sequel to "Mister Roberts," titled "Ensign Pulver," and in 1965 gave a fine performance as an officer trapped underground with a group of allied and enemy troops in the World War II drama, "The Cavern."
The following year would change his life forever. NBC was set to launch a new game show called, "The Hollywood Squares," but didn't have an emcee. In one story, a network executive saw Marshall's photo on top of a pile of publicity materials, liked what he saw and asked him to come in to test. In another story, comic Morey Amsterdam recommended Marshall to Bert Parks for the role.
"I don't think either of those versions is true," Marshall said with a laugh. "The fact is, they wanted a complete non-entity, someone who could come into the role and pull it off with some humor and spirited chatter, but who wasn't already known as a game show host. And for that, I was ideal. I'd done a lot of theatre and film and comedy, but my face wasn't known to the general public."
It sure became known by the time the show concluded its enormously successful 15-year run. During that time, Marshall all but ceased his career as an actor (although he did co-write and appear in the 1968 anti-marijuana film, "Maryjane," starring former teen idol Fabian). After "Squares," he returned to singing and performed in Big Band packages, with Harry James' and Les Brown's bands.
Marshall recently recorded a CD of chart-topping standards, backed by a 30-piece orchestra. Titled "Peter Marshall, Boy Singer," it is available through his website, www.boysinger .com. He made another CD, "No Happy Endings," a tribute to Billie Holiday (also on his website). And his book, "Backstage With the Original Hollywood Square," is in bookstores and can be bought at his website.
Today, Marshall is the morning host of a syndicated radio program (weekdays) on the Music of Your Life network, which broadcasts tunes from the Big Band era to about 185 cities nationwide. He is the father of former major league baseball player Pete LaCock, a one-time #1 draft pick. Fans of Peter Marshall may write to him c/o GLO Enterprises, 27464 Coldwater Dr., Valencia, CA 91354.
2005
With his good looks and winning smile, Marshall has enjoyed a 60-year career that includes TV, stage, film, comedy and singing.
Marshall bought this French bidet at an auction in Washington, D.C. He uses it as an end table.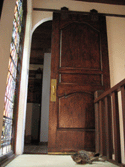 This antique sliding/ hanging
oak door was probably made
in the 1920s.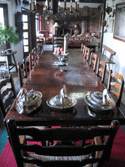 This magnificent old triple
tressled dining room
table seats 12.
Peter Marshall hosting
"The Hollywood Squares."
One of 12 wavy ladderback
chairs purchased for his
dining room table
This old winnower is being
used as a coffee table.