In Pursuit of Pedal Cars

A pedal car, also referred to as a juvenile auto or a kiddie car, is a child's toy with pedals, tires, axles, a body, and a steering mechanism. A relatively small number of individuals can remember having a pedal car as a child or enjoying the use of a friend's because of their scarcity in comparison to wagons, tricycles, bicycles, and scooters.
Pedal cars were designed for children typically 2 to 6 years old, and they required paved sidewalks, alleys or driveways. Prior to 1940, they were purchased by rather wealthy parents for their children and mostly appeared in large cities like Detroit, Chicago, Boston, New York and Cleveland and their suburbs. They were not designed for use on unpaved surfaces, so they rarely showed up in rural areas.
One of the large attractions of a pedal car was that it gave a child the opportunity to have a smaller version of a car just like Dad's. In the early 1900s as soon as real cars appeared on the scene, pedal cars were also produced. These early versions appeared somewhat buggy-like, had wire wheels and sheet-metal bodies over wooden frames. These earliest cars, and particularly those of the 1920s and early '30s, are indeed very rare, seldom seen or found, and truly, like most antiques, a joy to see and a real piece of early automotive history.
While Detroit was the automotive capital of the world, Toledo, Ohio, was considered the pedal car capital. Toledo afforded good, close communication with the automotive companies for replicating some of the designs, and it also provided close proximity to a good supply base, both for materials and components, and technology for manufacturing.
The scarcity of a pedal car is attributed to several factors. First, fewer were produced compared to wagons, bikes and tricycles. In particular, the deluxe versions of pedal cars from the late '20s could cost upwards of $60, while a typical tricycle was $6.1 True, many pedal cars were simpler and cheaper than $60, yet most still went for a premium over other types of wheel goods. Second, pre-WWII cars often went to the metal scrap drives for the war. Since they were toys, kids were rough on them, they were well played with, they were worn out (sometimes tires wore right off the rims, sometimes rims wore down to a small diameter), they were left outside in the elements, and many did not escape the trash pile.
Today, pedal cars are sought by collectors. They bring back childhood memories and bring back the child hidden inside. They are still found from time to time in attics, basements, barns, garage rafters, and under old enclosed porches, waiting to be discovered. Collectors of full-size antique cars often look for a pedal car as a companion piece to their car. Pedal cars are also less expensive than a real car, take up less space, require no maintenance (except dusting), and are easier to store and to restore.
Some of these 1920s and '30s pedal cars were very detailed and included roller bearings, polished radiators, hood ornaments, springs, balloon tires, windshields, rumble seats, running boards, fenders, opening doors, bumpers, horns, mirrors, brake levers, spare tires, toolboxes, spotlights and luggage racks—everything a real luxury car would have. They were expensive, detailed, made to resemble the real car, and given brand names like Jordan, Cadillac, Packard, Pierce Arrow and Lincoln. There were also much simpler cars produced, leaving out some of the options as appropriate, and being named Chevrolet, Pontiac, Ford, Hudson, Essex and the like. The primary manufacturers of these cars were companies by the name of American National, Gendron, Garton, Steelcraft, and Toledo, along with a few others.
Pedal cars were produced into the 1970s. In the '50s, special interest models were produced to go along with the times, such as hot rods, space cruisers and atomic missiles, to name a few. By the '70s, safety standards, emissions and oil prices triggered a recession for full-size cars, and pedal cars started to go out of style. Some converted to thinner gauge metal or plastic, and to simpler, more generic designs. Safety concerns for children due to the sharp metal edges, windshields and hood ornaments also became an issue.
A good example of a plastic riding toy that helped bring an end to the pedal car was the Marx Big Wheel2: plastic, safe, fast, simple and inexpensive (but one might also say, noisy!). Today, new pedal cars are being produced for collectors. Some are reproductions from China (so be aware of what you are buying—nothing wrong with them, but sometimes passed off as original), and some are special handcrafted originals that are well done and quite expensive.
A collector should be aware of the following conditions of cars before deciding to buy one. As with most antiques, the better the condition and the greater the rarity, the higher the value. A nice, original condition, original paint pedal car has the highest value; look for one that has all or most of the original accessories (quite often, windshields, hood ornaments, horns, and headlights are missing). Next comes an original in good condition. Many pedal cars were repaired to keep them in use for younger family members, painted with a brush by father and son. Windshields and hood ornaments are often missing or broken, but they are relatively inexpensive to purchase, and relatively inexpensive, fun and rewarding to restore.
It can cost anywhere from a couple of hundred dollars to a couple of thousand dollars to restore a pedal car, depending upon how much you can do yourself, how detailed you want the car, and how many parts you need. There are people in the business of making parts for pedal cars, and one can pretty much get any part needed to complete a car. Decals or stencils are also available. You can restore the car to original condition or to whatever paint scheme or detail that you like.
As for prices, a pedal car from the '50s-'70s era can cost from $50 for a rough, rusty example to about $500 for a very nice original or restored car. A car from the late '30s to '40s can range from $200 to $300 for one needing restoration and up to $1,000 to $3,000 for a very nice complete original. When you get into the '20s and early '30s era with the very deluxe cars, rough condition cars start around $1,000, and very nice original or well-restored cars can reach $20,000. A few years back, the sales record for a very rare pedal car was $77,000 at auction. It was a 1928 American National fire truck in excellent original condition that was sold in the mid-1990s at Sandwich Auction House, Sandwich, Mass.
It is a normal progression to start with the more affordable, later model pedal cars and transition to the earlier, more expensive examples. As you look, try to find a car as complete and solid as possible, and purchase the best example you can afford.
Is there one to look out for? A coupe produced in the 1920s. This is an American National Deluxe Coupe pedal car, ca. 1925, enclosed, weather-tight, has opening doors with roll up windows, a tilt steering wheel, upholstery, and is large (over 70 inches long) and heavy (approximately 100 lbs.). Very few were produced, so they are highly sought after. Again, there are people who can make anything, so be careful of a reproduction. Expect to pay $10,000 to $40,000 for one.
Be careful, this hobby is addictive, and while the cars are somewhat small, 20 of them can take up quite a bit of space!
-------------------------------------
1Gurka, Andrew G., Pedal Car Restoration and Price Guide, 1996.
2, 3 Ibid.
Al Nyquist is a retired automotive engineer from General Motors whose hobbies include full size antique cars and antique transportation toys. Al started collecting and restoring antique cars at the age of 16. He retired from GM in 2002, got interested in pedal cars, and has been collecting, researching, restoring and searching for them for the past 10 years.
To see many beautiful examples of pedal cars and have buying opportunities, visit the Smoky Mountain Antique Pedal Car and Toy Show at the Ramada Inn in Pigeon Forge, Tenn., on May 9, 10, 11.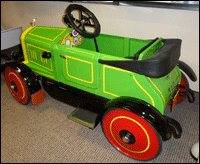 A 1925 Roamer made by the American National Co. of Toledo, Ohio.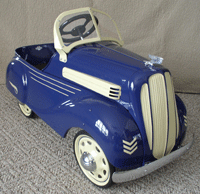 A 1937 Auburn Super Charger produced by Steelcraft in Cleveland, Ohio, valued at approximately $5,000.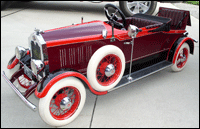 A 1930 Packard rumble seat roadster made by Gendron.
A 1933 Studebaker made by Steelcraft.
A 1927 Cadillac made by the Garton Toy Co. of Sheyboygan, Wis.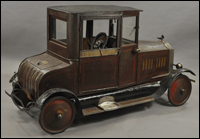 This Coupe sold for $46,000 on Sept 25, 2010 at Bertoia Auctions, Vineland, NJ.