The Celebrity Collector
Patty Duke, a Woman of Many Talents and Interests, Has
Just as Many Collections
By Ken Hall
The Oscar-winning actress for "The Miracle Worker" and former star of "The Patty Duke Show" is more than a collector -- she's a pack rat. She's also introducing a line of collectible stuffed bears.
Patty Duke's first inkling that she had the collector gene came as a kid at Klein's Department Store in New York City. There, while her mother browsed and tried on clothes, Patty would discreetly pick discarded straight pins off the floor and bring them home. Then one day it hit her: this was stealing! She told her mother who agreed that yes, this indeed was theft. Patty was marched back to Klein's, where she dutifully spread the pins back on the floor, exactly where she'd found them.
Patty Duke punctuates little stories like this with a hearty laugh. She speaks by phone from her home in northern Idaho, where she's lived for the past dozen years with her husband Michael, a firefighter, and their son Kevin, 12. She loves it there ("it's the only place I've ever truly felt at home") and comes across as somebody who's about as happy as someone can be. And that's good, since her battles with the demons of an often turbulent childhood and mental illness are well documented.
But she's accomplished a lot, too, and when you read her resume you wonder where in the world she ever found time to collect anything. There's the Oscar (at age 12, for "The Miracle Worker," the story of Helen Keller), the three Emmys, the two Golden Globes, her three-year stint as the star of "The Patty Duke Show," the past presidency of the Screen Actors Guild, the 72 (72!) made-for-TV movies, the work on Broadway and in film, and the voiceover work for cartoons.
And that's not counting her work as a best-selling author. Her autobiography, "Call Me Anna," followed up with "A Brilliant Madness," brought to light Ms. Duke's battle with mental illness, as well as other personal and professional challenges. Today, she spends a great deal of time speaking on the topic of mental illness. In fact, her illness actually inspired one of her many collections. She was prescribed lithium as a mood balancer in the 1970s, and hated the vials the pills came in.
"Just looking at that jar of pills would make me even more depressed," Patty said with a laugh. "Then one day in California I saw the prettiest little pill box at Bullock's. So I bought it, as a way to make the pill-taking experience something nicer." Today, she has Limoges, silver antique and painted enamel Halcyon pill boxes. Patty really is a collector. She has antique clocks, pocket watches, candle holders, John Deere miniatures, silver spoons, vintage linens, angels, bears and pewter.
"I still have most of what I ever came across," Patty said with a mix of wonder and amusement. "The angels thing started about 25 years ago with a pin. Then came a broche, a statue, a picture, then more and more stuff." She said her most prized angel is a Baccarat piece, a present from her husband. Another gift from Michael, a Steiff bear to keep her company when the two were apart, started yet another collection. "Bears are great -- you don't have to dust them," she said.
The Steiff was eventually destroyed by Patty's pet Schnauzer, but it didn't deter her from acquiring more bears. She bought one about six years ago from an Idaho neighbor, Ann Inman-Looms, who's been handcrafting one-of-a-kind bears for more than 20 years. The two became fast friends, and Patty enrolled in one of Ann's bearmaking classes. "It opened up a different kind of creativity I didn't know I had," Patty said. "We collaborated on some wonderful prototypes."
Patty confessed the first few bears she made on her own were "pathetic," but when she and Ann put their collective minds to work, magical things happened. They talked, jokingly at first, about going into business together. The joke got serious the more they chatted, and before long a business plan was drawn up. And before you know it, the Patty Duke Signature Collection was born. "The line carries my name because I'm known, but Ann's genius makes the bears special," she said.
The collection at present comprises three bears: Faith, Hope and Charity. Each is 10" tall and costs $89 (they are available online through www.annemadebears.com/ pattyduke/). "These are truly collectible," Patty said. "You wouldn't want to give one to a child. Their eyes are made of glass, and each is made from top-quality mohair, with hand-stitched noses. They have little Battenburg bibs, and each one wears a medallion, with an image of either a rainbow, hearts or someone in prayer."
Patty said it's the eyes that make the dolls special ("they're so expressive, they seem to have a soul, and that's a tribute to Anne's talents"). Perhaps, but the fact that each one comes with a Patty Duke autograph won't hurt sales either, once the line is officially up and running. Which it is, thanks to the computer age. The next step is to showcase them at the San Diego show ("the biggest bear show of the year," Patty said) and appearances on one or more of the TV shopping channels.
Patty Duke was born Anna Marie Patricia Duke (John Ross, her agent while she was a child actor, shortened it to Patty). She was raised in New York City by her mother, who separated from her husband when Patty was six. Her mother did her best to bring up Patty and her older brother, Raymond, but the family was not wealthy by any means. It was Raymond who joined a local Boys Club, for something to do, and he got into acting as a result. Patty just kind of tagged along.
"I would act in the same productions as my brother, mainly because I was available," Patty said. "Talent scouts came by one time, and they expressed an interest in Raymond. He got some acting work out of it, but he stopped acting by the time he was out of his teens. I kept at it, but not out of some burning desire to act or because my mother pushed me into it. But I must say, John Ross was invaluable. He saw in me some raw talent, and got me valuable work very early on."
Patty was cast as Helen Keller in the Broadway production of "The Miracle Worker" at age ten. Two years later, she was the natural pick for the part in the screen version. It would be a role that would catapult her not just to fame but an Oscar win. Later, while still a teenager, she was cast as a dual lead in her own television series, "The Patty Duke Show." For three seasons, she played prim and proper Kathy and wild and crazy Patty. The program is still shown on cable's TV Land.
She would later gain more fame as the wife of another television star, John Astin (Gomez Addams of "The Addams Family"). The marriage would end, but out of it came two actor sons, Sean and Mackenzie. Sean will play the part of Sam in the film version of "Lord of the Rings," due to be released in December. Mackenzie just finished his first year on the NBC series "First Years." He plays a gay lawyer. And the woman cast as his mother in denial about his lifestyle: Patty Duke!
So yes, Patty Duke is still very much active in her chosen profession, jumping from television to film to commercials to cartoons to theatre. She describes herself as "in her element" as her career heads into its 48th year. "I find it just as adventurous as it was when I was seven," she said. Next up, she'll be acting this fall at the Spokane Civic Theatre in Washington, in "Love Letters." It's a stage production and fundraiser. And somewhere in there, she'll find time for her many collections.
Fans of Patty Duke may write to the actress at her address: 5110 Dodd Road, Hayden, ID 83835. Web sites dedicated to her include pattyduke.com and pattydukefan.com. To purchase or view the Patty Duke Signature Collection, visit http://www.annemadebears.com/.
2001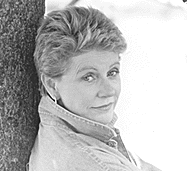 "I'm in my element," Patty says as her acting career heads into its 48th year. "I find it just as adventurous as when I was seven." She co-stars with son Mackenzie Astin in the NBC series "First Years."
Patty played two roles in the popular '60s comedy series "The Patty Duke Show." Here, she's prim and proper Kathy.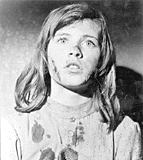 Patty Duke was just 12 when she won an Oscar for her portrayal of Helen Keller in "The Miracle Worker."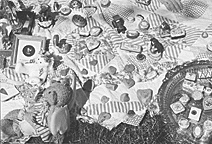 Patty's collections are many and varied. They include pill boxes, antique clocks, pocket watches, candle holders, John Deere miniatures, silver spoons, bears, vintage linens and pewter.
Patty's surrounded by stuffed animals at her home in northern Idaho. She also has real animals: horses, llamas, sheep, goats, dogs
& cats.